Qatar 2022: What bet

s to make for Cameroon?

by Kevin Richard | by Kevin Richard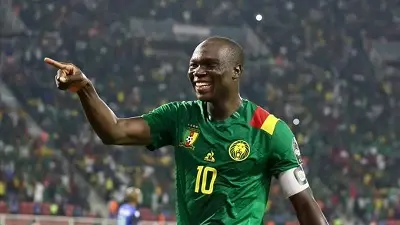 Led by the iconic coach Rigobert Song, with former player Samuel Eto'o as president of the Cameroonian Football Federation, in addition to a group of promising young players, Cameroonian national team is stronger than ever. However, with most of their players lacking experience at international level and Brazil in the same group, it will be unlikely that they make it to the knockout stage.
Qatar 2022: What bets to make for Cameroon?

Giants of African football, Cameroon have done a lot of clean up in their house and after missing the 2018 FIFA World Cup, they are set to return to the big stage in the 2022 World Cup. It has been a stormy period for Cameroon and as a result, this has seen Samuel Eto'o rise from player to federation president. He will be expected to put his experience as a player to use as he seeks to lead Cameroon to glory at the world stage. The current Cameroon squad is laced with teamwork and unpredictability; the major reason it has seen much success in recent years. We will have a look at what has changed since their disastrous outing in Brazil 2014, the new targets for Qatar 2022, and what bets we should be placing on the Indomitable Lions as SportyTrader lines up the best betting odds for this key event.
Make your selections at  Bet365 today!
World Cup 2022 – will the Indomitable Lions find their roar?
In Africa, Cameroon remains a household name. They've however struggled to replicate the same outside the continent. They qualified for Qatar 2022 after outsmarting Algeria in the return leg of a tie they had lost 1-0 at home. In their last participation in a FIFA World Cup, Cameroon suffered three straight defeats at the group stage, scoring just one goal in a catastrophic outing highlighted majorly by Alexander Song elbowing Mario Mandzukic in the second game. They go to Qatar 2022 with seven straight losses in World Cup matches.
One thing to admire about Cameroon's rebuild is that after suffering player exits in 2017, they regrouped, largely with unknown players and won the African Cup of Nations title. It has been steady for them and with an established team, new federation chief Samuel Eto'o has slammed the door on key players who turned down national team calls earlier. Top among them is Liverpool's Joel Matip, the man who scored Cameroon's last World Cup goal.
In their last game at the World Cup, Cameroon suffered a 4-1 defeat at the hands of Brazil and given they are in the same group here, it will be the third time the two nations face off at a FIFA World Cup. They have lost in both of the earlier meetings with Brazil and Cameroon, who have been rebuilding will hope their peak arrives at Qatar 2022.
A former Cameroon international, Rigobert Song is now the head coach at the team and is part of the shift at the team following Eto'o's arrival. This will be his first taste of a major tournament as manager. He had a lot of success as a player and having already inspired the team to qualify for the World Cup, he will be keen to replicate the success at the national level. In Cameroon's World Cup history, it may be a long shot imagining them finishing among the best four but their teamwork has been amazing and they always carry that element of surprise.
Qatar 2022 – Cameroon's fixtures
Cameroon have been pooled in Group G, where they will face Switzerland, Serbia and Brazil. Here's the schedule of their matches:
Thursday 24/11/2022 – Switzerland v Cameroon (Al Wakrah)
Monday 28/11/2022 – Cameroon v Serbia (Al Wakrah)
Friday 2/12/2022 – Cameroon v Brazil (Lusail)
Check out the World Cup odds at William Hill now!

What bets to make on Cameroon at Qatar 2022
Cameroon are drawn into one very tough pool, and it won't help that they will finish their group matches against the favorites to top the pool. In this group, Cameroon are the lowest ranked, at position 37 worldwide. Brazil are top, Switzerland 14th and Serbia 25th. We don't expect much of that to change going into the World Cup so basically the Indomitable Lions run the risk of being the whipping boys in this group. With a relatively new group of players at this stage, they will surely find it tough, and even Bet365 are handing them a massive 13.00 odds to top Group G. This should really be a no-brainer, for a team that has finished bottom in their groups in the last two World Cup competitions.
Head to head, Cameroon have never beaten any of the teams in this group. This will be their first time to meet Switzerland, while their only meeting with Serbia was a 2010 friendly match which ended 4-3 in favor of Serbia. In five matches against Brazil, Cameroon have one win, in a Confederations Cup clash which ended 1-0 courtesy of Samuel Eto'o's goal. It is quite easy to see they will be underdogs in this group and even in their group stage odds, a loss to Brazil is well predicted, Cameroon having odds of 9.3 on 1XBet. Three losses in three is quite a possibility.
The one team Cameroon will feel they can beat in this group is Serbia, but we expect a great effort in their opening two games, knowing the closing group game against Brazil will definitely be the toughest. It will work the other way round for Serbia and Switzerland too; the two will be targeting three points each from the lowest ranked nation in this group, so it doesn't look very promising for Cameroon. They've conceded two or more goals in four of their last five World Cup matches and VBet is backing Switzerland to score two or more goals at odds of 3.75, in Cameroon's opening game.
Two highlighted players in this group will be Vincent Aboubacar and Bayern Munich's Eric Choupo-Moting. The two are the longest serving players in the Cameroonian national team, and were part of the 2010 and 2014 World Cup squads. For a team of inexperienced players at this level, the duo will be key. On the list of Cameroon's all time top scorers, these two are the only ones still active in the top 10. Choupo-Moting has 18 goals, while Aboubacar, who has since ascended to the captaincy, has 33 goals. With the two, Cameroon have a constant attacking threat, and both teams scoring in games like the second against Serbia could be a good pick. BetObet places both teams scoring at odds of 2.07.
Place your bets on VBET today!

Did you know?
Choupo-Moting and Vincent Aboubacar were in the same team at the 2010 World Cup with current coach Rigobert Song, as well as federation chief Samuel Eto'o. This makes them the longest serving members of the team, and they will be expected to play the lead roles in their quest for glory in Qatar.
Also, no African team has done better than Cameroon at a FIFA World Cup. They were the first African nation to reach the quarter finals in this competition and have so far only been joined by Ghana.
With their current squad and the changes they've had in the recent years, Cameroon is still a team in transition. Not a lot is expected of them going into the 2022 World Cup and even Bet365 rate their chances of making out of their group at 1.30.
Cameroon carry a big profile to the 2022 World Cup, if considered as an African giant, and they proved it by eliminating Algeria with a win in Algeria to qualify for this competition. They have a compact team, devoid of big stars but with a great team spirit. Led by an iconic coach, a local and well-respected man, Rigobert Song, Cameroon looks like a decent side. The fact that the Cameroonian federation is currently led by a former player – Samuel Eto'o, a man who has gone all the way to the topmost echelons will be key in maintaining the team unity that has propelled them this far. However, with most of their players lacking experience at this level, they may struggle to make headway outside African football. It doesn't help that they are in the same group with one of the tournament's favorites – Brazil.
See the latest World Cup odds at Bet365 today!
More about 2022 FIFA World Cup