Champions League Betting Tips
The Champions League has been suspended because of the coronavirus emergency
Find our tips on every game of the UEFA Champions League, as well as all you need to know to bet on what is regarded as the world's top club competition. Can Liverpool retain the title they won last season or will this be the year Barcelona lift the trophy?
2019/20 Champions League 

Every club side in Europe wants to win the UEFA Champions League but only the elite can do so. Being the top dog in your own country is vitally important of course, but becoming the champions of Europe is the ultimate aim. Of course, the name of this competition doesn't quite adequately describe it. The majority of teams taking part aren't champions of their own country. There may well be group games early on but from the last sixteen this is a knock-out tournament and that means anything can happen. 
Last season proved to be an unforgettable one with some amazing comebacks. Manchester United winning away at PSG despite losing the first leg and having key players missed was an amazing night. It was nothing compared to the shock of Liverpool overturning a 3-0 deficit against Barcelona with a 4-0 win at Anfield. Then there was Tottenham's comeback against Ajax in the semi-final. It was a truly staggering event and one that gave us plenty of betting opportunities.
England supplied both finalists last season as Liverpool beat Tottenham to become European champions for the sixth time in their history. Can English teams dominate again this season? Manchester City dream of extending their domestic domination and conquer Europe, but they are not the only ones. PSG, Juventus, Real Madrid, Barcelona and Bayern Munich are all again proving to be major contenders again this season. The group stages have been completed and the draw for the last sixteen made. The road to the final in Istanbul on 30 May, 2020 is going to be action-packed. Sportytrader will be giving you all the latest news and previews of the key games, so fasten your seatbelts, it's going to be a bumpy but oh so exciting ride.
The Road to Istanbul
It was on June 25, barely a month after Liverpool's triumph in the 2018/19 final, that the quest to find the next Champions League winners began with a preliminary round tournament. No two-leg ties, just four teams battling it out for one precious place in the first qualifying round. Feronkeli from Kosovo won that place but then lost to Welsh champions, The New Saints in the first qualifying round.
You could say that actually the 2019/20 Champions League began a lot earlier than that. The race to qualify for the Champions League was determined by the league positions in countries around Europe. Some countries such as England and Spain see the top four in their league qualify. Other smaller nations just have their league champions qualify to take part. It's a long road for some teams if they want to make it to the group stages. There's the first, second and third qualifying rounds and then the play-off round, all over two legs.
There were some big name casualties this season, all ending up in the Europa League. Porto who have been regulars in the knock-out stages lost in the third qualifying round to Krasnodar. PSV Eindhoven lost to Basel in the second qualifying round and their Swiss conquerors lost in the following round to LASK Linz. Scottish champions Celtic again failed to make it to the group stages, losing to CFR Cluj in the third qualifying round. Cluj didn't make it to the group stages either and are now in the same Europa League group as Celtic.
Only Red Star Belgrade made it all the way from the first qualifying round to the group stages playing eight games. Ajax, who reached the semi-finals last season, had to play four qualifying matches but made it through to the group stages once again.
The eight groups produced a few surprises mainly the failure of clubs such as Ajax (semi-finalists last season), and Inter Milan to reach the last sixteen. All four English clubs managed to make it into the knock-out stages and have been joined by four teams from Spain, three each from Italy and  Germany and two from France.
See all betting odds on the UEFA Champions League!
Who will win the 2019/20 Champions League?
Get the latest odds at William Hill
Dates for your Diary
Last Sixteen:  18 February - 18 March
Quarter Finals:  7 April - 15 April
Semi-Finals: 28 April - 6 May
Final: 30 May in Istanbul

Place your Champions League Bets at Bet365
The Contenders

Ever since the investment into Manchester City began, their rich owners have dreamed of the day they win the Champions League. The nearest they have come to achieving that dream was the semi-finals in the 2015/16 season. The past two years has seen them exit at the quarter final stage to English clubs, Liverpool and Tottenham. After a domestic treble last season, City have again been busy in the transfer market with signings such as Rodrigo aimed at boosting their Champions League hopes. They had few problems qualifying for the last sixteen and with their Premier League title looking lost already, can concentrate fully on finally winning the Champions League.
All the latest Champions League Odds are at William Hill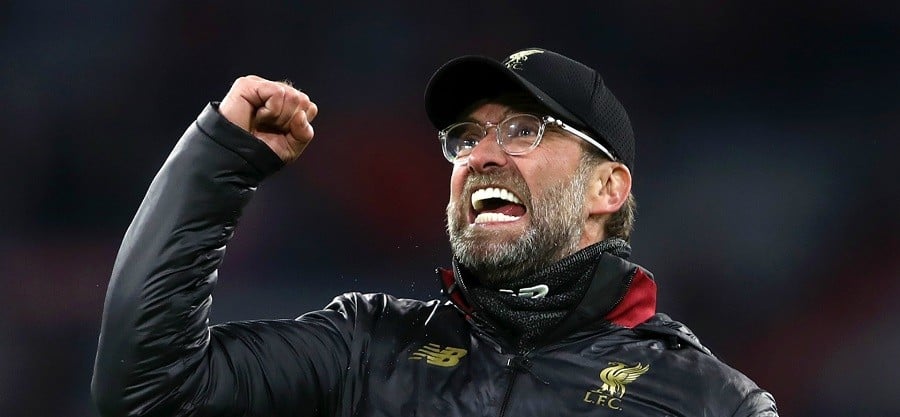 Liverpool currently hold the Champions League, European Super Cup and FIFA Club World Cup titles. With  a big lead in the Premier League, it's no surprise that many believe Liverpool could  again win this competition. They didn't have it all their own way in the group stages though, winning the group but only earning one point against Napoli. Their away form isn't always that great in the Champions League and Atletiico Madrid in the last sixteen isn't the easiest of ties. They  still have a quality squad that could well see them reach a third final in a row and win another European title.

Real Madrid were hoping to win a fourth straight Champions League title last season. It didn't work out though as the Spanish giants had a hugely disappointing season. They couldn't finish the best team in Madrid, let alone remain the best side in Europe. Real Madrid lost in the last sixteen to Ajax, their worst performance in the Champions League since 2010. They will want a much better performance this season and new signings include Eden Hazard, Luka Jovic and Ferland Mendy with close to £300m being spent.  Despite that, they still finished second behind PSG in their group and face a tough game against Manchester City in the last sixteen. After losing the home first leg 2-1, they are in big trouble in that tie.
Bet on the Champions League at William Hill

Spain has dominated the Champions League in recent years but it's not been Barcelona who have been lifting the trophy. They may have won La Liga for the past two seasons but not since 2015 have they lifted the Champions League trophy. One appearance in the final over the past eight seasons just isn't good enough, not when you have the stellar squad that Barcelona possess. But it shows this is a knock-out tournament in the second half of the season and anything can happen in that environment. The arrival of Antoine Griezmann and Frankie De Jong have make Barcelona strong contenders to win the Champions League. They had few problems in their group and take on Napoli in the last sixteen.
All the latest Champions News is at Bet365
Last Sixteen First Leg Results
Borussia Dortmund 2 PSG 1
Real Madrid 1 Manchester City 2
Atalanta 4 Valencia 1
Aletico Madrid 1 Liverpool 0
Chelsea 0 Bayern Munich 3
Lyon 1 Juventus 0
Tottenham Hotspur 0 Leipzig 1
Napoli 1 Barcelona 1
Bet on the Knock-out games at William Hill
Champions League Groups - Final Tables 
Group A: Paris Saint-Germain 16, Real Madrid 11 Club Brugge 3 Galatasaray 2
Group B: Bayern Munich 18Tottenham Hotspur 10 Olympiacos 4 Red Star Belgrade 3
Group C: Manchester City 14 Atalanta 7  Shakhtar Donetsk 6 Dinamo Zagreb 5
Group D: Juventus 16 Atletico Madrid 10 Bayer Leverkusen 6 Lokomotiv Moscow 3
Group E: Liverpool 13 Napoli 12 Red Bull Salzburg 7 Genk 1
Group F: Barcelona 14 Borussia Dortmund 10 Inter Milan 7 Slavia Prague 2
Group G: Leipzig 11 Lyon 8 Benfica 7 Zenit Saint Petersburg, Benfica 7
Group H: Valencia 11 Chelsea 11 Ajax 10  Lille 1
Bet on 2019/20 Champions League matches!
The Top Goal Scorers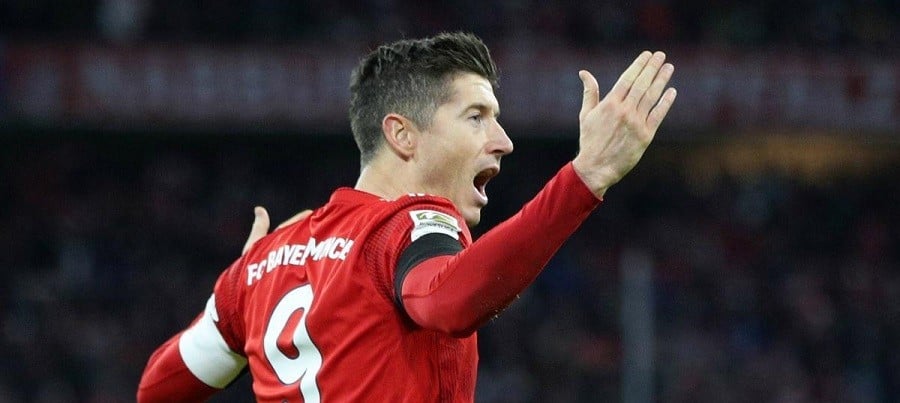 There are so many bets that you can place on the Champions League. One that can maintain your interest for a fair while is on the top goal scorer in the competition this season. There are of course many contenders with some fantastic and prolific scorers to choose from. Harry Kane from Tottenham is one major contender for this bet. He has already been scoring goals for both Tottenham and England this season. With a bet like this, it's good to look at teams that are expected to go a long way in the competition. Those strikers that play for teams who have reasonably comfortable looking group opposition are also worth a bet. They may be involved in some high scoring games and get a few goals in the early stages of the competition. 
After the group stages, the top scorer is Robert Lewandowski of Bayern Munich with ten goals. He scored twice in two games and hit four in Munich's win at Red Star Belgrade. The Polish striker is two clear of Erling Haland who scored eight goals for Red Bull Salzburg but that still wasn't enough to take them into the knock-out stages. He's now joined Borussia Dortmund but can't play for them in the Champions League. On six goals are Harry Kane (out injured until April), Kylian Mbappe, Son Heung-Min and Memphis Depay. It's not been so sucessful for the usual leading contenders with just two goals for Lionel Messi and one for Cristiano Ronaldo.
Champions League 2019/20: Our free betting tips
The scene is set therefore for another fascinating Champions League. All those betting opportunities to come and our team of experts will help you get some winners in the months to come. They will provide you with excellent previews, packed with key statistics and showing you just why they think their tips will become winners. Check out the site for all the latest news and odds.