Europa League Betting Tips
Discover our detailed tips and predictions for the next matches in the 2019/20 Europa League.
The 2019/20 Europa League

The Europa League sees clubs from across Europe battle it out to lift this trophy. It may be in the shadows of the more prestigious Champions League but clubs still want to win this competition, especially as the winner qualifies for the Champions League the following season. It was back on June 11 that the preliminary round of the competition began with teams such as Cardiff Metropolitan University, Prishtina and Tre Fiori trying to get as far as they can in the 2019/20 Europa League.
As the months have gone by, higher ranked teams have entered the competition as well as clubs knocked out of the Champions League in the qualifying rounds. Over 200 clubs are taking part in the Europa League this season and that total is now down to 48 who will play in the group stages with eight more on the way by the end of the year. Who are those eight teams? Well, the eight sides that finish third in their Champions League groups are transferred into the knock-out phase of the Europa League.
Check Out all the Europa League odds for the Europa League with Bet 365
Europa League Expert Predictions

The Europa League has plenty of critics among fans and clubs. Some see it as an irrelevant competition that just causes fixture congestion. Many clubs with good teams but weak squads have took part in the Europa League and see it greatly affect their domestic campaigns. Take a look at Burnley who had a poor start in the Premier League last season while taking part in the Europa League qualifiers. The same is happening this season to Wolverhampton Wanderers who are in the group stages but still without a win in the Premier League as this article is written on September 16.
Betting on the Europa League isn't the easiest of tasks so you need a bit of help and that's what our team of experts are here to provide. The problem wih the Europa League is the quality of the line-ups that are put onto the pitch by managers. They don't value the Europa League too highly and prefer to save their players for the domestic league games that take place at the weekend. Our betting experts will tell you how strong teams are likely to be. Some clubs such as Arsenal and Manchester United have strong squads, so can play a viritual second-string side and still make progress in the Europa League. Others don't have such deep squads and playing reserves might not make them good candidates to get the win. 
Statistics play a key part in the betting world we live in. Our betting experts will be studying as many statistics as possible to back up the predictions they make. If the stats show that a team is playing a series of low-scoring games, then a suggestion to bet on the under 2.5 goals market will be made. Our experts will be looking at the home and away records of all the clubs they have the task of predicting results for.
Get excellent Europa League odds at William Hill!
Look out for the Europa League Trends
If there are trends out there that indicate a particular result happening, our experts will tell you and boost your chances of laying a winning bet. One trend that proved important last year was the fact that 21.5% of Europa League games were drawn. The odds that are given for a game to end all square are often very good value indeed, especially if the game sees a highly ranked side (but one playing a weakened side) up against a smaller club.
46.5% of games ending in home wins with 32% being won by the away teams. 64% of games last season saw the away team get on the scoresheet in group matches. That high level continued in the knock-out stages with the percentage at 62%. The inclusion of fringe players in Europa League games regularly sees a fair few goals scored. 52% of games played last season saw over 2.5 goals scored. 31.5% had over 3.5 goals so that's something else to consider when placing Europa League bets. Often, particularly in the group stages, there are some low ranked sides that take on top teams and suffer heavy defeats.
Get great odds on the Europa League at Bet365!
The 2019/20 Europa League Group Stages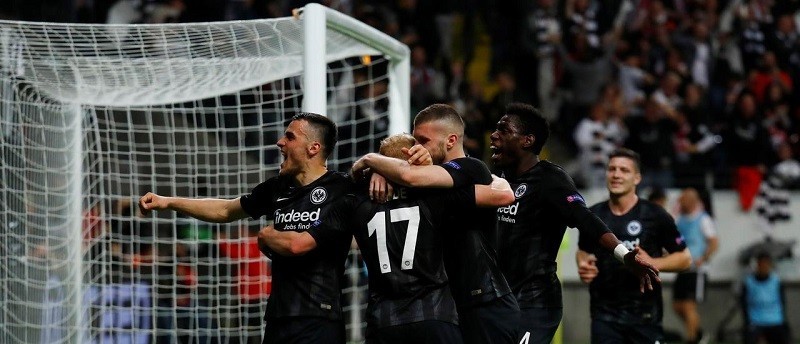 After all the qualifying matches, the Europa League has now reached the group stages. 32 clubs from all over Europe will be taking each other dreaming of reaching the knock-out stages. There are some big teams in the Europa League this season. From England, there are Arsenal, Manchester United and Wolverhampton Wanderers. Eintracht Frankfurt lead a strong German challenge and will hope to go one round better than the semi-final they reached last season.
Spain have a fantastic record in this competition. None more so than Sevilla who won the Europa League three times in a row between 2014 and 2016. No Champions League for them this season, but they and Espanyol and Braga  will hope to bring the Europa League back to La Liga. Porto from Portugal could be a good bet this season. They are regulars in the knock-out stages of the Champions League but were knocked out in the qualifying rounds so it's the Europa League for them this season. The same goes for PSV who lost to Basel (also in the group stages) in the Champions League qualifying rounds.
There are some great match-ups to look forward to over the coming months. Sporting Lisbon v PSV Eindhoven in Group D certainly has the mouth-watering. There's a real revenge match in Group E as Glasgow Celtic renew rivalry with CFR Cluj who knocked them out of the Champions League this season. Arsenal v Eintracht Frankfurt could have been last season's Europa League final and then there's Porto up against Feyenoord, Young Boys and Glasgow Rangers in what looks like being a close Group G.
Here are the pairings for the group stages: 
Group A:  Sevilla, APOEL Nicosia, Qaragbag and F91 Dudelange
Group B:  Dynamo Kiev, FC Copenhagen, Malmo FF and Lugano
Group C:  Basel, Krasnodar, Getafe and Trabzonspor
Group D: Sporting Lisbon, PSV Eindhoven, Rosenborg and LASK
Group E:  Lazio, Glasgow Celtic, Rennes and CFR Cluj
Group F:  Arsenal, Eintracht Frankfurt, Standard Liege and Vitoria
Group G:  Porto, Young Boys, Feyenoord and Glasgow Rangers
Group H:  CSKA Moscow, Ludogorets Razgrad, Espanyol and Ferencvaros
Group I:  Wolfsburg, Gent, St, Etienne and Olexandriva
Group J:  Roma, Borussia Monchengladbach, Istanbul Basaksehir and Wolfsberger AC
Group K: Besiktas, Braga, Slovan Bratislava and Wolverhampton Wanderers
Group L:  Manchester United, FC Astana, Partizan Belgrade and AZ Alkmaar
The first three matchdays have taken place with the next set for Wednesday 6 November and Thursday 7 November.
After three matchdays, the current leaders in each of the groups are: Sevilla, Copenhagen, Basel, PSV Eindhoven, Celtic, Arsenal, Young Boys, Espanyol and Wolfsburg. 
All teams have points on the board with the exception of Rosenborg, Vitoria de Guimaraes, CSKA Moscow, Besiktas and FC Astana. It looks as if their European competition seasons aren't going to be lasting too long. The tightest groups at present are G and I with only three points separating first from last.
bettingTipsCtaLink_ ERROR NO LINK
Odds on who will win the 2019/20 Europa League
Arsenal - 5/1
Manchester United - 6/1
Sevilla -  9/1
Roma - 20/1
Wolverhampton Wanderers- 20/1
Lazio 25/1
The main movement at the top of the market has been Arsenal becoming the new favourites to win the Europa League. They reached the final last year and have won all three of their group games this season. They had wins over Eintracht Frankfurt and Standard Liege but then had to come from behind to defeat Vitoria Guimaraes. With their Premier League campaign not going too well, more emphasis is likely to be placed on them winning the Europa League to get into the Champions League next season.
Manchester United are second favourites and are top of their group with two wins and a draw from their first three matches. Sevilla are again in good form in this competition and can never be ruled out. Roma have seen their odds cut to 14/1, if their away form improves they could become major contenders. Wolverhampton Wanderers lost their first game but then won away at Besiktas and Slovan Bratislava and could be good outsiders to go far in this competition. Lazio are 25/1 but need to improve their away record.
Choose the Europa League Winner at Bet365
The Contenders

Sevilla Chasing Their Sixth Win
Whether it be the UEFA Cup or the Europa League as it is now known, Sevilla have enjoyed tremendous sucess. Two UEFA Cup wins and then three successive Europa League titles between 2014 and 2016. They are back again chasing a sixth win but probably not too happy about it. The Europa League is full of clubs who are still having nightmares over the fact that they didn't qualify for the Champions League. Sevilla fall into that category having finished just two points behind the final Champions League qualifying position in La Liga ending the season with a run of four points from their last four games. With only one home loss in their last 22 Europa League games, they will again be a threat in this competition.
Get Great Europa League odds at Bet365
Manchester United Eyeing another European Trophy

Manchester United won the Europa League in the 2016/17 season qualifying them for the Champions League the following season. Last season saw them lose to Barcelona in the quarter finals of the Champions League. Only being able to finish sixth in the English Premier League, they are back in the seconday European club competition this term. They have a relatively easy group and have made a steady if not spectacular start to the new season. Another deep run in this competition cannot be ruled out.
Arsenal Gunning to go One Step Further

Arsenal are spending a third straight season in the Europa League. They have come close to lifting the trophy in both of the last two seasons. In 2017/18, they lost to eventual winners Atletico Madrid in the semi-finals. They made it to the final last year losing to Chelsea, so will they go one step further and win the Europa League this season? They have achieved a lot considering their policy of playing young sides and resting regular first-teamers. They have a difficult opponent in Eintracht Frankfurt in their group but should make it to the last 32, then anything could happen.
Head to Bet365 for the latest Europa League Odds
Europa League 2019/20: Our free betting tips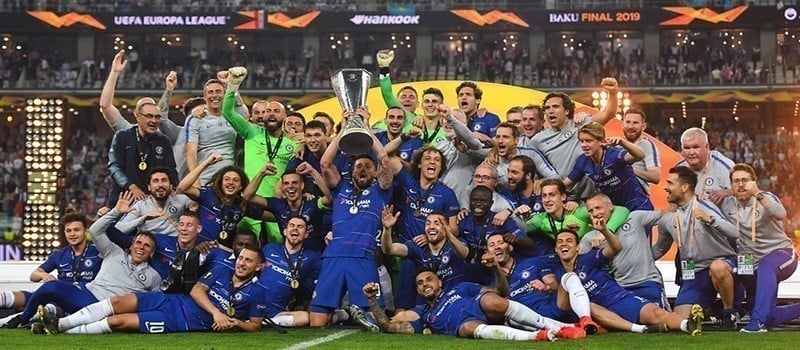 Chelsea won the Europa League last season and could yet retain their trophy. If they were to finish third in their Champions League group, then they will go back into the Europa League. That's the strange thing about the Europa League and a lot of the clubs in the Europa League group stages began the season in the Champions League. That's an important factor to consider because it means there are some clubs such as Celtic who are league champions in their country.
Another fact you need to know is the importance of finishing first in your Europa League group. The eight teams transferred from the Champions League will be drawn in the last 32 against sides who finished second in their group.
It's going to be a long and exciting road to the final in Gdansk. There are matches to be enjoyed and to make profit out of. Make sure you read all our previews written by our team of betting experts. Also, check out the odds comparisons to make sure you get the very best odds when placing your bets.