Europa League Betting Tips
The Europa League has been suspende because of the contravirus emergency
Discover our detailed tips and predictions for the next matches in the 2019/20 Europa League.
he 2019/20 Europa League

The Europa League sees clubs from across Europe battle it out to lift this trophy. It may be in the shadows of the more prestigious Champions League but clubs still want to win this competition, especially as the winner qualifies for the Champions League the following season. It was back on June 11 that the preliminary round of the competition began with teams such as Cardiff Metropolitan University, Prishtina and Tre Fiori trying to get as far as they can in the 2019/20 Europa League.
As the months have gone by, higher ranked teams have entered the competition as well as clubs knocked out of the Champions League in the qualifying rounds. Over 200 clubs are taking part in the Europa League this season and that total is now down to the final 32 and the knock-out stages will begin on February 20. 24 of those sides have qualified via the group stages of this competition. The other eight are the teams that finished third in ther Champions League groups. Our team of betting experts will supply you with lots of information about the knock-out stages and hopefully provide you with plenty of winners.
Check Out all the Europa League odds for the Europa League with Bet 365
Europa League Expert Predictions

Betting on the Europa League requires you to take several factors into consideration.  One of these is the line-ups that sides will play for these games as clubs do field weakened teams. With important domestic league games to be played at the weekend, that is understandable, so checking how many team changes have been made is important. The number of changes made could be higher if there is a key domestic game being played at the weekend, if the Europa League match involves a long journey or the side is playing a second leg and have a big lead from the first one played.
The top teams have strong squads so can rotate their squads and still get good results in the Europa League. The further we progress in the tournament, the stronger the line-ups tend to become. With a trophy to be won and a place in next season's Champions League at stake, that's a logical decision to make.
Statistics play a key part in the betting world we live in. Our betting experts will be studying as many statistics as possible to back up the predictions they make. If the stats show that a team is playing a series of low-scoring games, then a suggestion to bet on the under 2.5 goals market will be made. Our experts will be looking at the home and away records of all the clubs they have the task of predicting results for.
Get excellent Europa League odds at William Hill!
Look out for the Europa League Trends
The group stages have taken place, so we have lots of statistics that we can examiine regarding the 16 remaining teams in this season's Europa League. Below is a list of statistics for each of the qualifiers for the knock-out stages that could prove very useful when the competition resumes.
Sevilla - Their last four games in this season's Europa League have all had under 2.5 goals scored in them. They have kept seven clean sheets in their last eight Europa League home matches.
Copenhagen - Four of their last seven Europa League games have ended in a draw. Their 3-1 win at Celtic ended a run of eight Europa League games with under 2.5 goals scored in them.
Basel - Have won their last three games in this competition without conceding a goal. They are unbeaten at home in the Europa League in their past nine games, last losing in 2015.
Getafe - Only conceded one home goal in four Europa League games this season. 
LASK - Only lost one of their last nine Europa League games. Only ever played six home games in the Europa League and have won them all.
Eintracht Frankfurt - Both teams have scored in their last six Europa League matches.  Eight of their last nine games in this competition have had over 2.5 goals scored in them.
Rangers - Unbeaten at home in their last 17 home games in this competiition but only one win in five away from home. Scored in each of their last nine home Europa League fixtures.
Wolfsburg - Won their last four Europa League games, conceding just one goal. Scored in nine of their last ten home games in this competition.
Istanbul Basakhesir - Have made it to the last sixteen despite conceding more goals than they have scored. 
Roma - Only lost one of their last nine Europa League games.  Two of their last three at home have ended in a draw.
Wolverhampton Wanderers - Last four Europa League matches have all had over 3.5 goals scored in them. Won their last three at home without conceding.
Manchester United - Four of their last five games in the Europa League have had over 2.5 goals scored in them.  Unbeaten in their last 13 home Europa League games, the last defeat being in 2012.
Olympiakos - Only won one of their last four Europa League games since start of 2019. The loss at home to Arsenal in the last 32 ended a run of 11 Europa League home matches without defeat.
Shakhtar Donetsk - Last four Europa League games have all had over 2.5 goals scored in them.
Bayer Leverkusen - Both teams have scored in five of their last six Europa League games.
Inter Milan - Three of their last four games in this competition have had under 2.5 goals scored in them.
Get great odds on the Europa League at Bet365!
The 2019/20 Europa League - Draw for the Last Sixteen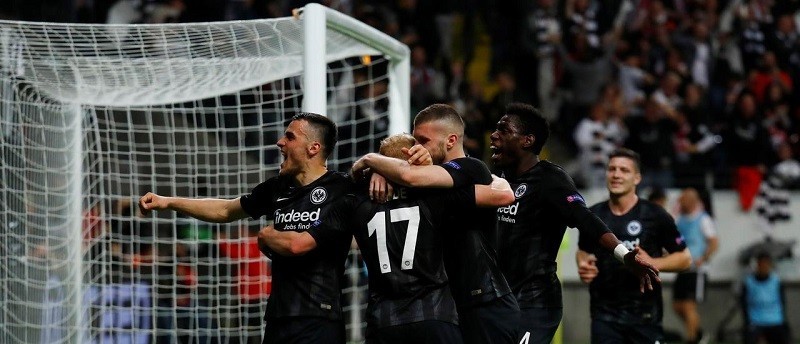 Istanbul Basaksehir v Copenhagen
Olympiakos v Wolverhampton Wanderers
Rangers v Bayer Leverkusen
Wolfsburg v Shakhtar Donetsk
Inter Milan v Getafe
Sevilla v Roma
Eintracht Frankfurt v Basel
LASK Linsk v Manchester United
Ties to be played on March 12 and 19.
Bet on the Europa League at William Hill
Last 32 Results
The knock-out stages took place in the final two weeks of February. Below are the aggregate scores.
Wolverhampton Wanderers beat Espanyol 6-3
Istanbul Basaksehir beat Sporting Lisbon 5-4
Getafe beat Ajax 3-2
Bayer Leverkusen beat Porto 5-2
Copenhagen defeated Celtic 4-2
Basel beat APOEL 4-0
Sevilla beat CFR Cluj on away goals
Olympiacos beat Arsenal on away goals
LASK defeated AZ 3-1
Manchester United had a 6-1 aggregate win over Club Brugge.
Inter Milan beat Ludogorets Razgrad 4-1
Eintracht Frankfurt beat Red Bull Salzburg 6-3
Shakhtar Donetsk defeated Benfica 5-4
Wolfsburg beat Malmo FF 5-1
Roma defeated Gent 2-1
Rangers beat Braga 4-2
Two leading fancies for the Europa League were knocked out at the last 32 stage. Arsenal surprisingly lost to Olympiakos and that most likely ends any hope they have of being in the 2020/21 Champions League. They won the away leg 1-0 but lost by the same scoreline in the home second leg taking the game into extra time. Arsenal equalized on the night but a 120th minute goal took the Greeks through on away goals. 
Ajax were also knocked out despite being one of the favourites to win the Europa League. They lost 3-2 on aggegate to La Liga side Getafe. Sporting Lisbon led their tie against Istanbul Basaksehir 4-3 going into the 92nd minute of the second leg. Then the Turks equalized to take the tie into extra time and won with a 119th minute penalty. Another shock saw Copenhagen draw their home leg against Scottish Champions Celtic but won the away leg 3-1 with two goals in the last five minutes. 
It was a bad round for Portugal with all three of their teams knocked out. Benfica were 4-3 up on aggregate on Shakhtar Donetsk but ended up going out 5-4. Braga led 2-0 away at Rangers in the away first leg but then conceded three goals and lost the home second leg 1-0. Porto only lost the away first leg to Bayer Leverkusen 2-1 but then conceded three goals at home losing 5-2 on aggregate.
Final Group Tables
Group A: Sevilla 15 APOEL 7 Qarabag 4 F91 Dudelange 3
Group B: Copenhagen 9 Malmo 8 Dynamo Kiev 6 Lugano 2
Group C: Basel 10, Getafe 9 Krasnodar 9 Trabzonspor 1
Group D: Sporting Lisbon 12 LASK 10 PSV 7 Rosenborg 0
Group E: Celtic 13 CFR Cluj 9 Lazio 6 Rennes 1
Group F: Arsenal 10 Eintracht Frankfurt 9 Standard Liege 7 Vitoria de Guimaraes 2
Group G: Rangers 8 Porto 7 Young Boys 7 Feyenoord 5
Group H: Espanyol 11 Ludogorets Razgrad 7 Ferencvaros 6 CSKA Moscow 2
Group I: Gent 9 Wolsfburg 8 Saint-Etienne 4 Oleksandriya 3
Group J: Borussia Monchengladbach 8 Roma 8 Istanbul Basaksehir 7 Wolfsberger 4
Group K: Braga 11 Wolves 19 Slovan Bratislava 4 Besiktas 3
Group L: ,Manchester United 10 AZ Alkmaar 9 Partizan 5 FC Astana 3
Odds on who will win the 2019/20 Europa League
Manchester United - 4/1
Inter Milan - 5/1
Wolverhampton Wanderers- 13/2
Sevilla -  7/1
Bayer Leverkusen - 9/1
Roma - 14/1
Getafe - 16/1
Manchester United remain the favourites to win the Europa League. Their price has shortened even further after what looks like a good draw against LASK Linsk. Wolves have been cut in price after knocking out Espanyol in the last 32. They are fully expected to get past Olympiakos, even though they just beat Arsenal. The Gunners were one of the leading fancies to win the competition but along with Ajax, they lost in the last 32. The biggest market movers are Bayer Leverkusen, who were as large as 25/1 when the last 32 draw was made and now just 9/1.
Choose the Europa League Winner at Bet365
The Contenders
Sevilla Chasing Their Sixth Win

Whether it be the UEFA Cup or the Europa League as it is now known, Sevilla have enjoyed tremendous sucess. Two UEFA Cup wins and then three successive Europa League titles between 2014 and 2016. They are back again chasing a sixth win but probably not too happy about it. The Europa League is full of clubs who are still having nightmares over the fact that they didn't qualify for the Champions League. Sevilla fall into that category having finished just two points behind the final Champions League qualifying position in La Liga ending the season with a run of four points from their last four games. With only one home loss in their last 25 Europa League games, they will again be a threat in this competition. That was shown in the group stages as they won all three home games without conceding a single goal. Only three goals were conceded by Sevilla in their group, a total only beaten by Manchester United.
Get Great Europa League odds at Bet365
Manchester United Eyeing another European Trophy

Manchester United won the Europa League in the 2016/17 season qualifying them for the Champions League the following season. Last season saw them lose to Barcelona in the quarter finals of the Champions League. Only being able to finish sixth in the English Premier League, they are back in the secondary European club competition this term. They won their group but had a few struggles along the way. Just how important this competition will be to United depends on their Premier League campaign. They have a decent chance of a top four finish (currently fifth at time of writing) but if their league form stutters, then winning the Europa League and getting that pass into the Champions League will become more and more important to them. They have a good draw in the last sixteen and will be confident of reaching the last eight.
Inter Fighting Hard to win the Europa League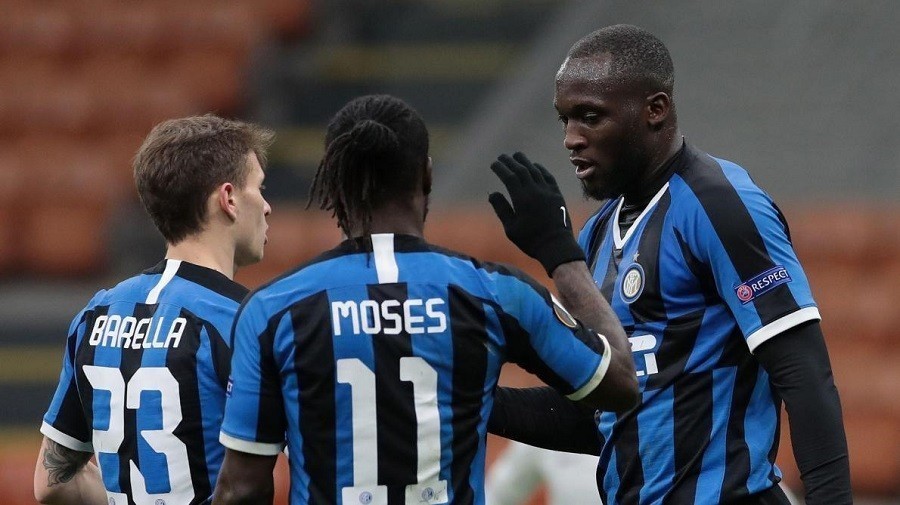 It promises to be an exciting end to the season for Inter Milan. They still have a good chance of winning Serie A and are in the last sixteen of the Europa League. Inter began the season in the Champions League but again failed to make the knock-out stages. They beat Ludogorets Razgrad in the last 32 of the Europa League and now take on La Liga side Getafe. With players such as Lukaku and Eriksen in good form, Inter will be hard to beat in the Europa League.
Head to Bet365 for the latest Europa League Odds
Europa League 2019/20: Our free betting tips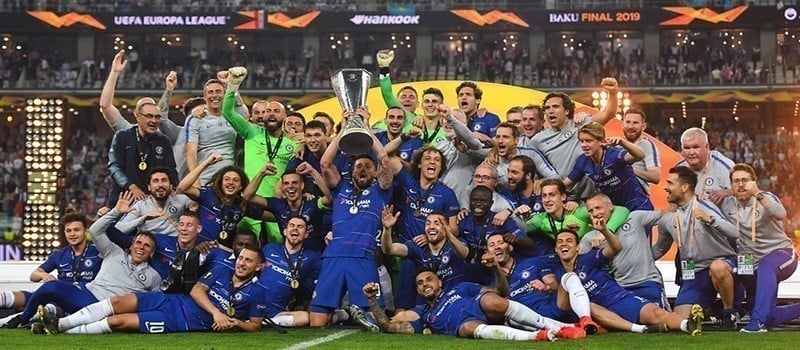 Chelsea won the Europa League last season but after they qualified for the knock-out stages of the Champions League, there will definitely be a new winner this season, but who? Plenty of the teams in thie knock-out stages have already played in the Champions League this season, so that is something you need to consider when making your selections.  It's going to be a long and exciting road to the final in Gdansk. There are matches to be enjoyed and to make profit out of. Make sure you read all our previews written by our team of betting experts. Also, check out the odds comparisons to make sure you get the very best odds when placing your bets.