Qatar 2022: What bet

s to make for Brazil?

by Yunchu Li | by Kevin Richard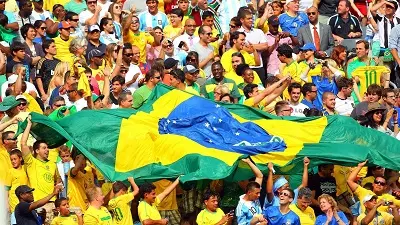 Brazil is the most successful team in the history of the World Cup, and in 2022 in Qatar, the Samba Boys will be making another stab at the world title. This will be their 22nd appearance at the finals and they have the unmatched recognition of having been to every World Cup competition. So what are the best we should be placing on the Brazilian team?
Qatar 2022: What bets to make for Brazil?
Brazil holds the best statistic in football; that of being the most successful team at the FIFA world Cup. They have won it five times – in 1958, 1962,1970, 1994 and 2002. In the past four editions since winning it in Korea/Japan, they've managed to get to the semis just once. Three times in the last four appearances they dropped off at the quarter finals. Brazil has an impressive history of getting past the group stages. They are in Group G, which has Serbia, Switzerland and Cameroon and they are clearly the strongest. What bets should we be placing on them in the 2022 World Cup?
Bet on the World Cup 2022 at Bet365
Brazil will once again be among the favorites

Brazil finished top of the qualification table in South America, six points clear of Argentina and they didn't lose a game in the 17 qualification matches played. They were the best by far, defensively and in attack,  and finishing with a +35 goal difference says it all. By virtue of their performances ahead of the World Cup, Brazil will once again assume the favorites' tag here. 
They have the players to do this, and of course this will be headlined by PSG forward Neymar Jr, who is yearning for a trophy with the national team after years of failure. While Neymar remains the star player in the current Brazil team, it is hard to find a department where the team isn't well equipped. Their two keepers play for the top two teams in England, while Vinicius Junior, Gabriel Martinelli, Rodrygo and Gabriel Jesus represent a very bright future for Brazil. 
The Brazil squad is generally the portrayal of a good mix of youth and experience and head coach Tite will have a tough task selecting who to carry to Qatar. From an experiential view, Thiago Silva, at 37 remains a cog in the team and has done well leading the younger lads while 30-year old Casemiro has been key as well. Capped 107 times, Silva is only second to Neymar (109 caps) in the current team, as it is widely expected that 39-year old Dani Alves (124 caps) will be overlooked. 
Register and collect your bonus
World Cup 2022 – Brazil fixtures

Brazil are in Group G of the competition and will be up against Serbia, Cameroon and  Switzerland. Their matches will be in Lusail and Doha. Brazil are the highest ranked nation in the world, and thus they rightly assume the tag of favorites in this group. Playing against 16th placed Switzerland, 25th placed Serbia and 38th placed Cameroon means most of the odds will be in favor of Brazil and finishing top of the group should be an easy pick.
Brazil's full schedule on the 2022 World Cup is as follows: 
Thursday 24/11/2022  vs Serbia (Lusail)
Monday 28/11/2022 vs Switzerland (Doha)
Friday 2/12/2022 vs Cameroon (Lusail)
Check out the odds at VBET
How to bet Brazil at the 2022 World Cup?

The 2022 World Cup winner will be known on 18th December 2022; will it be Brazil? Well quite a number of fans will want to view them as that, looking at their recent performances. Both VBet and Bet365 have Brazil at 5.50 to win the World Cup. It is with their rating as favorites that Brazil are only tipped at 1.44 by Bet365 and VBet to top their group. With Brazil getting to three quarter finals in the last four World Cup finals, there will be the expectation that they should do better here and a place in the quarters seems assured. The last time they got to the semis was in 2014 and they are backed at odds of 2.35 to get to the semis here. 
Brazil will open their campaign against Serbia. These two nations met at the 2018 World Cup and Brazil won 2-0 for their second win over Serbia. They have never conceded a goal against Serbia in the two meetings and in their current shape, they will be expected to keep another clean sheet in that game. Bet365 places odds of 2.37 for Brazil to win without conceding.
The second match will be against Switzerland. This will be the third time these two face off at a FIFA World Cup, the most recent was in 2018, which ended 1-1. The Swiss can be tough to crack, and they have quality players as well. Their strategy could be defensive here, targeting a draw, and for a team that has scored in every game they have faced Brazil, they can't be written off. A draw between Brazil and Switzerland may be a good option to go with here, which will generally attract high odds of 3.90. 
Brazil will wrap up their group matches with a game against Cameroon, who are still rising back after low moments in their football history, which included missing the 2018 World Cup. Here the lowest ranked in the group takes on the highest ranked and this will be the sixth meeting between the two nations. In the earlier five, Brazil had four wins and Cameroon one. In two World Cup meetings, Brazil have emerged winners and by virtue of their rating ahead of the competition, Brazil winning both halves in this game has odds of 1.90.
More about 2022 FIFA World Cup :