2022 FIFA World Cup

: What bets to make for France?

by Yunchu Li | by Kevin Richard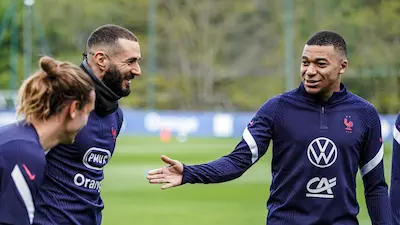 In their feat of achieving the repeat, reigning World champions France look like they boast one of the strongest squads ever assembled, but is that going to be enough for the skies in Paris to light up once again? In this article, we evaluate the best bets for France, in light of the upcoming World Cup 2022.
Will Les Bleus triumph again in this World Cup?
After their triumph in Russia, which ended in glory and France winning their second FIFA World Cup, Les Bleus will aim to replicate that success with arguably one of the strongest squads ever assembled. Having won the coveted trophy two times before, the French side have participated in sixteen of the twenty-two World Cups, last missing out on the tournament in 1990. There is however a silent doubt about the chances of Didier Deschamp's team, with the alarm bells ringing for quite some time. Firstly, the underperformance of the French in the Euro 2021, where they entered as grand favourites but displayed a shocking defensive performance at the Round of 16 to suffer a shock elimination after penalties to Switzerland. Secondly, the even more troubling appearance of France during the recent Nations League match-ups, where they lost two and drew two of their four games against Austria, Croatia and Denmark. 
Check out the great odds at Bet365

With regards to how they qualified, France had no issues in their qualifying group, finishing the mini-tournament unbeaten, and with a top-notch defence that saw the team concede just three goals in their eight games played.
Despite their underwhelming performance in the recent Nations League games, there is quiet hope that the hot form of Karim Benzema and his partnership with explosive Kylian Mbappe will spearhead them towards a second successive World Cup triumph. However, that is much more easily said than done.
Only twice in the history of the competition has a team won successive World Cups, while all of the last three teams that entered the competition as winners, failed miserably to not even progress from their group, notably Italy in 2010, Spain in 2014 and Germany in 2018.
Concerning the French squad, there is surely no doubt it is one of the best, if not the best in the tournament, with infinite talent, experience and back up for every position. Under the posts, the experienced Tottenham keeper Hugo Lloris, faces stern competition from the Serie A goalkeeper of the season, Mike Maignan.
In defence, the huge selection available consists of players such as Jules Kounde, Lucas Hernandez, Theo Hernandez, William Saliba, Ibahima Konate and Benjamin Pavard. If the way France played in the recent Nations League games is any indication of how they will shape up ahead of the World Cup, Pavard and Hernandez look like they have the headstart in the full-back positions, while Kimembe and Varane could provide an experienced central defensive duo, with Konate and Saliba filling in when needed.
The explosiveness and versatility of Kounde also means that Deschamps could play three at the back, as they did against Denmark, with the Barcelona ace partnered with Varane and Hernandez. Midfield is another embarrassment of riches for Les Bleus, which possess world-class material in the faces of Tchouameni, Rabiot, Kante and Pogba. However, it will be the experience and composure of Ngolo Kante that will largely decide France's fate in the tournament, with the Chelsea ace being instrumental for both club and country in recent years.
The real wealth of options and talent though comes in the form of the French attack. An explosive array of elite players such as Mbappe, Benzema, Ben-Yedder, Coman, Nkunku, Dembele, Griezmann and Moussa Diaby makes this team almost impossible to defend against, with so many formations and shapes available to the manager's disposal due to the immense array of attacking players and styles available in the squad.
Check out the great odds at Bet365
Schedule
Being a part of Group D, France have had a relatively easy draw, being pitted against Australia, Denmark and Tunisia. Denmark have emerged as a strong side in the last few years however, reaching the semi-finals of the Euro 2021 and beating France away in their last encounter, so Les Bleus should be wary of a potential upset.
Their full schedule is as follows:
Tuesday, November 22nd – 21:00 France v Australia – Al Janoub Stadium
Saturday, November 26th – 18:00 France v Denmark – Stadium 974
Wednesday, November 30th – 17:00 Tunisia – France – Education City Stadium 
How to get France on your side at the 2022 Qatar World Cup

You can get France on your side as the World Cup winner at odds of 7.00 in Bet365 and Vbet, with most bookmakers maintaining that price. In fact, France is the third favourite to lift the trophy, behind Brazil and England. Given the wealth of experience and quality at their disposal, the French are certainly backable at that price, having all the necessary requirements to go far in the competition.
However, such an intense amount of expectation in addition to the so-called World Champions curse could lead to unnecessary pressure and thus, it would be more prudent to wait until France's October Nations League games, in order for more accurate conclusions to be drawn. However, betting on Les Bleus to reach the semi-finals is a solid value bet and will most likely be confirmed should France play with the desire that is reflecting the huge talent they possess. This bet can be found at odds of 2.50 on Bet365. 
With regards to group-related picks, for punters who believe that France will lift the coveted trophy, another way to get behind them is to bet their group (Group D), to produce the winner at odds of 5.00 on Bet365. Given that their group also contains dark horses Denmark, it could be a smart play and could be cashed out at a high price should both nations reach the latter stages of the tournament.
When it comes to the goal-scorer markets, France has an array of attacking options that could be backed. The obvious choices, Kylian Mbappe and Karim Benzema can be found at odds of 10.00 and 13.00 respectively on Bet365, and they are both solid bets given their explosiveness, efficacy in front of goal and red-hot form currently. A dark-horse bet could be backing Antoine Griezmann to top the chart, with odds of 41.00. The French attacker shined in the last Euro and World Cup tournament and Deschamp's style suits him, so if he manages to get enough game time, he could be worth a punt, given that France also has a relatively easy group to contest with.
With regards to individual games, it would be interesting to preview the clash between the French and Denmark, but only the odds against Australia are available at this moment. Given the wealth of attacking talent at their disposal and the defensive frailties of the Australians in past World Cup tournaments, goals are to be expected. Having said that, Over 2.5 goals can be found at odds of 1.61, while Over 3.5 goals at odds of 2.62 on Bet365, and depending on the betting tastes, both could be value picks in what should be a goal-rich game.     
More about 2022 FIFA World Cup :