2022 World Cup : Wha

t bets to make for Australia?

by Yunchu Li | by Kevin Richard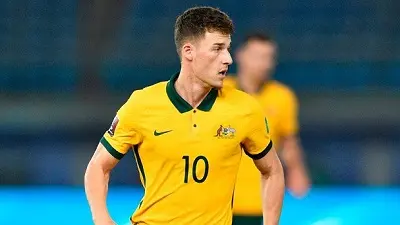 With only a few months remaining until the start of the 2022 World Cup in Qatar, we break down the Australian national team's chances of causing a potential upset in what will be the Socceroos' fifth consecutive appearance in the World Cup Finals.
2022 World Cup: Best Bets for Australia
32 of the world's top nations descend on Qatar from November 20th to December 18th to contest the 22nd edition of the FIFA World Cup. It's a monumental tournament for a number of reasons: it is the first World Cup hosted by a Middle-Eastern country, the first World Cup to take place in November - December and it the last time before the tournament will be expanded to 48 teams starting in 2026. In this article we'll take a look at the Australian national team and whether or not the Socceroos can make some noise in Qatar. 
Often assuming the role of frisky underdogs in this tournament, Australia yet again find themselves as the betting outsiders to make it out of a tough Group D. Manager Graham Arnold will now be responsible for the ultimate goal of improving on his team's last three showings at this stage which saw Australia suffer group stage exits in 2018, 2014 and 2010. The best ever finish for Australia at the World Cup was 2006 in Germany when they finished second in a group including Brazil, Croatia and Japan to ultimately bow out in the Round of 16 to eventual champions Italy. Let's dive into the squad that Australia is bringing to Qatar and see if there is any value to be had across some of the top online betting sites.
Australia's Chances: Can the Socceroos Spring a Surprise?

The Australians certainly didn't make things easy for themselves as a third-place finish in the AFC Group B qualifying table forced them into two consecutive playoff matches to decide their World Cup fate. The first against the UAE saw the Australians emerge as 2-1 victors thanks to goals from Jackson Irvine and Ajdin Hrustic, setting up a final showdown against Peru. The match, which took place in the sweltering heat of Doha, Qatar, would have to be settled with a penalty shootout after a 0-0 stalemate. Australia would eventually prevail 5-4 in the shootout with backup goalkeeper Andrew Redmayne providing the heroics, stonewalling Luis Advincula and guaranteeing the Aussies entry to the World Cup for a sixth time in their history. 
Australia may lack many of the household names of past national teams such as Tim Cahill and Harry Kewell but this current iteration boasts a solid mix of youth and experience. The leaders of the squad and the ones that will be called upon most to step up in Qatar include a number of players with former Premier League experience. Former Huddersfield and Brighton midfielder Aaron Mooy will look to dictate the flow of the match from a deep-lying playmaker position. 
The experienced Mat Ryan starts between the sticks as the first-choice goalkeeper and current Aussie captain who currently plies his trade in Denmark with champions FC Copenhagen. Ryan has had previous stints with Real Sociedad and Brighton and featured in his third World Cup for Australia. .
Tasked with shouldering a large portion of the creative load is current #10 Ajdin Hrustic, who is coming off a Europa League winning campaign with Frankfurt and has been a key player for the Socceroos as of late.
The squad showed an excellent level of grit and determination to progress past two high-stakes playoff matches in challenging conditions and shouldn't be taken lightly by the more talented teams in their group. This Australia team is familiar with the climate they will be playing in which could ultimately prove to be a massive advantage and makes them a dangerous side with solid upset potential. The Aussies have now played 15 matches in various Middle-Eastern locations in the past couple of years and could take advantage as opposing player legs undoubtedly begin to tire due to the heat.
World Cup 2022 - Australia's Fixtures
Being drawn out of the fourth pot it was always going to be an uphill battle in the group stage for Graham Arnold's men. It should be no surprise that Australia came into their group as the lowest ranked team at 39th at the time of writing. They will face stiff competition in Qatar in the form of the defending champions France, ranked fourth; Denmark, semi-finalists in the 2020 Euros and the world's 10th ranked team; and a 30th ranked Tunisia team that finished the African qualifiers with a total record of 5-2-1.
The full schedule is as follows:
Tuesday, Nov 22nd vs France (Al Janoub Stadium)
Saturday, Nov 26 vs Tunisia (Al Janoub Stadium)
Wednesday, Nov 30 vs Denmark (Al Janoub Stadium)
How to Bet Australia at the 2022 World Cup

Australia are currently priced at anywhere from 250/1 to 500/1 to win the World Cup among many of the web's top sportsbooks including Vbet, Bet365 and others. Clearly, no one is realistically expecting the Aussies to actually lift the trophy and their value lies more in their upset potential on a match-to-match basis.  Therefore it is likely a better strategy to avoid the Australia outright markets such as advancing from the group stages at a price of 5.50 and focus more on their individual fixtures. 
Some books have Australia as high as +2 on the handicap at very reasonable odds of 1.80 in the opening match against the defending world champions France. It would certainly not come as a huge surprise if this match stayed relatively close due to potential player nerves and the intense humidity that often occurs in Qatar in the months of November and December. It is also important to note that we have seen the French implode at this stage before – most notably South Africa in 2010 where they suffered a group stage exit after a reported player mutiny developed in the locker room. 
The early odds available for their second group stage match against Denmark could be an interesting proposition. The early lines have Australia as 4/1 underdogs which means you could get an excellent price for the double chance at 2.00 or better if you believe they can avoid defeat.
Ultimately, Graham Arnold and his Australia side will be dreaming of a round of 16 appearance but have to understand what they are up against. Realistically, their path to the knockout stages would have to involve a victory against Tunisia in the final matchday preceded by stealing a point from either France or Denmark. Australia is a team that tends to have a good amount of neutral support but unfortunately for the Socceroos, they will likely be looking at a fourth consecutive group stage exit.
More about 2022 FIFA World Cup :