World Cup 2022 Predi

ctions & Betting tips

New customers only | Commercial content | 18+ age limit | T&Cs apply
Find our free World Cup prediction on the final winner, as well as our expert predictions on all the matches of the World Cup 2022. Here is all the information you need to know for your sports betting!
Presentation and predictions of the 2022 FIFA World Cup
2022 is going to be an important year for the sport of football. It's World Cup year but a slightly different one. The World Cup is being held in Qatar and due to the extremely warm weather, it will take place from November 20 to December 18. Yes, we'll be giving World Cup betting tips at a very different time of the year than usual but just as exciting and informative. Will France be able to retain the trophy they won four years ago? It's not just a big tournament for the countries taking part but those who wish to gamble on the results. At Sportytrader, our team of betting experts will be helping you with their comprehensive World Cup 2022 betting tips. Their World Cup 2022 betting predictions will include information on how to predict the results of games and plenty of statistics.
2022 World Cup prediction chart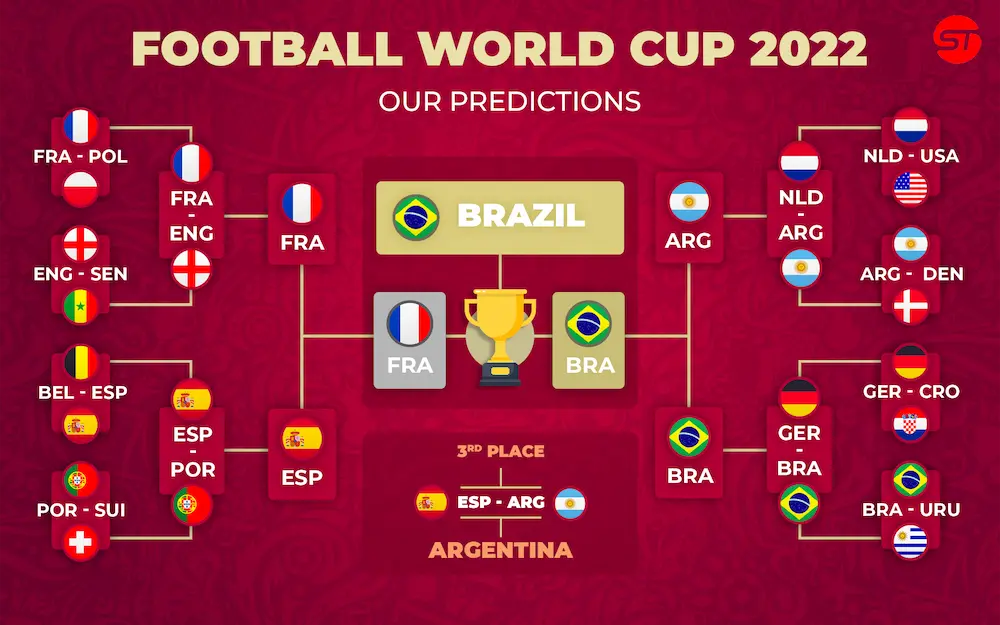 This chart is a very useful addition to the 2022 World Cup betting tips we'll be writing in the coming weeks. Brazil are our pick to win the 2022 World Cup in Qatar. We invite you to read on for more details. A lot of useful information for your selections and our 2022 World Cup betting tips will be waiting for you (the format of the tournament, detailed statistics, group by group opinion, odds...).
Do you want to know why Brazil is more anticipated than your favorite nation? You can also try our 2022 World Cup teams comparator . An exclusive and fun tool!
Winner prediction: who will win the 2022 World Cup?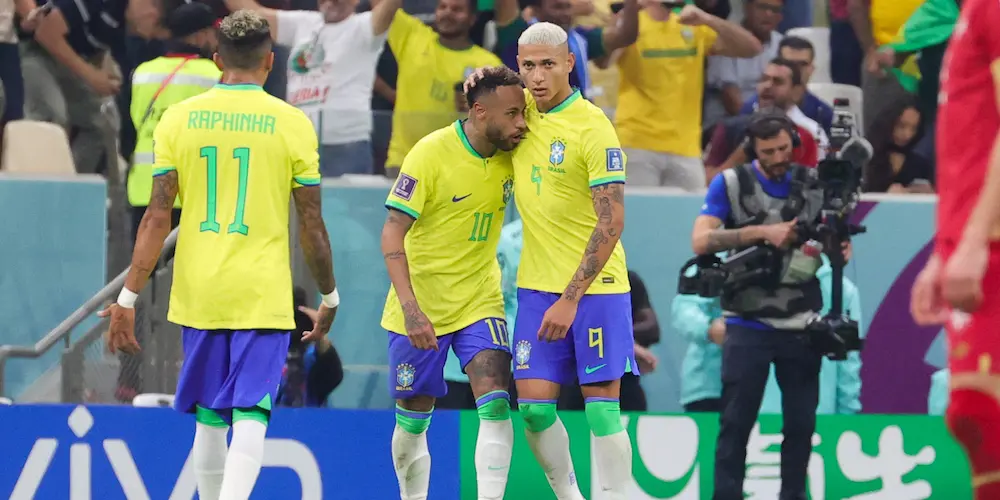 From Brazil to France, through Portugal, Belgium,Spain or England, there are many teams who will be in contention to win the World Cup. Our 2022 World Cup betting tips will show the form of each country and help you with your selections. . France look a good bet to again be in contention but it's Brazil who are the team to beat. Argentina have shown improved form in recent years, could Messi finally win a World Cup? Spain, Germany and England will also be out to go deep in the tournament. Don't miss out on reading our World Cup 2022 betting tips because form can change and if so, that may well change our opinions on who will become world champions on December 20.
World Cup 2022 Predictions - Winner betting Odds (After November 30 matches)
Brazil  have won their first two games without conceding a goal.and are even clearer favourites now. France are second favorites despite their injury problems but were impressive when beating Australia and Denmark before a loss to Tunisia with most of their top players on the bench. Spain have four points from their two games. England had their odds cut after qualifying for the last 16. Argentina's odds have lengthened but after losing to Saudi Arabia, they beat Mexico and Poland to qualify. Belgium have seen their odds lengthen considerably after their loss to Morocco on November 27.
Brazil, odds of 3.50
France, odds of 6.50
Argentina, odds of 7.00
Spain, odds of 7.50
England, odds of 10.00
Portugal, odds of 12.00
Germany, odds of 13.00
Netherlands, odds of 17.00
Croatia, odds of 51.00
Belgium, odds of 67.00
Uruguay, odds of 91,00
Switzerland, odds of  101.00
Senegal, odds of 101.00
USA, odds of 101.00
Serbia, odds of 126.00
Poland, odds of 126.00
Morocco,odds of 151.00
Australia, odds of 201.00
Ghana, odds of 351.00
Saudi Arabia, odds of 401.00
South Korea, odds of 501.00
Japan, odds of 501.00
Cameroon, odds of 1251.00
Costa Rica, odds of 1251.00
Odds taken from bet365.com  Want to find out the best odds for each nation? Check out our page dedicated to the World Cup winner odds for your outright bets.
Prediction Best Goalscorer 2022 World Cup: who will win the Golden Boot?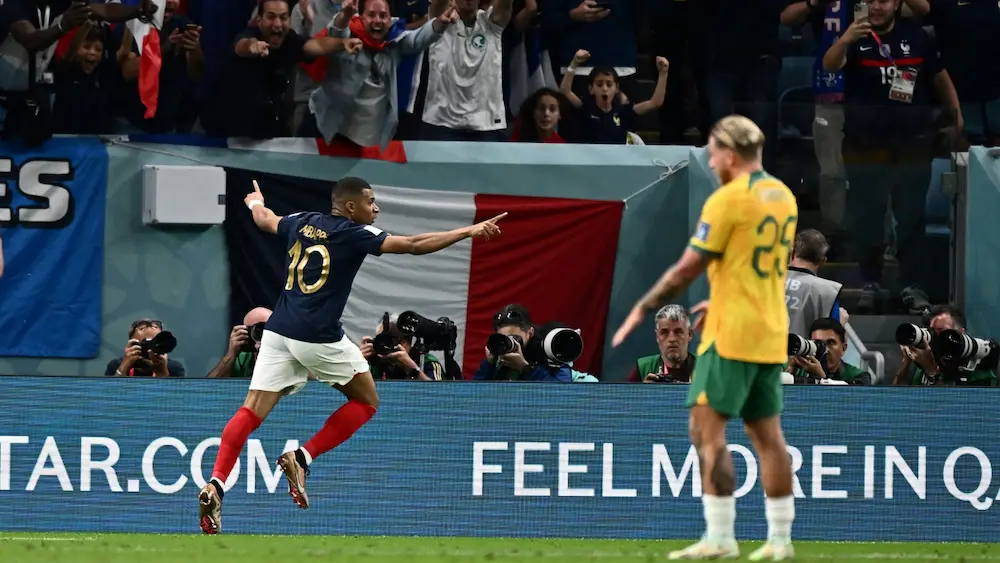 In addition to betting on the future champion, the bookmakers offer you to predict the top scorer of the competition in Qatar. Here are for example the odds, currently proposed by the site www.bet365.com :
Top scorers after November 30 games
Current top scorers
Three goals - Kylian Mbappe (France). Marcus Rashford (England), Cody Gapko (Netherlands) and Enner Valencia (Ecuador).  Valencia has no more games to play.
Two goals -  Richarlison (Brazil), Lionel Messi (Argentina), Buyako Saka (England), Olivier Giraud (France), Ferran Torres (Spain), Bruno Fernandes (Portugal), Alvaro Morata (Spain), Andrej Kramaric (Croatia). Cho Geu-Song (South Korea), Mohammed Kudus (Ghana), Salem Al-Dawsari(Saudi Arabia) and Mehdi Taremi (Iran)
Current Odds
Kylian Mbappe, odds of 3.75
Lionel Messi, odds of 9.00
Richarlison, odds of 10.00
Cody Gapko, odds of 15,00
Marcus Rashford, odds of 15.00
Alvaro Morata, odds of 21,00
Ferran Torres, odds of 26.00
Cristiano Ronaldo, odds of 29.00
Olivier Giraud, odds of 34.00
Enner Valencia, odds of 34.00
Bruno Fernandes - odds of 34.00
Buyako Saka, odds of 41.00
You will note that in this World Cup 2022, the German Thomas Muller can hope to become the best scorer in the history of the World Cup. For this, the Bayern Munich striker must score 6 goals, he will then equal his compatriot Miroslav Klose (16). Cristiano Ronaldo is at 7 plus the Uruguayan Luis Suarez.
In terms of predictions, Mbappe is the favorite to be the top scorer after three goals in his first two games. That feat has also been achieved by Enner Valencia of Ecuador, Cody Gapko of the Netherlands and England's Marcus Rashford. Harry Kane was also strongly fancied but has failed to score in his first three games. Neymar scored in his opening game but will miss the rest of the group stages. 
We come to the conclusion of this page dedicated to the FIFA 2022 World Cup. For more analysis, we now invite you to consult our predictions on each match of the World Cup. They have been studied, thought out and written by a team of passionate experts. You can read them without moderation. Good luck with the different bookmakers on the market!
Our prediction for the Round of 16 of the 2022 World Cup in Qatar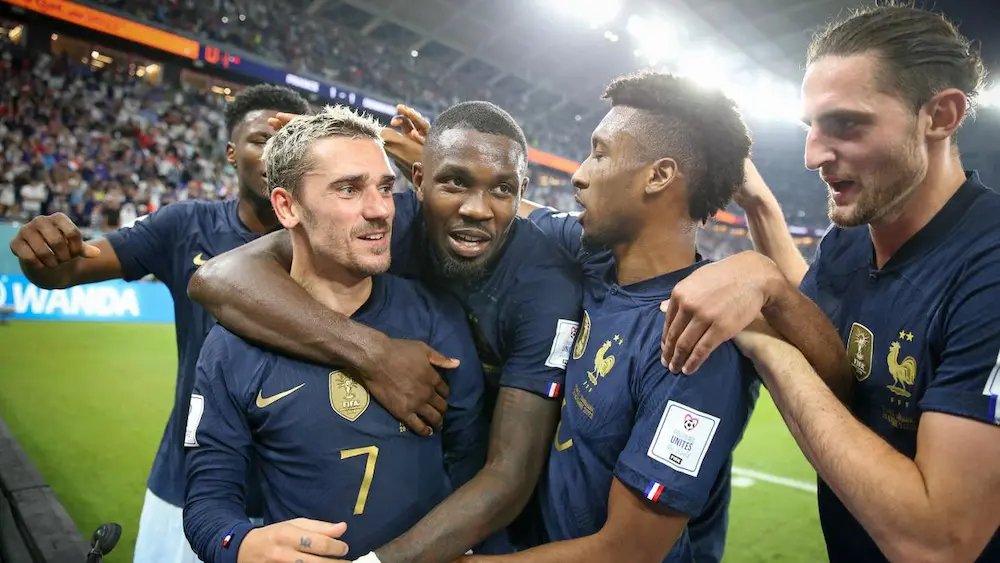 As the exciting and entertaining group stage draws to a close, the Round of 16 matches are beginning to take shape. Some of the clashes are already known, and can be found in the list below. For the moment, with only a few days to go before the matches and while waiting for a thorough study of our forecasters, the editorial staff's predictions are more likely to be for the Netherlands, Argentina, France and also England to qualify!
The round of 16 schedule
Netherlands - United States (Saturday 3 December, 15:00)
Argentina - Australia (Saturday 3 December, 19:00)
France - Poland (Sunday 4 December, 15:00)
England - Senegal (Sunday 4 December, 19:00)
Some great clashes await you, with many of the expected countries at this stage of the Round of 16. Great odds are available, so don't delay. Find the best odds at Bet365, 1xBet, VBET!
Our prediction on the groups for the 2022 World Cup in Qatar
Would you like to know more about the group stage of the 2022 World Cup? Without further ado, here is the composition of the groups of the competition. Great duels are expected in this group phase!
Group A | Qatar - Ecuador - Senegal - Netherlands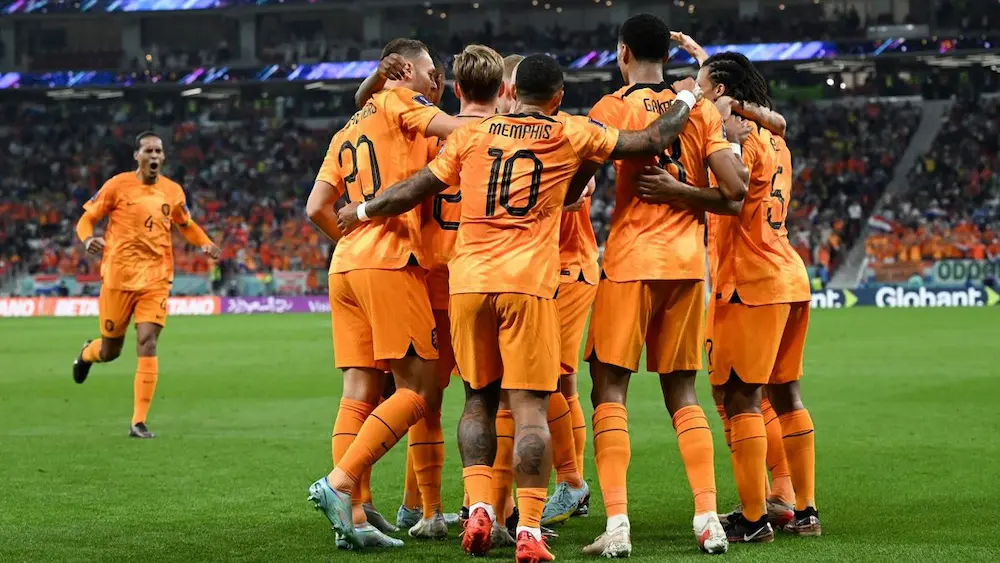 In this first group, we have the hosts Qatar who are playing in the World Cup finals for the first time in their history. They will be out to reach the last 16 but our 2022 World Cup betting tips will illustrate that they have a tough draw. Also in the group are Ecuador fwho finished fourth in the South American qualifying group. They have included three players from English Premier League club Brighton and Hove Albion in their squad. Pervis Estupinan, Moises Caicedo and Jeremy Sarmiento (who played for England at youth level) are all included. They are captained by their all-time top scorer Enner Valencia, who plays for Fenerbahce.
There's also Senegal who are the current African champions but will be without the injured Sadio Mane. Edouard Mendy, Idrissa Gueye and Kalidou Koulibaly, so will expect to qualify. From Europe, there's the Netherlands who are in their first World Cup finals since 2014. They are unbeaten in over a year and in the Nations League finals. With players such as Memphis Depay, Frankie de Jong, Daley Blind, Xavi Simons and Virgil van Dijk, they will be hard to beat in this group. The two likely qualifiers are the Netherlands and Senegal. Qatar will play Ecuador in the first match of the 2022 World Cup on November 20. 
Results
November 20 -  Qatar 0 Ecuador 2
November 21 - Netherlands 2 Senegal 0
November 25 - Qatar 1 Senegal 3
November 25 - Netherlands 1 Ecuador 1
November 29 - Netherlands 2 Qatar 0
November 29 - Senegal 2 Ecuador 1
Final Standings:  Netherlands 7 Senegal 6 Ecuador 4 Qatar 0 -  Netherlands and Senegal qualify.
Group B: England - Iran - USA - Wales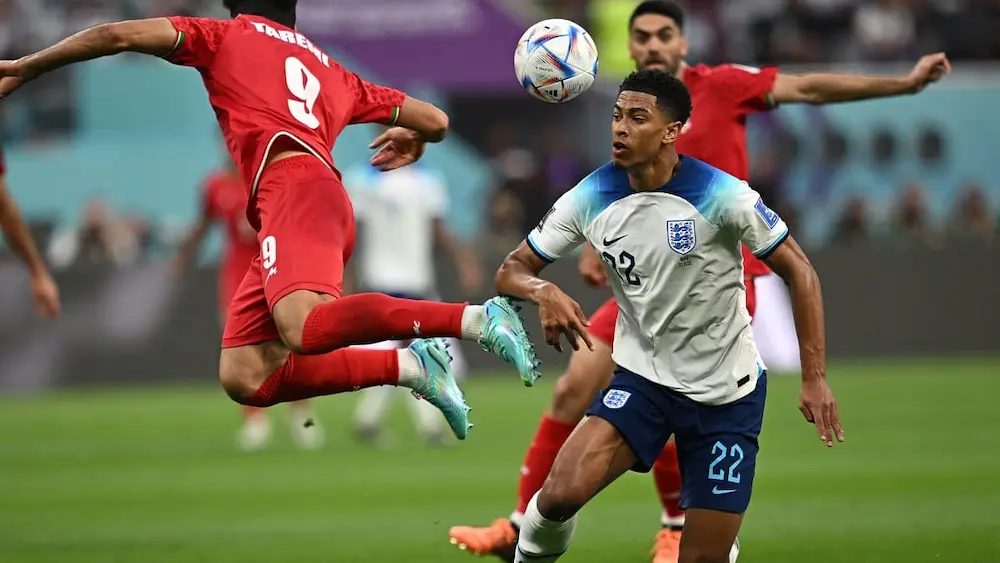 This second group of the tournament is one that has so far only three teams confirmed. England reached the semi-finals in 2018 and then the final at the 2020 (21) Euros. British readers will be keen to see our World Cup betting tips for this group. England will be hopeful of winning this group but need to improve their form having not won in their last six games. Gareth Southgate's squad doesn't include many surprises. Callum Wilson, Conor Gallagher, Kalvin Phillips (just back from injury), James Maddison and Marcus Rashford have all been included. Wilson and Maddison haven't played for England in the past three years. Ivan Toney from Brentford was omitted after being included in the last Nations League squad but not playing. Kyle Walker will miss the opening game against Iran.
The USA also have a good chance of qualifying but need to improve their away form which was poor in the qualifiers. 25 of their 26 squad members are playing in their first World Cup tournament. Only DeAndre Yedlin has played in a previous tournament. Goalkeeper Matt Turner is included but Zack Steffen has been left out.
Iran have also qualified but don't look like making the last 16. The final country in this group will be either Wale or Ukraine. Wales are through to the finals after wins over Austria and Ukraine in the play-offs. It's their first time in the finals since 1958.. Their squad includes Gareth Bale and Aaron Ramsey are their star players Joe Allen has been included despite being an injury doubt but expects to be fit for the first game against the USA.
Results
November 21 - England 6 Iran 2
November 21 - Wales 1 USA 1
November 25 - Wales 0 Iran 2
November 25 - England 0 USA 0
November 29 - England 3 Wales 0
November 29 - USA 1 Iran 0
Final Standings:  England 7 USA 5 Iran 3 Wales 1 -  England and USA qualify
Group C: Argentina - Saudi Arabia - Mexico - Poland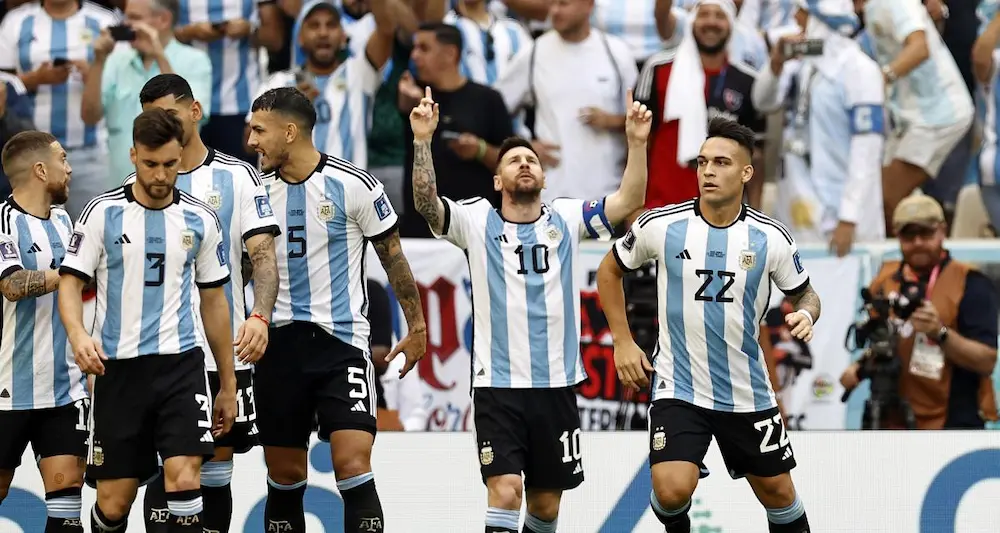 Group C of the 2022 World Cup includes Argentina with Lionel Messi likely to be playing his final tournament. Can he finally lift the trophy? Argentina finished second in the South American group and should be able to qualify from this group. They have a mix of experienced players such as Angel di Maria but also younger stars such as Julian Alvarez from Manchester City. Paulo Dybala has been included in their squad, despite being out injured since early October. They come into this tournament unbeaten in their last 36 internationals.
Mexico have included Wolverhampton Wanderers striker Raul Jimenez even though he hasn't played for the English Premier League since August.due to a groin injury. They have omitted striker Javier Hernandez from their squad. It'll be close between the Mexicans and Robert Lewandowski's Poland for second spot in this group. We believe the Poles can edge out the Mexicans. The final country in the group are Saudi Arabia who we feel will finish bottom of Group C.
Our World Cup prediction Group C: Argentina and Poland qualify
Results
November 22 - Argentina 1 Saudi Arabia 2
November 22 - Poland 0 Mexico 0
November 26 - Poland 2 Saudi Arabia 0
November 26 - Argentina 2 Mexico 0
November 30 - Argentina 2 Poland 0
November 30 - Mexico 2 Saudi Arabia 1
Final Standings - Argentina 6 Poland 4 Mexico 4 Saudi Arabia 3. -  Poland qualified on goal difference and play France in the last 16. Argentina face Australia.
Group D | France - Denmark - Tunisia - Australia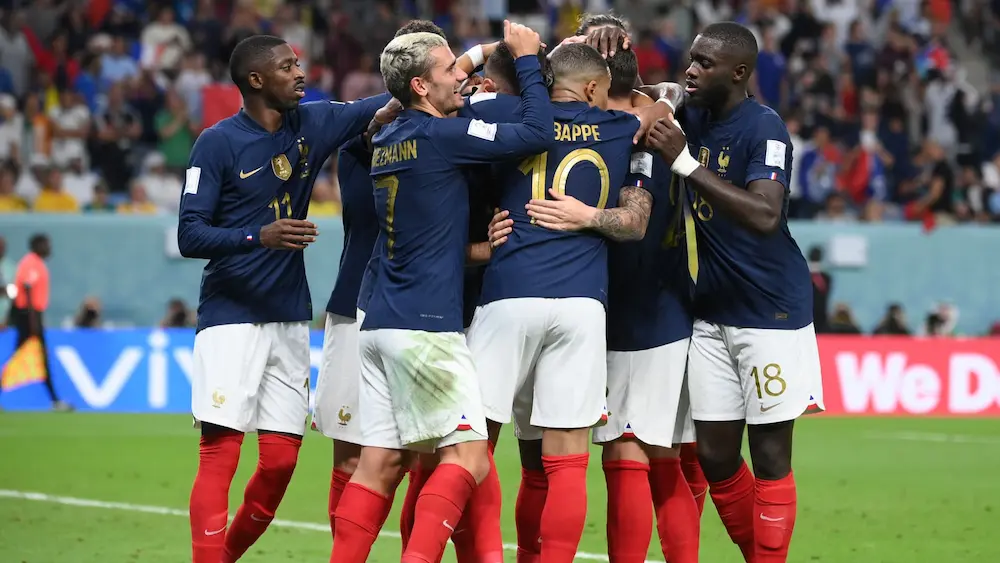 France are the world champions and should have few problems in getting to the last 16 even without the injured Paul Pogba.. They have suffered a late blow with the news that Karim Benzema has a thigh injury and will miss the tournament. Denmark will be the likely side to join them in the knockout stages after reaching the last four at the Euros. We'll all be glad to see Christian Eriksen back in a major tournament and slong with Kasper Schmeichel in goal, they should go well. Tunisia don't look strong enough to finish in the top two. Australia beat UAE and then Peru (via a penalty shoot-out) to again qualify for the World Cup finals but will find it difficult to qualify. The Australians have players such as Aaron Moy and Matt Ryan but they are yet to break through at world level in football.
Our World Cup prediction Group D: France and Denmark qualify
Results
November 22 - Denmark 0 Tunisia 0
November 22 - France 4 Australia 1
November 26 - Australia 1 Tunisia 0
November 26 - France 2 Denmark 1 - France qualify
November 29 - Tunisia 1 France 0
November 29 - Australia 1 Denmark 0
Final Standings -  France 6 Australia 6 Tunisia 4 Denmark 1 -  France play Poland and Australia take on Argentina.
Group E: Spain - Germany - Japan - Costa Rica
This group features two European powerhouses. Spain and Germany are the two countries that should make it to the last 16. Make sure you read our betting tips on this vital World Cup group. Spain and Germany meet in their second group match on November 27. If that ended in a positive result for one team, then the other would still have work to do in their final match to ensure qualification.
Spain have players such as Ansu Fati, Pedri, Gavi and Nico Williams but will find it hard to repeat their 2014 World Cup triumph. Germany won the World Cup in 2014 but didn't get out of their group four years later. They have been drawing a lot of games this year but with players such as Muller, Gnabry, Gundogan, Gotze and Neuer, they have a squad full of experience.
The other two teams with the misfortune of drawing two top countries are Japan and play-off winners Costa Rica. Both Japan and Costa Rica have quality players but it is asking a great deal for them to qualify from a group that has former World Cup winners Spain and Germany. It would be a massive surprise if they were to upset Germany and Spain.
Our World Cup prediction Group E: Germany and Spain qualify.​​​​​​
Results
November 23:  Germany 1 Japan 2
November 23:  Spain 7 Costa Rica 0
November 27: Japan 0 Costa Rica 1
November 27: Spain 1 Germany 1
Group F: Belgium - Canada - Morocco - Croatia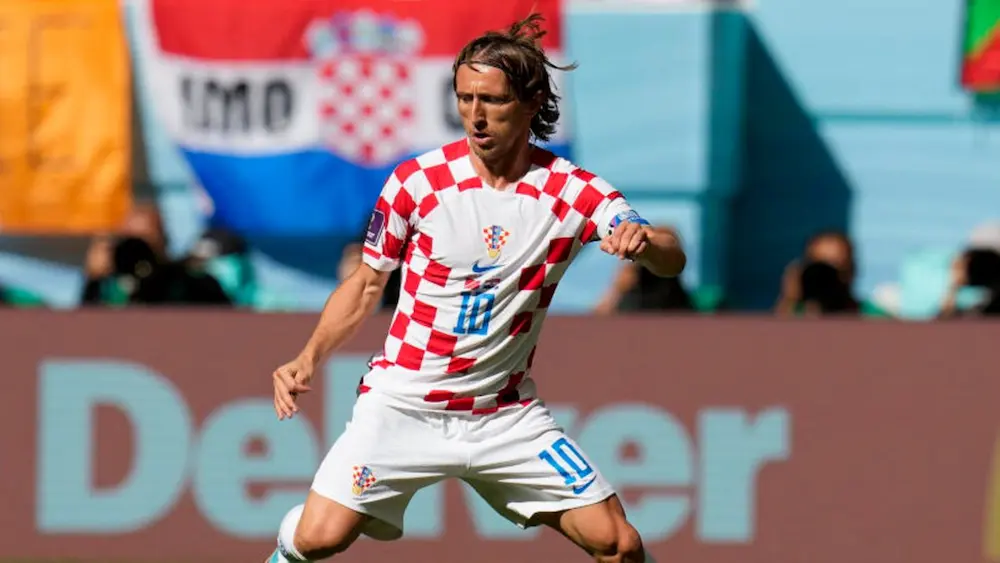 Belgium have so many talented players but still never win a tournament. They should have few problems in reaching the knockout stages in Qatar. Romelu Lukaku has been named in their squad despite having some injury problems and has only made a handful of appearances this season. He definitely misses their first two matches. Leandro Trossard, who has had an impressive season so far with Brighton and Hove Albion is also in their squad.
Croatia should follow them into the last 16. Their squad includes Luka Modric who will be playing in his fourh finals. An experienced squad also includes Tottenham's Ivan Perisic and Mateo Kovacic who plays in midfield for Chelsea. Canada have qualified for the first time since 1986. Players such as Jonathan David, Alphonso Davies and Cyle Larin will hope to impress in Qatar but qualification for the last 16 looks unlikely. Morocco have more experience and with Achraf Hakimi, Youseff En-Nesyri, Sofiane Boufal, Hakim Ziyech and Yassine Bounou, they can finish third in this group.
Our World Cup prediction Group F: Belgium and Croatia qualify
Results
November 23:  Croatia 0 Morocco 0
November 23:  Belgium 1 Canada 0
November 27:  Belgium 0 Morocco 2
November 27: Croatia 4 Morocco 1
Group G | Brazil - Serbia - Switzerland - Cameroon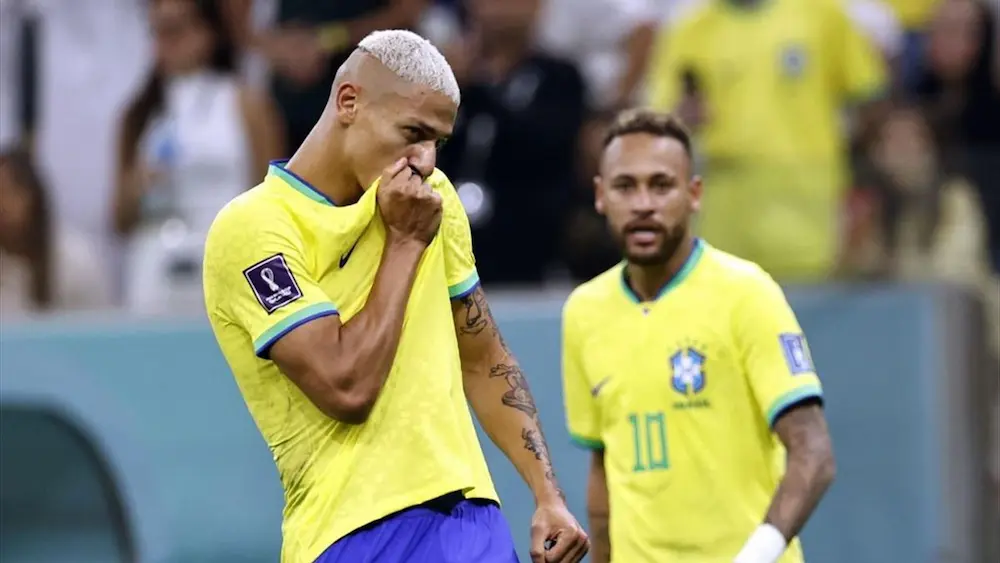 Group G sees the team who our World Cup betting tips believe will become world champions. As in 2018, Brazil, Switzerland and Serbia are in the same group. Brazil topped the South American qualifying group and didn't lose a game in doing so. They have so many good players to choose from and can even afford to leave Liverpool's Firmino out of their squad. Switzerland are sometimes a tough team to beat, though rarely spectacular. There have been wins over both Portugal and Spain this year. They have an experienced squad with Shaqiri, Xhaka and Rodriguez all having 100+ caps for the Swiss national team. With Sefervic and Embolo, they have a good chance of again making the last 16.
Serbia will push them for second place. They have included the Fulham striker Aleksandar Mitrovic in their squad despite his injury concerns. Dusan Tadic will again captain their side as the Serbs try to get out of the group stage for the first time. Cameroon are the outsiders and unlikely to qualify for the last 16. They have included Brentford's Bryan Mbuemo (who played for France at youth level) in their squad but have omitted centre-back Michael Ngadeu-Ngadjui and midfielder Jean Onana.
Our World Cup prediction Group G: Brazil and Switzerland qualify
Results
November 24: Switzerland 1 Cameroon 0
November 24: Brazil 2 Serbia 0
November 28: Serbia 3 Cameroon 3
November 28: Brazil 1 Switzerland 0 - Brazil qualify for last 16
Group H: Portugal - Ghana - Uruguay - South Korea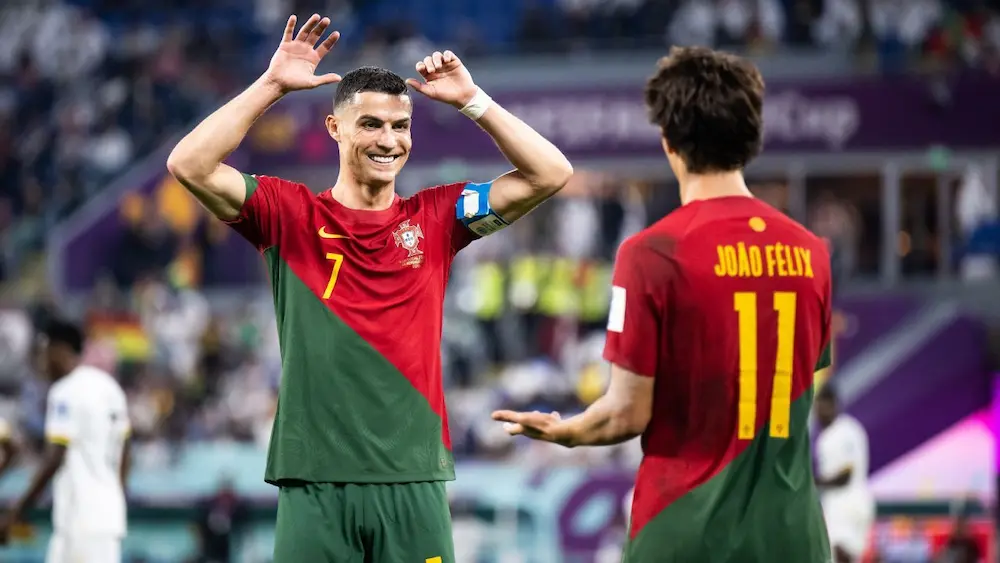 Portugal had to go through the play-offs to reach Qatar. They beat Turkey and North Macedona, so we will again see Cristiano Ronaldo in the World Cup finals, probably for the last time. He may be having problems with Manchester United but he is still focused on playing for Portugal. They have a strong squad with established players such as Bernardo Silva, Bruno Fernandes, William Carvalho and Pepe, so they should win this group.
 They face Uruguay who knocked them out of the 2018 World Cup, so will be out for some revenge in November. Luis Suarez and Edinson Cavani will prove a handful for any defence. The same can be said for Liverpool's Darwin Nunez and they will provide stiff opposition for the Portuguese team.
Ghana have made it through but will be without injured Jojo Woollacott who is their first-choice goalkeeper. Andre Ayew is in his third World Cup but they are the third lowest ranked country in this World Cup. South Korea cam finish third in the group. They will rely on Heung-Min Son, Hwang Ui-Jo, and Hwang Hee-Chan. It's Portugal and Uruguay who should progress to the last 16.
Our World Cup prediction Group H: Portugal and Uruguay qualify
Results
November 24: Uruguay 0 South Korea 0
November 24: Portugal 3 Ghana 2
November 28: Ghana 3 South Korea 2
November 28: Portugal 2 Uruguay 0
We'll be producing comprehensive betting tips for the World Cup. Every single game will be covered and this page will be updated on a daily basis.
How does the 2022 Football World Cup work?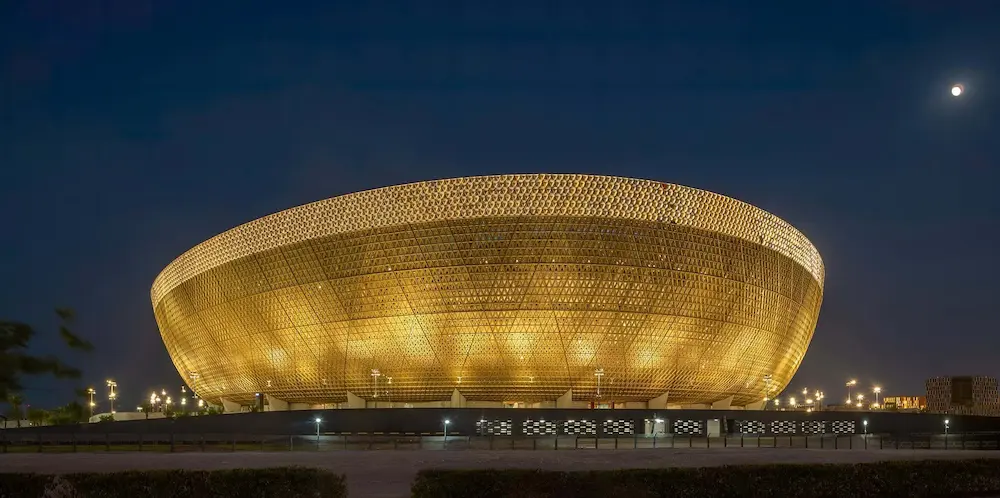 Before we get to our 2022 World Cup betting tips, let's look at the basics and just how the winner of the greatest football competition in the world will be decided. The qualifying rounds have now taken place and the draw for the finals has been made. . This is the last time that number of countries will be participating. The 2026 World Cup (being hosted by the USA and Canada) will see the number of participating countries increased to 48 so there will need to be even more World Cup betting tips in the future.
In Qatar, there will be eight groups played between November 20 and December 2. Each group has four countries and they play each other once. The top two in each group qualify for the knockout stages of the competition. Unlike in some tournaments, the teams finishing third in their group have no chance of progressing. We'll be producing World Cup betting tips for each and every game due to be played.
16 countries will take place in the knockout stages of this tournament. They start on December 3 with the final taking place on December 18 and again Sportytrader will be the place to read World Cup betting tips for every thrilling match. The day before the final, the two losing semi-finalists take part in the third/fourth place play-off. A game no country really wants to play, they'd much rather be in the final. There are great betting opportunities waiting for you in the World Cup, so don't hesitate to take a look at or World Cup 2022 betting tips. .
How to make reliable predictions?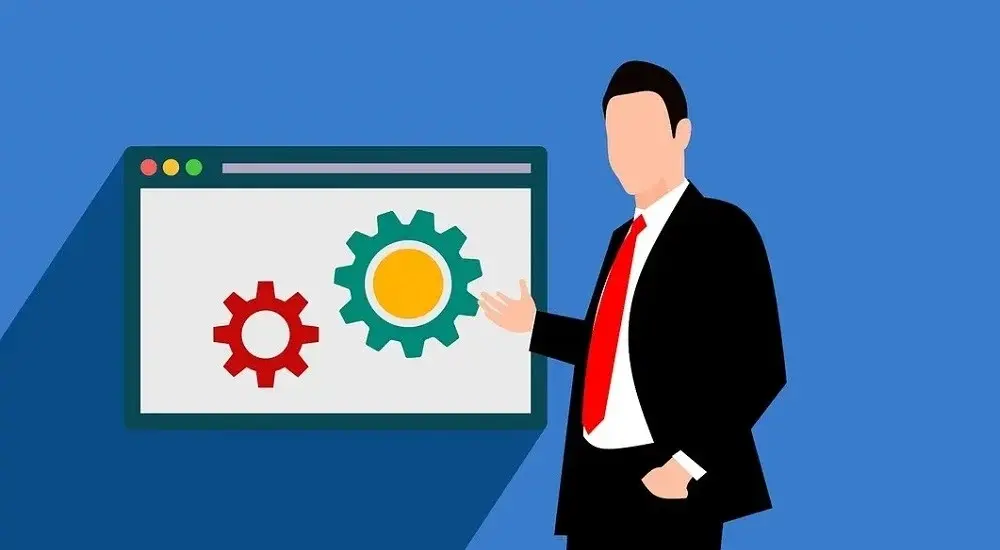 To make reliable predictions on the tournament, there are several good practices you can adopt. Thus, we strongly advise you to:
Check the form of the two teams playing
Know what form the key players are in
Know the team line-ups
Study the tactics both teams are using
Analyze the head-to-head results
How important is the match?
With these six best practices, you should be able to build more reliable analyzes around the 2022 World Cup matches, and thus increase your chances of success. Reading our excellent World Cup betting tips will also help a great deal. A short description of each best practice is given in the paragraphs below.
Check the form of the two teams playing
In order to bet on a match well, you must of course know the form of the two countries that are facing each other. You will also need to look at the line-ups that countries have been playing. It is unlikely that full strength teams will be played, especially in friendlies. Looking at results in the World Cup qualifiers, Nations League, AFCON, Euros and Copa America will show you just how good or bad teams have been playing. Look at statistics such as how many shots and chances teams have been creating and their defensive records. How many chances did the nations have? How many shots, corners, free kicks? All these questions will have to be studied.
Know what form the key players are in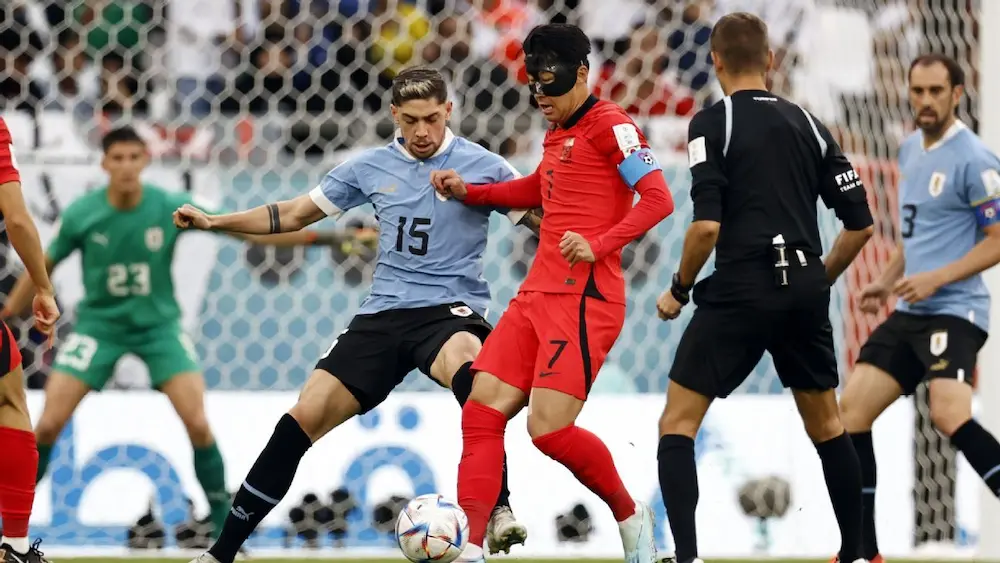 Paolo Rossi in 1982 with Italy, Diego Maradona in 1986 with Argentina, Romario in 1994 with Brazil, Zinedine Zidane in 2006 with France or Luka Modric in 2018 with Croatia...the paths of nations are often dependent on the performances of their best players . Therefore, it is essential to study the form of the major players of each nation, before betting on a match. If the best players aren't playing well, that can seriously affect their teams chances of success. If they are playing well, then that team has a good chance of success.. Don't forget that in modern soccer, there are no more "small teams" and that matches are often played on the differences created by star players. If a nation does not have its best player in form, be very wary. Our World Cup 2022 betting tips will include details about the form of key players.
Know the team line-ups
Before making your prediction, always take care to check theteam line-ups. Suspension, injury, choice of coach... the reasons for a major absence can be numerous during a FIFA World Cup. So don't get trapped when placing your sports bets online. In this regard, we strongly advise you to wait to know the official composition of the teams before validating your prediction. You will feel foolish if betting on England but then the game starts and there's no Kane, Sterling or Pickford. Always take the trouble to check if there are any absentees or not, for the match you want to bet on. In the group stages, the final game may feature a side already through to the last 16 or already eliminated. If that is the case, teams may well rest players and experiment with their line-ups, so take that into account. Again,
Study the tactics both teams are using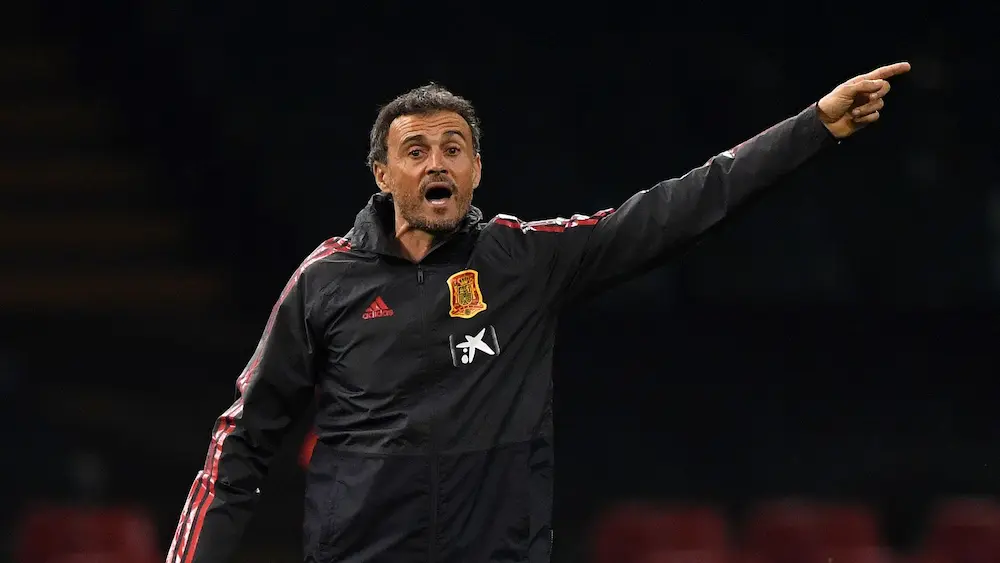 4-4-2, 4-3-3, 3-4-3 or 4-2-3-1...the tactics used by the coaches can differ widely in a competition such as the World Cup. Therefore, it will be important to know how each team usually plays, to determine the chances of them being able to dominate their opponent. For example, against a nation that likes to play defensively and come out on the counter, a team that is not used to playing the game could have difficulty finding the break. The same reasoning applies to a nation that rarely resists the pressure imposed by its opponents. Qatar, for example, with less technical players than the top European teams, could have a hard time with standing a nation that presses hard enough. This will allow you to refine your predictions an our World Cup betting tips will help you in this regard.
Analyze the head-to-head results
There will be matches played in the World Cup between sides who have never or rarely faced each other. However, there will be plenty of games played where the two countries have met each other on many occasions in the past. It is important to have a look and see how a team has played against their opponents in previous matches. England take on the USA, how have they fared against them in the past? You might be surprised to know that England have never beaten the Americans in a World Cup match. That's the kind of information our 2022 World Cup betting tips will include. .
How important is the match?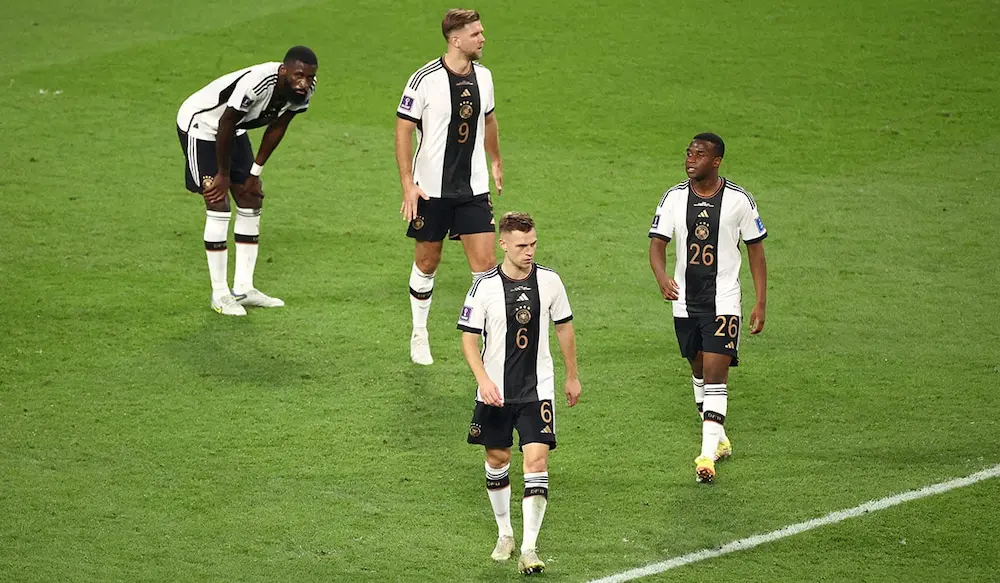 Finally, the sixth good practice to make good predictions will consist in considering the mental and psychological aspect of the match. In other words, you must know the motivation of each player and each team, the pressure that surrounds them (fans, journalists, president ...), their ability or not to shine in the competition, and their experience at the highest level. How important is the game that is being played? It may be that a side has already qualified for the knockout stages or been knocked out, so may not be too keyed up for their final group game. Most games in this World Cup will be of utmost importance to the teams takin part.
From this psychological context to the usual tactics, through the form of key men or the consideration of absentees, several factors can influence the outcome of a match. So, get into the habit of always studying them, if you want to make better and better sports predictions.
BONUS TIP: Use our team comparator
In addition to these six must-know tips, you can also use our World Cup team comparator to help you with your betting. With this tool, you can see the strengths and weaknesses of each team, and therefore the scenario to expect from the match.
Open match between two offensively strong teams?A tight match between two defensively gifted teams? You'll find out with the comparator of the teams competing in Qatar this year. Many surprising and sometimes unbelievable information will be included in our 2022 World Cup betting slips.. So take advantage of it!
What not to do with your football predictions
In addition to the good practices mentioned above, you should know that there are also some behavior that you should totally avoid. Not doing so will limit your chances of success.:
Betting without doing any research - learn as much as you can before placing your bet.
Betting on short odds for no reason - These don't always win.
Prioritizing too many combined (multi) odds - the high odds are attractive but reduce your chances of winning.
Chasing your losses - This can lead to further losses being incurred.
Placing too many in-play bets - These can often be made rashly and without thought.
Unfortunately, many novice bettors often fall into one of these traps during a major competition like FIFA's premier event. So do everything you can to avoid making these mistakes.
Remember that in sports betting, it is the quality of the analysis and the odds that are important, not the quantity. A good sports analysis and a bet on odds of 2.25 will always be more profitable than 10 bets placed on odds of 1.50 without having taken the time to look into the events. To succeed in sports betting, research is so important.
Key statistics to know for World Cup matches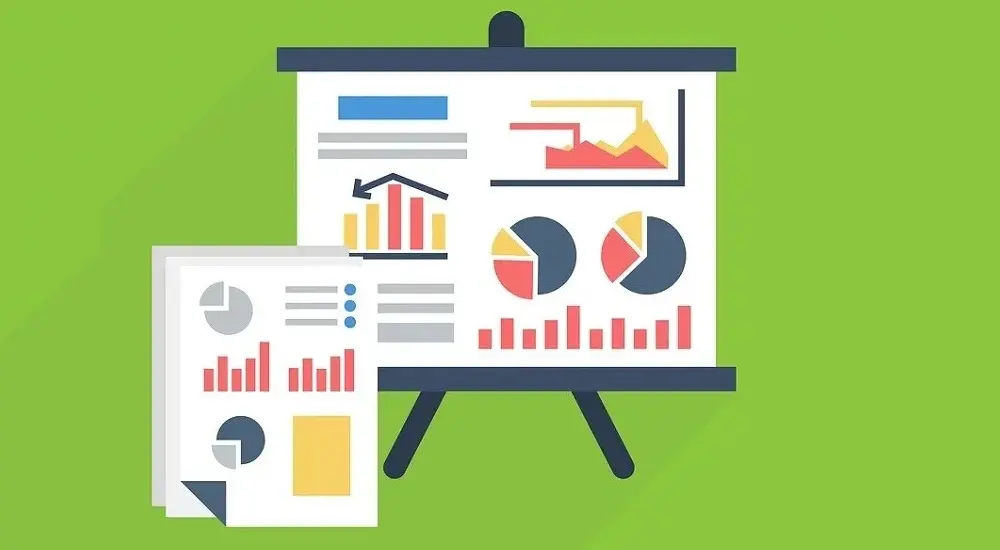 Now that you know the best practices for betting, it's time to look at the useful statistics of the World Cup. In order to make the most successful FIFA World Cup 2022 predictions, you need to know the key figures of the competition, which will help you build the most accurate analysis. Our 2022 World Cup betting tips will all include excellent statistical information.
To help you make the best possible bet during this tournament, our soccer experts have been busy looking at the key statistics, based on the 2018 World Cup. A distinction between the group stage and the knockout phase has been made for each data, in order to refine your vision of the competition. The data concerning only the group phase are the first ones in brackets, and the data concerning only the knockout phase are the second ones. The global data (on the whole tournament) are the ones in bold. Enjoy reading!
Main statistics for your under/over bets
Average goals: 2.64 (2.54 / 2.94)
Matches with + 0.5 goals: 99% (98% / 100%)
Games with + 1.5 goals: 75% (71% / 88%)
Games with + 2.5 goals: 48% (50% / 44%)
Games with + 3.5 goals: 19% (17% / 25%)
Games with + 4.5 goals: 11% (8% / 19%)
After reading these first figures, it would be better to take advantage of the group matches to try the Over 2.5 (meaning more than 2.5 goals in the match), and prefer to bet on the Over 1.5. By making a combined bet for example, the odds on your coupon could be worth it.
Statistics to use for handicap bets
Matches with exactly one goal difference: 47% (48% / 44%)
Matches with at least two goals difference: 31% (31% / 31%)
Matches with at least three goals difference: 13% (17% / 0%)
As far as handicap bets are concerned, the "Exactly 1 goal difference" bet could be the one to try more than once throughout the competition. With odds often hovering around 3.00, it would be a shame not to try it on a few matches.
Key statistics to know when betting on results and scores
Draws: 20% (19% / 25%)
Draws at half time: 55% (54% / 56%)
Matches with 0-0 at half-time: 38% (40% / 31%)
The most frequent score: 1-0, 23% of the games (27% / 31%)
Regarding the exact scores, you will notice that the other frequent results recorded in the last edition were 2-1 (20% of the games), 2-0 (15% of the games) and 1-1 (14% of the games ). Focusing on the group phase, 2-1 represented 23% of the scores recorded, 2-0 13% of the scores and 3-0 11%. In the knockout phase, 2-0 was validated in 25% of the matches, while 1-0 and 2-1 each reached 13% of the total. So if you are a fan of exact score predictions, you know what to do. The 1-0 (or 0-1) can be enjoyed more than once in Qatar.
Statistics to use for teams and players
Matches with both teams scoring: 50% (46% / 63%)
Matches with a penalty goal: 32% (33% / 25%)
Matches with a double scorer: 13% (15% / 6%)
Matches with a player scoring a hat-trick: 3% (4% / 0%)
What you have to remember for this penultimate paragraph is that you should not systematically throw yourself on the bet "Both teams score: yes", especially during the pools. For more reliable predictions, wait for the knockout phase, which is generally more open in the World Cup. Big odds on double scorers can also be played, if a big-name striker is on the field. Kane and Lukaku were two of the best players at the last World Cup, will they be as successful in Qatar?
Important statistics for alternative bets on goals
Matches with the most goals in the first half: 22% (25% / 19%)
Matches with the same number of goals in both halves: 31% (19% / 43%)
Games with most goals in the second half: 47% (56% / 38%)
Games with 1st goal scored between 1 and 15': 33% (30% / 44%)
Games with 1st goal scored between 16 and 30': 12% (12% / 13%)
Matches with 1st goal scored between 31 and 45': 19% (21% / 13%)
Matches with 1st goal scored between 46 and 60': 25% (25% / 25%)
Matches with 1st goal scored between 61 and 75': 5% (4% / 5%)
Matches with 1st goal scored between 76 and 90': 6% (8% / 0%)
Games with a goal in the interval 76-90: 45% (48% / 38%)
For this last paragraph dedicated to the statistics of the World Cup, you will note that it will be smart to predict more goals after halftime, and an opening score at intervals 1-15 and 46-60. Betting on a goal in the last quarter of an hour could also pay off.
So, after reading these different statistics, the World Cup should have no more secrets for you. Of course, these figures may differ from one edition to another, but they are still consistent with what we have seen for many editions of the competition. So, don't hesitate to use them when making your predictions on each match of the 2022 tournament.
If you want to know more about the 2022 World Cup read:
Best odds to bet on at the 2022 Football World Cup
01 Dec 2022 - 13:00
Costa Rica - Germany
1

31
X

14
2

1.13
01 Dec 2022 - 13:00
Japan - Spain
1

8
X

4.9
2

1.48
02 Dec 2022 - 09:00
Ghana - Uruguay
1

5.1
X

3.9
2

1.77
02 Dec 2022 - 09:00
Republic Of Korea - Portugal
1

4.6
X

4.2
2

1.88
02 Dec 2022 - 13:00
Cameroon - Brazil
1

8.5
X

5.05
2

1.44
02 Dec 2022 - 13:00
Serbia - Switzerland
1

2.69
X

3.52
2

2.88
03 Dec 2022 - 09:00
Netherlands - USA
1

2.01
X

3.5
2

4.5
03 Dec 2022 - 13:00
Argentina - Australia
1

1.22
X

7.4
2

19.5
04 Dec 2022 - 09:00
France - Poland
1

1.31
X

5.8
2

13.5
04 Dec 2022 - 13:00
England - Senegal
1

1.55
X

4.2
2

8
The information and odds presented on this page were last updated on 01/12/2022.
World Cup 2022 : Fre

quently Asked Questions