World Cup records: w

hat can I bet on?

by Yunchu Li | by Kevin Richard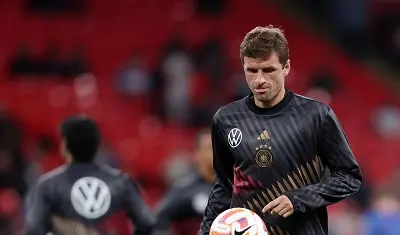 From 20 November, the world's best national football teams are in Qatar to try and win the World Cup. Records could well be broken at this 2022 edition, and that's what we're talking about today.
FIFA World Cup 2022: records to watch
More goals, more titles, more assists, more yellow cards... When it comes to the World Cup, there is no shortage of records. But is there any chance of some of them falling during this winter's edition in Qatar? Here are some answers.
Most titles: Pelé, his record won't be broken
If there is one prediction about the World Cup, it is this: no one will surpass Pele in terms of the number of titles won. A three-time winner of the competition in 1958, 1962 and 1970, the Brazilian legend will not be surpassed this year, as no active player has won more than one World Cup. That's enough to give Auriverde fans a good night's sleep.
Most games: Matthaüs undisputed
He too will not be joined or beaten this year. With 25 World Cup matches played, Lothar Matthaus has no chance of being dethroned, as no-one in the game has reached the 18-match mark. The 1990 Ballon d'Or winner is guaranteed to keep his record, as the maximum number of matches that can be played in Qatar is seven.
Most goals: Müller chasing Klose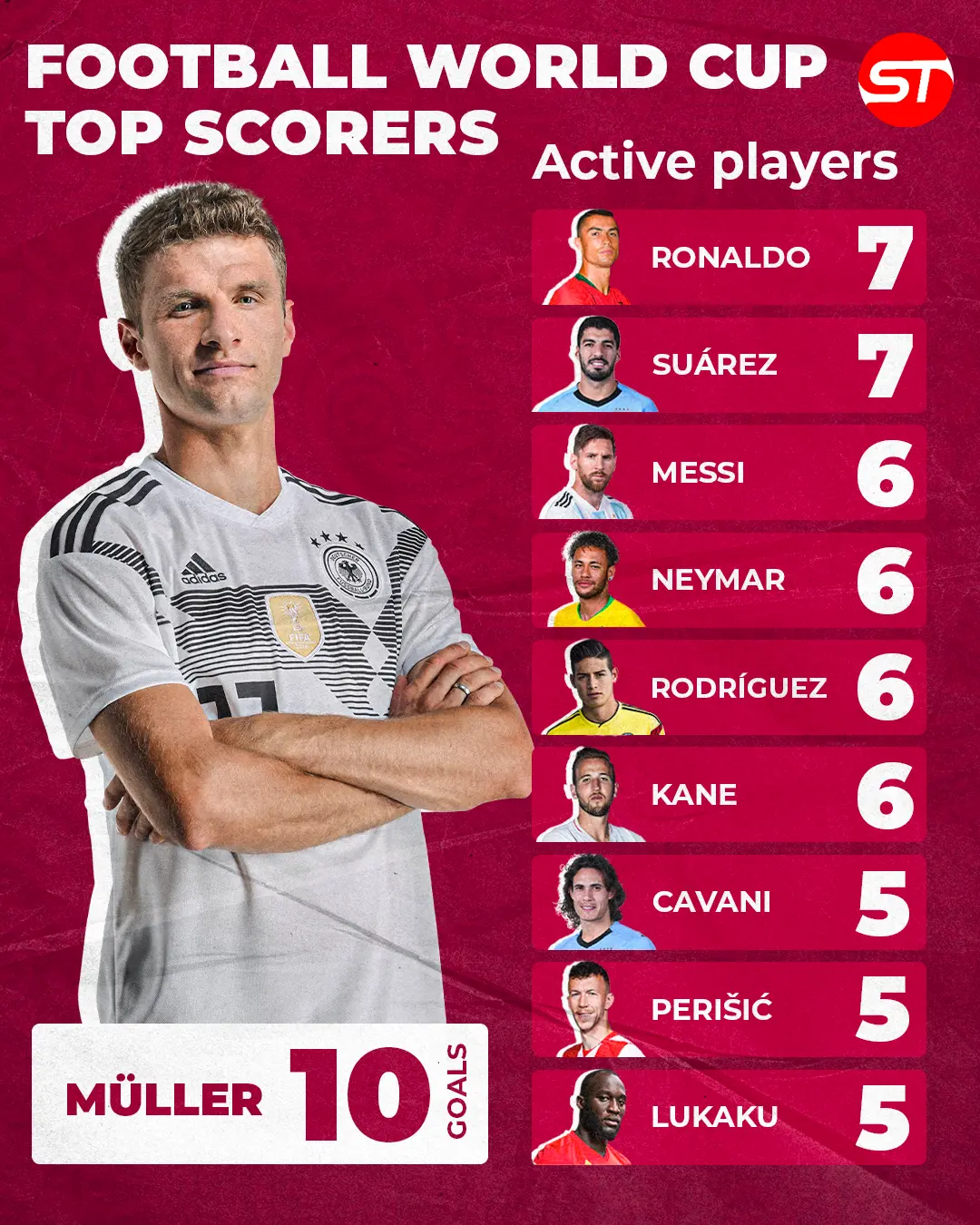 Germany's Mirsolav Klose (16 goals), the all-time top scorer at the World Cup, could see his record fall in Qatar this year. His compatriot, Thomas Müller, with whom he won the 2014 tournament, is 10 goals behind him at the World Cup so needs six goals to equal the record and seven to beat it. It looks beyond other players getting close to the record. Ronaldo and Suarez both have 7 goals in World Cup finals, Messi, Neymar and Kane have six and it's five for Cavani, Perisic and Lukaku. Good tournaments though could see some of those players in with a chance of breaking the record in 2026. If Germany goes deep in this tournament, then Müller has a chance. Bet365 offers 66/1 for Müller being the top scorer in the 2022 World Cup.
Most passes: Maradona under threat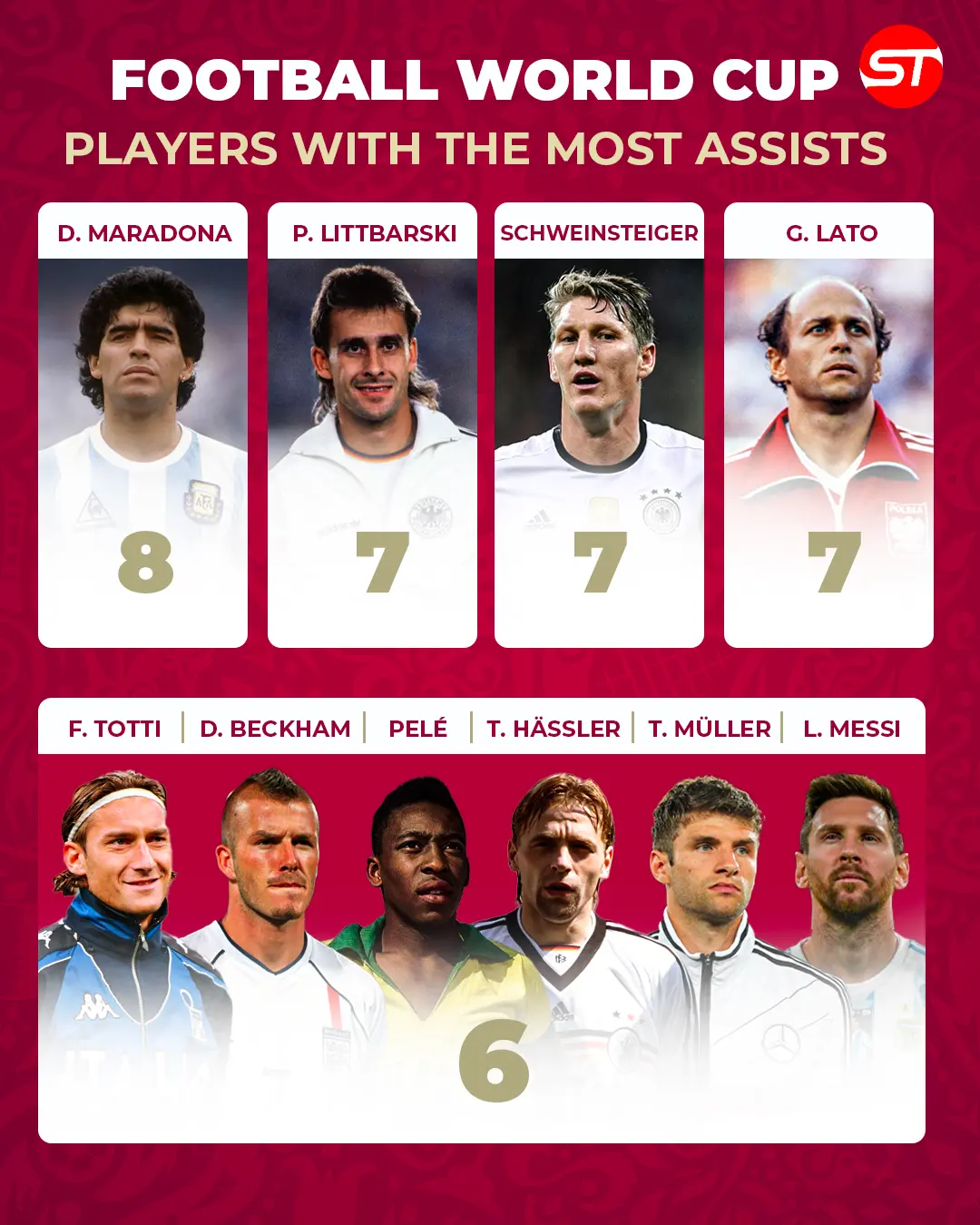 Diego Maradona's record may also fall in Qatar. The best passer in the history of the World Cup (8 assists), the late Argentine can be joined by Leo Messi and ... Thomas Muller. The PSG and Bayern players have already made 6 assists each and stand a good chance of claiming the record.
More promotion on the World Cup
The other records
Finally, Just Fontaine and his 13 goals in one World Cup finals should still be the record after these World Cup finals in Qatar. Javier Mascherano and his 7 yellow cards could be in jeopardy if Belgium's Alderweireld and Portugal's Cristiano Ronaldo get nervous (4 yellow cards each). In terms of red cards, Zinedine Zidane and Rigobert Song (2 sending offs) will be hard to equal as will Brazil's Cafu and his 3 finals played. This isn't a record as such but it's 60 years since a team successfully defended the World Cup, can France do that this year?
Have you been reading this carefully? So here you are with the records to follow during the 2022 World Cup. We will note in particular that Thomas Müller can become legendary by taking the record of passes and goals in the World Cup.. We'll see what happens in a few days.
Also read about the 2022 World Cup: