Liga NOS Betting Tips
Find our free predictions for betting on the Portuguese Primeira Liga 2019/20, as well as tips and forecasts for each upcoming matchday. Full information for your sports bets.

Portuguese Primeira Liga 
Commonly known as the Primeira Liga, Liga NOS is the first division of Portuguese football, and sees 18 clubs go head-to-head in the race to be crowned champions each season. After a season of 34 matches (home and away round trips), the top two teams qualify for the Champions League, while the two sides that finish in third and fourth place earn a ticket to the Europa League. At the bottom of the table, the 17th and 18th place finishers go down to the second division of Portuguese football. There's a lot to play for, which makes Liga NOS particularly interesting for lovers of sports betting.
Bet on the Portuguese Primeira Liga now!
Liga Nos experts predictions
Something that you should keep in mind before betting on the Primeira Liga is that its offers a greater spectacle every year. While the 2016/17 season offered only a low goals per game ratio of 2.38, the last two seasons saw an explosion of goals in a season average of 2.70 and 2.69 goals per game. This can be explained by the rate of goals scored by top Portuguese clubs, while some clubs still struggle in front of goal - Guimaraes, for example, finished in 5th place last season with an average of 1.35 goals per game - but all the same this trend should be taken into account before establishing your Liga NOS predictions. Don't forget, the Portuguese football championship is not without its share of goals!
The second interesting figure for your bets on Portuguese football concerns the 1X2 market. In Liga NOS the influence of a home crowd can be greatly felt in the statistics - we can see that 47% of all games last season ended with a victory for the hosts. In contrast, 20% of games ended with a level score, while 33% of matches saw the away side emerge victorious. This trend could provide some inspiration for for your bets on Portuguese football, especially since the odds proposed by the bookmakers are generally quite favourable. 
See these great offers on Liga NOS 2019/20!
Next, you should also remember that the ratio of the volume of goals per game is more or less the same for the Over/Under 2.5 market. That is, over the course of the 2018/19 season, 49% of matches validated the bet 'Over 2.5 goals', while 51% of matches saw 'Under 2.5 goals'. If you want to make predictions on this Liga NOS betting market, it will be necessary to analyse each match on a case-by-case basis - taking into account the offensive and defensive characteristics of each team. No clear trend is present in Liga NOS then, unlike other European football championships. 
Another piece of data that could be key for your sports bets concerns the 'Both teams to score' betting market. In recent years, as we saw during the 2018/19 season, it is common to for only one team to find their mark, the opposite of the expected outcome. A bet on both sides to score was validated in only 45% of games last season - so if you're a fan of this type of betting you might have to think twice before placing your wager on Liga NOS.
Finally, the last major trend to consider before betting is the large volume of meetings that end with a '1-0' scoreline. Over the course of the last 6 seasons, 13% of all Liga NOS matches ended with only one goal on the board (scored by the hosts) - with an average of 12.42% in the 2018/19 season. If you are fond of predicting the scoreline of football matches, our experts recommend that you turn to the famous '1-0' for your sports betting.
Portuguese Liga NOS: See all odds to bet at Bet365!
How to predict Liga Nos matches
Now that we've taken a look at the key statistics, let's look at some of the other parameters to include in your Primeira Liga predictions. First of all, it will be crucial to analyse the form of the best player on each team concerned in the match of your choice. To show a more concrete example, if you want to bet on a match between Porto and Benfica, but Moussa Marega is suspended, then the odds offered on a Benfica win will likely be higher than they would be if the Malian was available for selection. The same reasoning applies to any Liga NOS team, particularly when it comes to mid-table teams. 
It will then be necessary to analyse the stake that the match holds for each team involved. For example, a bet on the 'Over 2.5' goals market is much less likely to be a winner in a match between two sites fighting against relegation than in a top of the table clash. Before betting on the Primeira Liga, it will be important to consider the league table - it will help you to determine a team's motivation for an upcoming match by considering how a win will benefit them. 
The final point that you should remember before making your Liga NOS predictions is to always compare the bookmakers odds before placing your bets. As we are sure you are aware, the many bookmakers on the online betting market can offer different odds for the same bet on a Liga NOS match. Whether you want to back Porto, Benfica, Sporting Portugal, Braga or Rio Ave, you will find variations in the odds values offered on each bet which can boost your earnings in the long term. To demonstrate, using the example of a Portimonense-Maritimo match, Bet365 could offer odds of 12/5 on a draw, as opposed to 3/1 offered by William Hill. This may seem like only a small difference, but could add up to hundreds of pounds over the course of a season - believe our specialists in this!
Find the best odds on La Liga at William Hill!
Portuguese Liga Nos table?
In addition to betting on each game of the Primeira Liga, you can also predict the final table for the 2019/20 season. Beyond offering an exciting long-term gaming experience, a outright bet on Liga NOS can allow you to accumulate significant winnings at the end of the season. Some of types of bets you can place include predicting the overall league winner, which teams will finish in the top four, or even which teams will be relegated at the end of the season.
To ensure reliable predictions on this Liga NOS market, there are certain important aspects that you will need to take into account, including the real motivation of each club, the fixture calendar and the depth of each Primeira Liga squad. It will be important to know which sides have a good quality subs bench, as it could be crucial to their long-term performance!
See all the outright Primeira Liga betting markets!
2019/20 Portuguese Primeira Liga: our free betting tips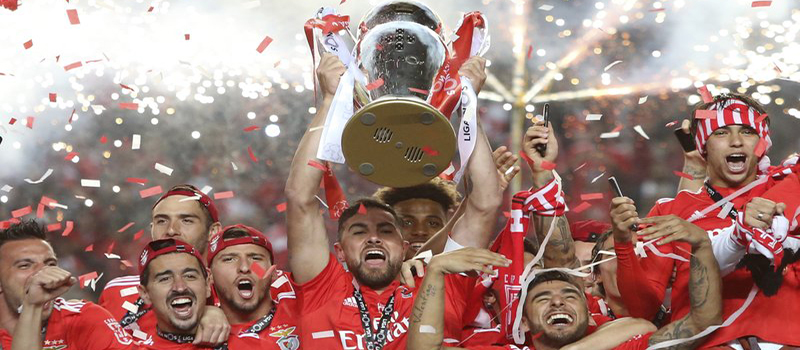 Benfica claimed their 37th Primeira Liga title in 2019 after they finished as runners-up to Porto in last season's edition of the tournament. The Lisbon side are the most decorated club in Liga NOS, and have won five of the last sixth editions of this Portuguese Football League. They have qualified for next season's edition of the Champions League, while second-place Porto will will enter the third qualifying round of the competition. Third-place Sporting CP qualified for next season's edition of the Europa League, while fourth-place Braga and fifth-place Vitoria de Guimaraes will enter the third and fourth qualifying round of the Europa League respectively.
The 2019/20 season should see a continuation of the duel between the the two largest clubs in Portuguese football: Benfica and Porto. After finishing in third place last season, the effects of a disastrous 2017/18 season seem to be haunting Sporting - they will likely continue to lag behind their competitors. According to our experts, in light of Benfica's loss of Joao Felix a bet on Porto would not be too crazy - so to your predictions.