Championship Betting Tips
Commercial content | 18+ age limit | T&Cs apply

Find our free predictions for betting on the English Football Championship 2020/21 as well as tips and forecasts for each upcoming matchday. Full information for your sports bets.

2020/21 English Championship Season
The English Football Championship, also known as the Sky Bet Championship for commercial reasons, is the second tier of English football. It is one of the toughest leagues to compete in but there is a massive prize at stake. Three teams each season will be promoted to the Premier League. The top two are promoted automatically, then the sides finishing third to sixth compete in the play-offs. The winner of that then takes their place in the top league in England. The bottom three sides are relegated to League One. It's an exciting league with so much at stake and one that is great to be placing bets on. Our teams of betting experts will produce excellent previews throughout the season aiming to get you as many wins as possible.
Bet on EFL Championship with the Best Offers!
English Championship Statistical Analysis
There was an average of 2.64 goals in each Championship game played last season. That's just down from the 2.67 in the 2018/19 season. In all, 552 matches saw 1457 goals being scored. A popular bet is on whether there will be under or over 2.5 goals scored in a game. That statistic came up in 49% of games last season, so all but half the matches played. 27% of matches (just over one in four) had over 3.5 goals scored. Again those statistics are pretty much the same as the previous season.
When it comes to the correct full time score bet, 1-1 was the most popular result in the 2019/20 Championship season. That came up in 75 matches with the next popular being 1-0 to the home side in 63 matches.
What about betting on how many goals there might be in the first half? The most common score was 0-0 which came up in 165 matches. 387 games had under 1.5 goals scored in the first half, that's 70% of matches. As for under 2.5 goals, 91% had that stat. Just 54 of 552 matches played had over 2.5 goals in the first half.
56.6% of the goals scored in the Championship last season were scored in the second half. For example, Nottingham Forest scored 20 times in the first half but managed 38 in the second.
If you're looking to place a bet on a team scoring early on in a game, then Blackburn Rovers were a great choice last season. They scored 15 goals in the first quarter of hour of games, while Huddersfield Town scored just three. Cardiff City lost in the play-offs last season and scored 16 goals from the 76th minute onwards. Brentford proved to be a handful in the 16th to 30th minutes, scoring 22 goals and conceding just three.
Both teams scored in 53.1% of matches in the Championship last season. QPR, Luton Town and Derby County saw both teams score in 28 of their 46 league games. Lowest was Brentford with 20. That's mainly because Brentford kept 16 clean sheets last season.
QPR only managed six clean sheets last season, that means they conceded in 40 games. Luton Town and Birmingham City kept seven clean sheets. Stoke City had a tough season last term and they, along with Barnsley, failed to score in 16 matches last season.
Grab a bonus to bet on the Championship with Bet365
How to predict Championship matches
The Championship is considered to be quite an unpredictable league. Last season, only the top two teams lost less than 11 league games which makes it even more exciting for football fans and sports betting fans alike. With this in mind, there are a number of factors that you should consider before betting on games of this English football league. 
League positioning is key to predicting Championship outcomes, particularly when it comes to the Play-Off race. Some teams thrive under the pressure but others crack under it. Look at the poor run Nottingham Forest and Derby County had at the end of last season, costing them play-off positions. Even the two sides that were promoted automatically had runs of form that were more suited for a relegation battle than a promotion challenge.
The form of a team - and it's key players can also be one of the biggest indicators of the outcome of a match. Teams that have won their previous matches, or whose key players are in the middle of a scoring streak should perform better than a team that is going through a rough patch, or whose star player is suffering from a performance slump. Analysing the previous performances of the team as a whole and the best players on each team is a crucial step in creating your Championship football predictions.
As well as the form and fitness of each side, the context and stakes of the fixture must also be considered before betting. With 46 match days ahead of each side in the regular season, a Championship manager will need to keep his squad fresh over the course of the long season. When you also consider a team's participation in domestic cups (such as the FA Cup), the motivation a side has going into a fixture needs to be analysed. For example, a mid-table Championship team that has qualified for the final stages of the FA Cup will likely prioritise their upcoming Cup games over their league fixtures. On the other hand, a team that is fighting it out for a Playoffs spot at the end of the season will be much more motivated to win their upcoming fixtures. Food for thought.
Finally, we would advise that you to always compare odds amongst the various online betting sites before placing your Championship bets. For the same bet on the same match, different bookmakers on the market can offer different odds values - so why would you want to miss out on some extra gains, even if it is just a small amount. Make sure that you register with all of the best bookmakers on the market, to be sure that you can always place your bets on the highest odds.
Grab a bonus to bet on the Championship with William Hill!
How to predict the Championship table
In general, the interest of the Championship is not the winners, but which teams secure the lucrative promotion spots at the top of the table. With last year's winners no longer part of the roster, all eyes will be on the three relegated teams entering the 2020/21 season from the Premier League. Norwich City are back after just one season in the top flight. Watford and Bournemouth have both spent several seasons in the Premier League and will be doing all they can to make an immediate return. Last season saw one of the relegated sides, Fulham, make an immediate return, while Cardiff made the play-offs. Betting on the three relegated teams to regain their position in the Premier League is a good idea.
bettingTipsCtaLink_ ERROR NO LINK
Betting tips on the English Championship top Scorer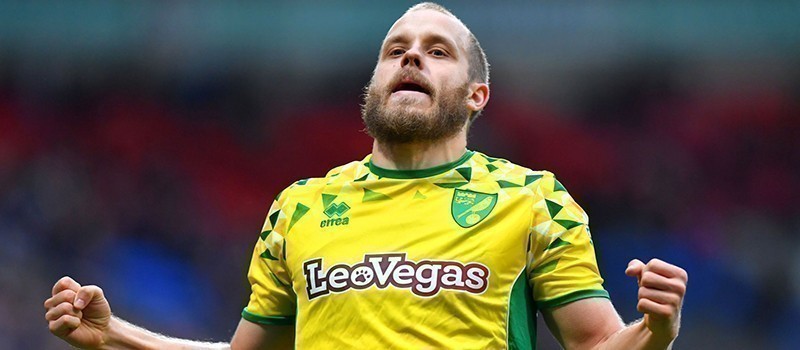 Another popular betting market on the EFL Championship is the top goalscorer - with plenty of options available for bettors to choose from. Teemu Pukki was the top scorer when Norwich won promotion in 2018/19. He'll be hoping to repeat that feat and get his team back into the Premier League. The top two scorers in the Championship last season were Aleksandar Mitrovic and Ollie Watkins. Neither are playing in this league in the 2020/21 season. Mitrovic won promotion with Fulham and Watkiins has joined Aston Villa.  Of the players still in the Championship, Lewis Grabban of Nottingham Forest will look to have another good season, he scored 20 goals last season. 
When choosing a player to back in this category, it is important to consider the team and the context in which the forward is playing in before making your final pick. If a side is playing with a lone striker, he will have a greater chance of getting on the scoresheet than a substitute that comes on for the last 20 minutes of the game. The instincts of the team manager will also be key to this prediction - a forward that play for a team whose coaches favour offensive tactics is more likely to be in the race for the golden boot than one who plays for a team that shuts up shop after going 1-0 ahead.
Bet on the Championship Top Scorer!
English Championship 2019/20: our free betting tips
Norwich City won this title two years ago but only survived one season in the Premier League. They are going to be determined to repeat that 2018/19 success (pictured above) and again return to the top flight. They face a tough battle though with Watford and Bournemouth sure to put up a good challenge. Brentford lost in the play-off final last season but have already lost top striker Ollie Watkins. How they spend the fee received for him may well determine how well they do.
There are plenty of teams that will be in contention for promotion. Welsh sides Swansea City and Cardiff City should again be battling to get into at least the play-offs. Blackburn Rovers, Nottingham Forest and Bristol City can't be discounted.
When it comes to relegation, again Barnsley and Luton Town are likely to struggle. Three sides have been promoted to the Championship - Coverntry City, Rotherham United and Wycombe Wanderers. The latter are in their first ever season in the Championship, it may well be a battle for them to avoid relegation.
Our Premier Championship Predictions of the moment
Best odds to bet on Championship