Europa Conference Le

ague Predictions & Betting tips
The Europa Conference League is here and our team of betting experts will provide you with free tips throughout the season.
2022/23 Europa Conference League

The Europa Conference League is an opportunity for some of the lowest ranked teams to play in a major competition. Teams will have to win through some qualifying rounds to get into the group stages. There will be eight groups of four as in the Champions League and Europa League. The teams finishing second and third in their groups will go into a play-off round. Then it's the final knockout stage with the winners of the play-off round joining the eight group winners.
The winners of this competition will gain direct entry into the group stages of the 2023/24 Europa League. That's unless they have already made it into the Champions League. The final will be played on June 7, 2023 in Prague. Roma won the first Conference League but will only play in the tournament this season if being unsuccessful in the Europa League.
See the latest Europa Conference League odds at bet365
Expert advice for your Europa Conference League predictions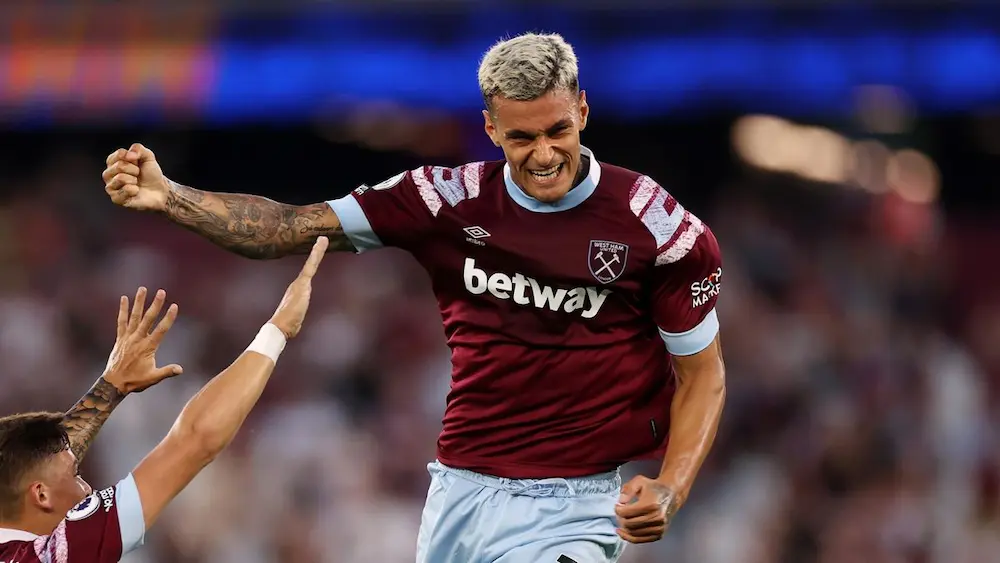 There are going to be some top teams in this 2022/23 Europa Conference League. Sides such as West Ham United, PSV, Lazio, Villarreal and Nice who are among the favourites to win this year's competition.
What should be noted about this young competition that is the Europa Conference League, is that the level is quite high as in all European competitions. Here, for example, are some figures from the very first tournament last year. They should help you make reliable predictions for this second edition:
Goal average: 3.40 goals per game
% of matches with +1.5 goals: 92%
% of matches with +2.5 goals: 67%
% of matches with +3.5 goals: 41%
% of matches with "Both teams to score: yes" : 67%
% home wins: 57%
% of draws: 28%
% away wins: 15%
For your remaining predictions on the Europa Conference League, you will note that it is therefore necessary to favor Over 2.5 at your online bookmaker, that double-chances 1N are obviously to be preferred, and that a goal on each side of the field is also a bet that often passed last year. Remembering these numbers, your bets on this competition should go well.
Go to 1xbet to bet on the Europa Conference League
Group Stages

Final Group tables
Group A – İstanbul Başakşehir 13, Fiorentina 13, Hearts 6, RFS 2

Group B – West Ham 18  Anderlecht 8, Sllkeborg 6, FCSB 2

Group C – Villarreal 13, Lech Poznan 9, Hapoel Beer-Sheva 7,  Austria Vienna 2

Group D – Nice 9, Partizan 9, Koln 8, Slovácko 5

Group E – AZ Alkmaar 15, Dnipro-1 10, Limassol 7, Vaduz 2

Group F – Djurarden 16, Gent 8, Molde 7, Shamrock Rovers 2

Group G –  Sivasspor 11, CFR Cluj 10, Slavia Prague 8, Balkani 4

Group H – Slovan Bratislava 11, Basel 11, Pyunik 6, Žalgiris 5
Draw for the Knockout Play-off Round
Qarabag v Gent
Trabzonspor v Basel
Lazio v CFR Cluj
Bodo/Glimt v Lech Poznan
Braga v Fiorentina
AEK Larnaca v Dnipro-1
Sheriff Tiraspol v Partizan
Ludogorets Razgrad v Anderlecht
Ties to be played Feb 16/23
Make your selections at Bet365
How to bet on the Europa Conference League
Let's now move on to a subject that should be of great interest to you: the parameters to analyze and take into account before betting on a match in the Europa Conference League. First of all, it will absolutely be necessary to monitor the form of the executive playersand important teams. This is true in C3 already, but the smaller formations rely heavily on star players, and often do not obtain the same results without them. A phenomenon that is found a lot in small groups of players, and which will therefore certainly slip into the Conference League. It will be necessary to avoid betting on a workforce deprived of its executives and players in form. Along the same lines, suspended or injured players will usually be known before you bet, so don't forget to consider them. Moreover, do not hesitate to wait for the composition of the teams before betting, this will allow you to have a more reliable forecast on the ECL.
Then, the desires and real intentions of the formations involved will also be a very important aspect to take into account for your predictions on the competition. It is a well-known fact in the world of football, it happens that clubs qualified for the European Cup do not play the game, and favor national leagues. It will therefore be necessary to take a special look at the first matches of the group stage of the tournament. If a workforce gives you the impression of not wanting to perform in this new European Cup, you will have to refrain from betting on it, for example. Especially since opposite, teams less accustomed to European competitions will have the desire to shine to show themselves to the eyes of the world.
Thirdly, the stakes of the matches will also be decisive for your sports bets on this European Cup. For example, if a formation is already qualified for the round of 16 and it has one or two group matches left, it will then be necessary to avoid betting on it, even more so if it evolves against a formation which is still playing its qualification. Don't forget either that a meeting between two already qualified clubs can be of great importance, especially for a first place synonymous with direct qualification for the eighth, while the second must go through a round of play-offs against the third of a Europa League chicken. This is important for your bets.
Finally, and this is also advice to take into account, never forget to put the different bookmakers present on the French market in competition. It will be a question of comparing the different odds offered before betting on a match in this competition. Indeed, for an identical bet, the betting sites can offer a different odd. It will therefore be necessary to register with different sites in order to ensure the maximum potential earnings. For example, on a victory of a team A against a team B, Unibet can offer odds of 1.80 against 1.90 at Bwin. Don't forget this, because in the long run, your gains could be much greater
Who will be the top scorer in the 2022/23 Europa Conference League?
As with many competitions, bookmakers offer you to bet on the top scorer in the Europa Conference League. A trophy and an important personal title, which many scorers hope to glean. If you want to make a prediction on the top scorer of C4 , a few simple rules will allow you to aim correctly.
For example, it will be necessary to take into account the tactics of the club to which the targeted player belongs. Indeed, as talented as he is, a player who is part of the Lithuanian champion club will not have the same chances as another who plays for a Premier League formation. In a weak or little-playing team, a goalscorer can quickly find himself in difficulty in this UEFA ECL. Take this into account.
In the same register, it will also be necessary to bet more on a player likely to play as many matches as possible during the tournament. Quite logically, a scorer from a team that is likely to go far in ECL will be preferred for your prediction on the top scorer, since he will have more games to score. It's childish. To find out the best odds for this bet, go to your online bookmaker
Place your Europa Conference League wagers at bet365
Our free prediction for the 2022/23 Europa Conference League season
Last year, José Mourinho's AS Roma won the Europa Conference League. Many big European clubs will fight this year to win this title. The group stages saw an excellent performance by West Ham United who won all their matches. AZ Aalkmar and Djurgarden also put in impressive performances. Now the clubs finishing third in their Europa League groups have joined the Conference League. Those to look out for include Lazio and Fiorentina from Italy. Bodo/Glimt and Gent may also do well. It looks a very open competition and there are some good odds available. One club that does look like possible winners are Villarreal who have a good European record.
Latest Odds after Group Stages
West Ham United, odds of 5.00
Lazio, odds of 6.00
Villarreal, odds of 6.00
Braga, odds of 10.00
AZ, odds of 12.00
Fiorentina, odds of 13.00
Nice, odds of 17.00
Bodo/Glimt,,odds of 21.00
Istanbul Basaksehir, odds of 21.00
Basel, odds of 34.00
Partizan Belgrade, odds of 34.00
Sheriff Tiraspol, odds of 34.00
Trabzonspor, odds of 41.00
Anderlecht, odds of 41.00
Gent, odds of 41.00
Djurgarden, odds of 51.00
Follow the new Europa Conference League and read the totally free tips from our team of betting experts.