LaLiga Betting Tips
Commercial content | 18+ age limit | T&Cs apply | BeGambleAware
Find our free predictions for betting on the La Liga 2021/22 as well as totally free tips and forecasts for each upcoming matchday. Full information for your sports bets.
La Liga 2021/22 Season
The 2021/22 La Liga season begins on August 13. Atletico Madrid will be defending the title that they won last season but will face tough opposition from Real Madrid, Barcelona and Sevilla. It's going to be strange to see a La Liga season that won't be featuring Lionel Messi. How much will that weaken Barcelona? No Messi but Sergio Aguero has arrived from Manchester City.
There are 20 teams in La Liga with them playing all the other sides twice, making a total of 38 games. Such has been the success of Spanish clubs in Europe, the top four in La Liga all go straight into the Champions League. Last season that was Atletico Madrid, Barcelona, Real Madrid and Sevilla. The team finishing fifth in La Liga this season will go into the group stages of the Europa League. Whoever ends up in sixth place enters the Europa Conference League. The bottom three are relegated to La Liga II and there are no play-offs. The newly promoted teams in La Liga this season are: Espanyol, Mallorca and Rayo Vallecano.
Another exciting season is guaranteed and our team of betting experts will guide you along the way. They will write previews of the top games and some great wins are likely in the coming season with their help.
Bet on the Spanish La Liga now!
La Liga Statistical Analysis
42% of games played in La Liga last season ended in a home win. That was a drop of 4% from the previous season. 30% of games were won by the away side, an increase of 3% from the 2019/20 season. The remaining 29% of games ended in a draw which was higher than in other top leagues last season. Only five La Liga teams last season didn't draw at least ten league matches.
With so many top strikers in La Liga, you would think there'd be a lot of goals scored. Well, there are some great defenders too and the average number of goals per game was only 2.51. That's well below the average scored in leagues such as Serie A, German Bundesliga and Dutch Eredvisie. It was actually an increase of 0.03 on the previous season though. Will it fall further without Messi?
44% of games last season had over 2.5 goals scored in them. That's 15% less than in the Bundesliga and 13% lower than in Serie A. All but five La Liga clubs had at least 20 league games in which under 2.5 goals were scored.
The both teams to score figure was pretty good though. 52% of La Liga matches saw both teams get on the scoresheet, slightly ahead of the English Premier League but below other major leagues. Atletico Madrid may have won La Liga but only 17 of their 38 games saw both teams score. They were top in terms of clean sheets though with 18.
22.4% of goals scored came from the 76th minute to the final whistle. In terms of when goals were scored, 46.1% came in the first half and 53.1% in the second. The most popular full time score was 1-1, that came up in 15% of matches played. As for half time, 33% of games were goalless at the break and 87% of matches had under 2.5 goals at half time.
Check out the La Liga odds at Marathonbet!
How to predict La Liga matches

Now that you know all of the important figures involved in La Liga betting, let's take a look at some of the other factors that can impact predictions that you make on La Liga matches. Current form is of course very important. Not just the form of the teams but the players too. If Messi is on fire, then get those bets on him to sore and Barcelona to win. If he's out of form,then a bet on Barcelona, especially away from home may be a very risky proposition.
Make sure you read the previews that our team of betting experts write. They will give you an insight into the game and how the two teams concerned are playing going into the match. They will look at the strengths and weaknesses of each team and then use that to predict the result. Remember it's not all about betting on which team wins. If our experts believe that a bet on the under/over goals market or both teams to score is the best bet to go for, then that will be the route they lead you down.
The final point to remember for your sports bets is to always compare odds before placing your La Liga bets. Whether it is Barcelona, Real Madrid, Atlético Madrid or Sevilla that you want to back, you will have the opportunity to check out the competition between the best online betting sites. Doing this is easy - all you have to do is register an account with all of the best bookmakers to find the best offers and odds available for the bet of your choice. If you, for example, want to bet on a draw between Valencia and Villarreal, a bookmaker that offers 11/5 on this market will be much more interesting to bet with than a bookmaker that offers 3/1 for the same bet. In the long run, you could see a difference of hundreds of pounds in your kitty - so make sure to always compare odds before betting!
Check out the La Liga match odds at bet365!
How to predict the La Liga table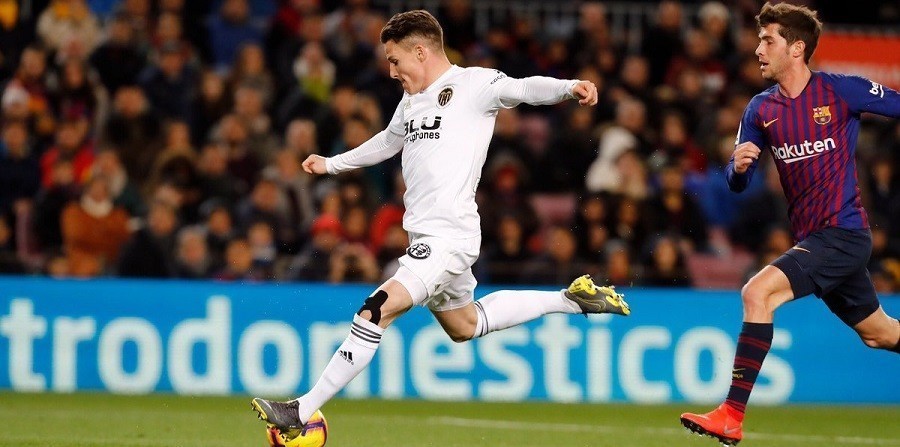 In addition to the La Liga matches themselves, you will also have the opportunity to predict the final standings of the 2021/22 La Liga season. There are so many markets that you can bet on so don't for a second believe it's just a question of placing bets on who will win the league. You can bet on everything from where a team will finish in the league, who will get a top four spot and which teams will be relegated. Check out all the different markets and with luck you will find a winner.
See all outright La Liga betting markets at Marathonbet!
Spanish La Liga 2021/22: our free betting tips
Last season saw Atletico Madrid break the grip that Real Madrid and Barcelona had on the La Liga title. They were champions for the first time since the 2013/14 season and for only the second time since 1996. They won the title by two points with only nine separating the top four teams. Barcelona may well have won the title again but for a poor start to the season. Now they have to face life without Lionel Messi but the addition of Sergio Aguero to their team will be of great help to them. Can Atletico win the title again? Real Madrid will be trying their best to make some big signings as they bid to regain their title.
Our Liga Predictions of the moment