Which Goalscoring bets to make for England at Euro 2020?
Euro 2020 isn't that far away. If you are looking at making goalscorer bets for the English team, which players should you be choosing?
England are one of the favourites to win Euro 2020. The tournament takes places all over Europe in June and July with the final taking place at Wembley on July 11. It may well be that England reach the final and they have plenty of potential goalscorers. With players such as Harry Kane, Raheem Sterling. Phil Foden and Dominic Calvert Lewin, the English side has several players able to get on the scoresheet. There are plenty of odds available at bookmakers that could produce some good winnings. You can bet on markets such as:
Top scorer in Euro 2020
Top England goalscorer
Goalscorer bets for individual matches - first, last, anytime or next.
There will be a lot more markets to bet on for goalscorers, so give close attention to all that is on offer. Our team of betting experts will be on hand throughout Euro 2020 to give their views on all of the matches. Remember in-play betting will be available, so keep a close eye on the games to see who is in form and could get on the scoresheet.
Make your Euro 2020 selections at Bet365
Kane Always a Threat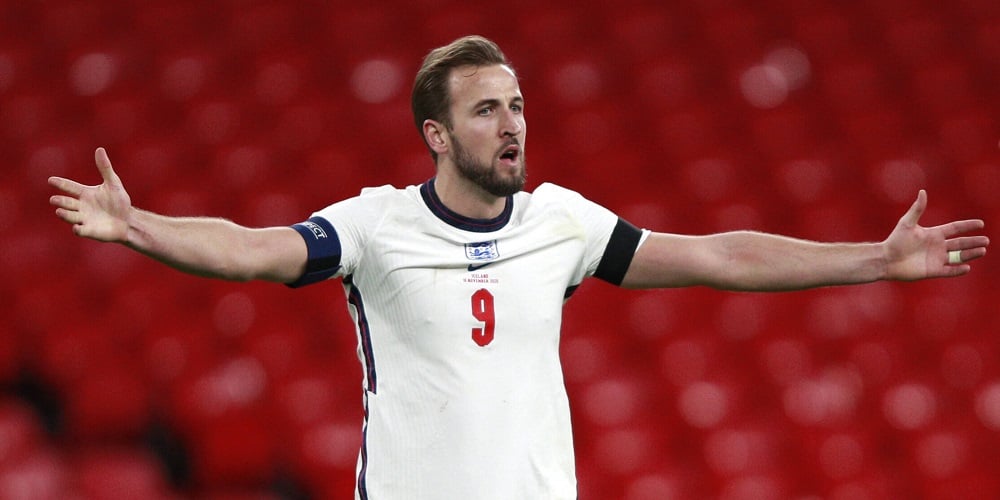 Every time Harry Kane goes down injured, Gareth Southgate's heart misses a beat. If England are to win Euro 2020, they need a fit Harry Kane. At present that is the case and that's great news for England. Kane has scored 34 goals for England and is likely to be their top scorer of all time at some point in the future. 
He has already scored over 30 goals this season and 21 of those have come in the English Premier League. He could well be the winner of the Golden Boot in that league and possibly Euro 2020 as well. After all, he did win that award at the last World Cup. If you can find a market for most assists, Kane is a top tip to win that. He's had 13 assists in the Premier League (up to April 25).
England have a good chance of going deep into this tournament. The more games they play, the better chance Kane has of being the top scorer at Euro 2020. 
Sterling Could be a Big Danger
Raheem Sterling is another player England will hope is in good form at Euro 2020. He has scored 14 goals in 61 games for England, not the greatest of goal scoring records. However, 10 of those goals have come in his last 14 international appearances with two in the last five.
Being fresh for this month-long championship is important. Sterling hasn't played as many games this season as in the previous one. Manchester City's rotation policy has seen him spend plenty of time on the Manchester City bench.  Plus England have only played five games in 2020 and 2021. If he hits form then the goals may well flow. Remember that Kane stat for assists, well it could be Sterling who he helps score.
Check out the Euro 2020 odds at Bet365
New Kid on the Block
England have several young goalscorers at the moment. One is Dominic Calvert-Lewin and he has scored four goals in his first seven international appearances. He began the 2020/21 season in great form as Everton topped the Premier League table. That great form has been hindered a little bit by injury but that seems to be behind him now.
Calvert-Lewin may have to battle to get a start for England but boy is he a dangerous substitute. He may not be top scorer but when he does play for England, any anytime goalscorer bet may well be a winning one. Probably one to consider when betting in-play if he does come on as a sub.
See the Euro 2020 odds at Marathonbet
Consider Foden for Goal Glory
Phil Foden will turn 21 a month before Euro 2020 begins. By the time he begins these championships he will have an EFL Cup winners medal and most likely a Premier League winners one too. Who knows he could even have a Champions League winners medal too!
Foden has had an outstanding season and is well into double figures for goals. He's also scored two goals for England, both scored in their 4-0 UEFA Nations League win over Iceland. It's possible he will start some games for England at Euro 2020, Foden certainly deserves that. If not, then like Calvert-Lewin, he will be a dangerous substitute. Anytime goalscorer bets on the Manchester City midfielder are definitely worth considering.
Other Euro 2020 News Items
BOOKMAKER, WHAT TO CHOOSE?
New customers only | Commercial content | 18+ age limit | T&Cs apply