Indian Super League

Predictions & Betting tips
Betting tips 1X2
04 Feb 2023 - 09:00
Indian Super League
Northeast United
Jamshedpur FC
05 Feb 2023 - 09:00
Indian Super League
ATK Mohun Bagan
Bengaluru FC
09 Feb 2023 - 09:00
Indian Super League
Jamshedpur FC
ATK Mohun Bagan
Indian Super League 2022/23, Predictions and tips for each upcoming matchday. Full details for your sports bets.
Indian Super League 2022-2023 season

The Hero Indian Super League (ISL) is India's top football league. It began in 2014 with eight teams taking part. The 2022/23 season sees it being increased to 11 teams with Hyderabad defending their title. They will face tough opposition from sides such as Mumbai City, ATK Mohun, FC Goa and Kerala Blasters. As we will explain this new season sees a change to the format taking place that should make the ISL even more exciting this season. 
Bet on the ISL current season!
ISL Format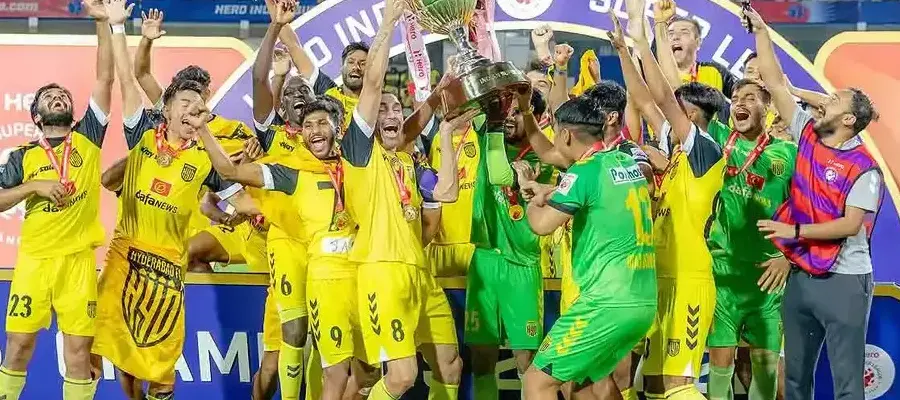 Hyderabad are the defending champions and the league stage runs for nearly five months, A new play-off format has been introduced for this new season. The top two in the league will go straight into the play-off semi-finals. Those placed beteween third and sixth go into the play-off quarter finals played over a single leg. The team finishing third will play the sixth placed side in what will be known as Eliminator 1. The teams finishing fourth and fifth go into Eliminator 2. The winners of Eliminator 1 face the team that finished second and the victors of Eliminator 2 take on the side that topped the league table.
Bet on the ISL current season!
Most Successful teams in the ISL

This is the ninth year of the ISL and so far there have been five different teams winning the title. ATK Mohun have been the most successful team with three three titles being won. Chennalyin FC have won the title on two occasions with Mumbai City, Hyderabad FC and Bengaluru FC winning the other three titles. 
Last Five Winners
2021-22 - Hyderabad
2020-21 - Mumbai City
2019-20 -  ATK
2018-19 -  Bengaluru
2017-18 - Chennalyin
Bet on the ISL current season!
ISL Stats for the 2022/23 season so far

After the games played on December 28, Mumbai had a two-point lead at the top of the table from defending champions Hyderabad. Two points adrift of the top two are ATK Mohun Bagan but they've played a game more than the top two. In fourth place are Kerala (a point behind Mohun) with a three point gap to Goa and Odisha who are fifth and sixth in the table, the final two play-off positions. 
Mumbai are the clear top scorers after 11 games of the season with 32 goals, nearly three a game. They have scored 11 goals more than any other side in the Indian Super League. Hyderabad have the best defence with just six goals conceded in 11 matches. Not so good at defending are North East United who have let in 27 goals in 11 matches, 10 of which have been lost.
Mohun have the best home record with 15 points, one ahead of Mumbai. East Bengal have lost all four of their home fixtures. Mumbai have 13 points on the road which gives them the best away record. North East United have been beaten in all five of their away matches.
Nine out of 12 Goa league games have had over 2.5 goals scored in them. That's the most for any team and one ahead of Mumbai and North East United. Bengaluru have seen eight of their 11 games have under 2.5 goals scored, one ahead of Hyderabad with seven.
Grab a bonus end bet on the ISL!
Dates for your Diary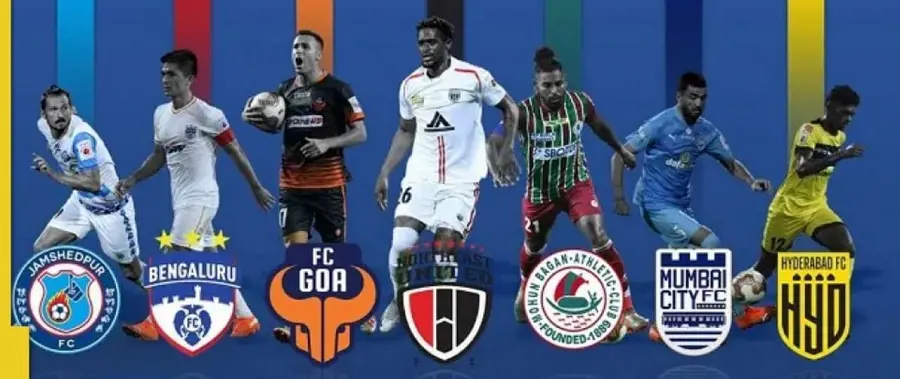 Eliminators and Finals
Eliminator 1: 3rd placed team vs 6th placed team
Eliminator 2: 4th placed team vs 5th placed team
Semi-final 1 1st Leg: 1st placed team vs (Winner – Eliminator 2)
Semi-final 2 1st Leg: 2nd placed team vs (Winner – Eliminator 1)
Semi-Final 1 2nd Leg: (Winner – Eliminator 2) vs 1st placed team
Semi-Final 2 2nd Leg: (Winner – Eliminator 1) vs 2nd placed team
Final: (Winner Semi-Final 1) vs (Winner Semi-Final 2)
Betting options in the ISL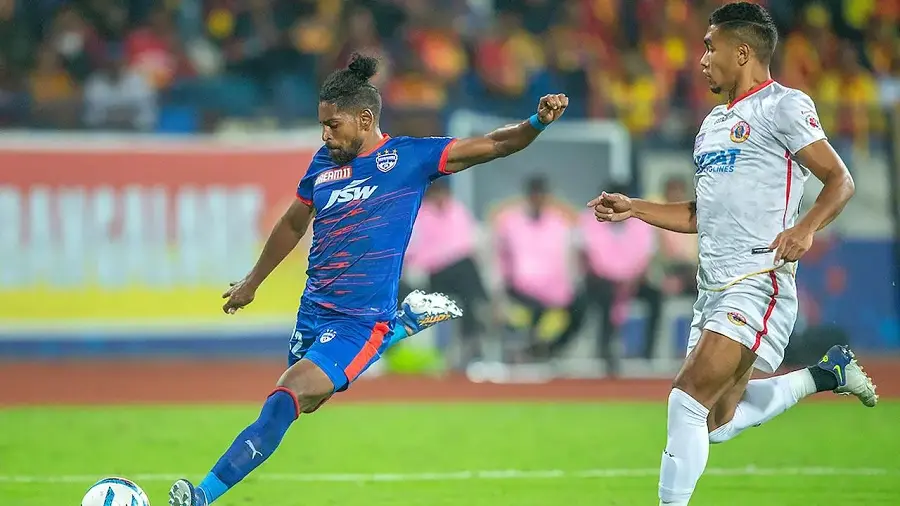 There are many different types of football bets you can place when it comes to this sport. You could bet on everything from who is going to win the game, what team will score first, and so much more. Each match has literally hundreds of bets available and some bookies even have the fantastic Bet Builder feature that allows punters to make multiple bets in one match. These are the most popular bets that are available in the Indian Super League. 
The traditional bet is the 1x2 wager. This is placed on whether the home side (1) or the away team (2) will win the match or whether the game will end in a draw (X). There are many other bets that can be placed nowadays as the number of markets has increased dramatically.
There's the double chance bet that gives you a better chance of success but with lower odds available. If for example, it's a game that sees Hyderabad host Mumbai, you can bet on 1X - this means Hyderabad to win or draw the match. You could also for X2 which means your bet will win if Mumbai win or draw the match. Alternatively you could go for 12 which means your bet only loses if the game is drawn.
It's also possible to bet on the correct score after 90 minutes and this can see some high odds available.  The half-time/full-time forecast sees you required to predict the result at both half time and full time. For example, you could bet on Goa to lead their match at both half and full time. Alternatively, a bet can be placed on it being a draw at half-time and Goa winning at full-time. The huge odds come if you bet on a team to be ahead at half-time but their opponents to go on and win the game.
Other bets include ones on both teams to score in the game. You can also bet on just one of the teams scoring in a match.other bets. A popular bet is on how many goals will be scored in a match. With all these bets, you need to carry out some research before placing them. 
Bet on the ISL current season!
How to place reliable bets on the ISL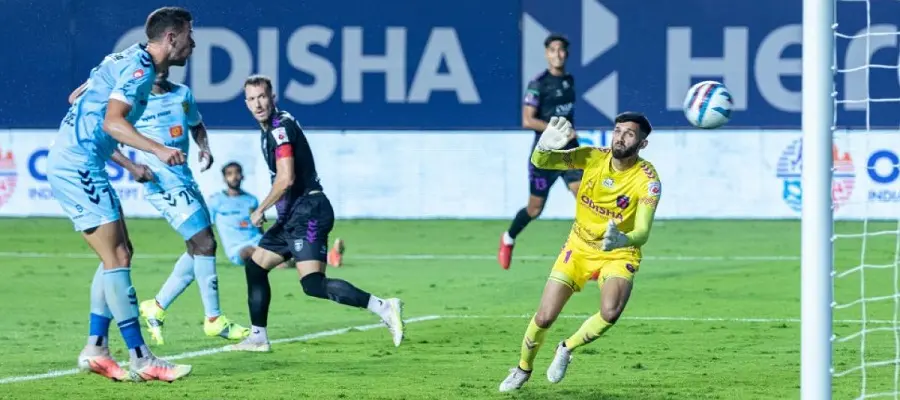 The ISL often has excellent betting odds available at bet365 but it is very important to note that it is impossible to predict the results of all matches correctly but these are the following steps that you can take to give yourself the best possible chance of winning. 
Look at how teams have been getting on in their most recent games. If a side has been getting plenty of wins, who were they achieved against? Beating the teams down the bottom of the table doesn't mean you'll get good results against the higher placed ones. If a team has been beating highly placed sides, then they are well worth betting on.
You need to pay close attention to the home and away records of teams. Some are excellent at home but struggle on their travels, it's like a different team is playing. There are some teams who play better on the road than they do at home, perhaps they are good at scoring on the break. Look at the relevant statistics to see who are best to be betting on.
What form are key players in? If a team's top striker hasn't scored for a while, then that will affect how they get on. It may be a striker is in top form and can't stop scoring, so betting on his team is well worth doing so. Always make sure you know the team news. If a team is without key players then that's not good news. If top players are returning to the side, then that increases their chances of success.
Look at how important the match is. This is particularly important in the second half of the season. Teams may need to keep getting points to stay in the title race or avoid relegation. Some clubs will find that they have little to play for and they are often ones to avoid. 
Don't just register with one betting site, join as many as you can. This will allow you to compare the odds available for games. There may even be a special offer that you can take advantage of to help increase your winnings. 
Our predictions for the top scorer in the ISL?

After the games played on December 28, the leading goal scorer in the Indian Super League is Nasser El-Khayati of Chennalyin who has scored seven goals. He's one clear of the Mumbai striker Jorge Pereyra Diaz. Another Chennalyin player is in joint second with Petar Sliskovic also on six for the season. On five goals are six players including Chhangte of Mumbai, Petratas of ATK Mohun Bagan and Goa's Noah Sadaoui.
Our free prediction for the 2022-2023 ISL season: who to bet on?

Mumbai City have made a strong start to the season and are unbeaten after their first 11 league games with eight wins, including the last five in a row. They are in a tight battle with defending champions Hyderabad who are only two points behind. They lost two successive games in November but have won the next three but with Mumbai winning all the time, can't make ground on them. ATK Mohun Bagan are four points behind the league leaders but from a game more. They've been struggling of late with only one win in their last three league games. Kerala are fourth and a point behind Mohun with a game in hand and no defeats in their last five games. Goa are fifth but been losing ground in December with one point from two games and are three points behind Kerala and played a game more. 
Bet on the ISL current season!
Our ISL Predictions of the moment
There are no previews at the moment for this competition
Best odds to bet on Indian Super League
04 Feb 2023 - 09:00
Northeast United - Jamshedpur FC
1

4.14
X

3.94
2

1.8
05 Feb 2023 - 09:00
ATK Mohun Bagan - Bengaluru FC
1

1.72
X

3.7
2

4.5
09 Feb 2023 - 09:00
Jamshedpur FC - ATK Mohun Bagan
1

4
X

3.6
2

2.35