Eredivisie Betting Tips
Commercial content | 18+ age limit | T&Cs apply
Discover our detailed betting tips & predictions for the next matches in the 2020/21 Dutch Eredivisie football season.
The 2020/21 Dutch Eredivisie Football Season

The architects of 'Total Football' and the pioneers of beautiful football – the Dutch are one of the best when it comes to entertaining. When it comes to their football, it is not just goals that matter, but how they are scored. The league was founded in 1956 and there are 18 clubs taking part in the Dutch Eredivisie, each plays the others home and away, meaning a total of 34 games are played.
The champions qualify for the group stages of the next season's Champions League. The runners-up go into the qualifying rounds of the same competition. Third place gets you into the group staes of the Europa League. Those finishing in fourth and fifth also go into the Europa League but in the qualifying rounds. The bottom two teams in the table are relegated to the Erste Division. The team that finishes third from bottom find themselves in a relegation play-off with the club finishing third in the Erste Division.
Bet on the Eredivise: incredible offers for you!
Dutch Eredivisie Statistical Analysis

The ongoing health crisis meant that the Dutch Eredivisie was ended after 25 games last season. At that point, Ajax were top of the table but it was ruled that no title winners would be declared. That robbed Ajax of the chance to become the first side since PSV in 2016 to retain their title.
It had been a high-scoring season up to that point with an average 3.08 goals per match. That was down from the highly impressive 3.47 per game scored in the 2018/19 season. With more games played though, that 3.08 average may well have increased by the end of the season. Even so, over three goals a game is a good average to have. The fact that 60% of league fixtures saw over 2.5 goals scored in them is an impressive figure, yet still down from the 66% the previous year. The 2019/20 season saw 37% of matches having over 3.5 goals scored.
The most popular final score last season was 1-1, that came up in 26 games with second place going to a 2-0 home win with that occurring in 20 matches. When it came to the half-time score, 0-0 was the most common score (it happened 57 times), closely followed by the home side leading 1-0, with that occurring in 50 matches. 140 out of 232 games played last season in the Dutch Eredivisie saw less than two goals scored.  That was 61% of games played, so a bet on under 1.5 goals in the first half would have been a good bet to make.
Of the 715 goals scored in the league last season, 390 (54.5%) came in the second half.  Ajax scored 27 goals in the first half but managed 41 in the second. PSV only scored 18 first half goals last season but exactly double that amount in the second half.  Heracles fans will hope for a quicker start from their team this season. In the 2019/20 season, they failed to score a goal in the first quarter hour of any league game, though they only conceded four in that period. There are some great stats out there that if you know them, can win you cash. Take Herenveen for example, last season they didn't concede a league goal after the 75th minute, while PSV scored 16 goals from the 76th minute onwards.
Ajax, Utrecht and PSV didn't have any goalless draws last season. When it comes to both teams scoring in a match which is a very popular bet, that stat came up in 54.3% of Eridivisie fixtures last season. In matches played by Herenveen, 81% of them saw both teams get on the scoresheet. AZ Alkmaar were second when the season came to its premature end, in terms of both teams scoring, that only happened in six of their league fixtures. 
Not too surprising actually as AZ only conceded 17 league goals. They kept 17 clean sheets, eight more than any other team in the league. Our betting experts love looking out for important stats. They can be very useful indeed when it comes to predicting matches in this or any other league.
Grab your Bonus to bet on the Eredivisie 2019/20!
How to predict Dutch Eredivisie matches

When picking out the results of the Eredivisie matches, it is important the you keep an eye on the winning streak of the teams (how many they have won/lost in a row), historical results between the side and the form of key players. Top strikers such as Steven Berghuis (Feyenoord) or Cyriel Dessers (Heracles), who were the joint top scorers in the league last season are vital to how their teams gt on. When you have such prolific scorers, it is vital to keep an eye on their fitness and availability for a particular match to take advantage of their scoring form.
Of course, it is also important to look at various sports betting sites and compare the odds before finalising your tips. For the same bet, different bookmakers may offer different odds. Have a look at what the different bookmakers are offering and then pick the best one to maximize your potential earnings. For example, on a victory for Den Haag over Ajax, Bet365 could offer odds of 7/2 as against 11/2 by William Hill. You know which to pick, if you did your homework on the various bookmakers!
Get an interesting Bonus to bet on the 2019/20 Eredivisie!
How to predict the Dutch Eredivisie table

Like we said earlier, keep an eye on the "Big Four" – Ajax, PSV,  AZ Alkmaar and Feyenoord – considering their record in winning the titles. Only seven points separated the top four when the season ended earlier this year. These teams are again likely to be battling it out for the title in the 2020/21 season.
You can also bet on which teams will qualify for Europe. There's handicap and match betting too, even odds offered on who will go down. Our betting experts will preview top games and give you lots of advice.
Bet on the 2020/21 Eredivisie Eredivisie!
Dutch Eredivisie 2020/21: our free betting tips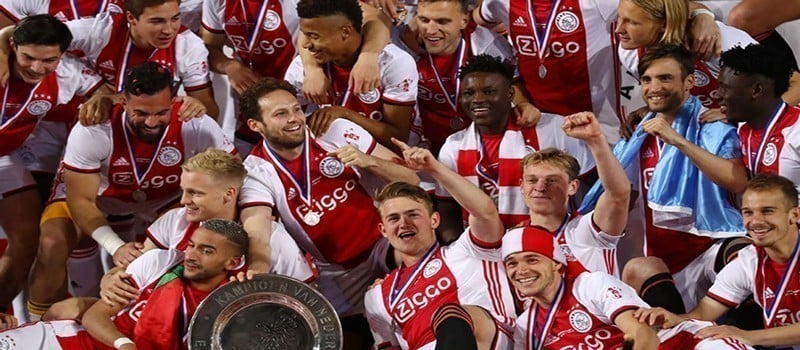 Ajax were in a tight battle with AZ last season before the season was halted. They were both on 56 points with nine games remaining, with Feyenoord just four points behind them. Who knows, the title could have been won by AZ as Ajax were having big problems in getting away points. Usually there are new teams in the league but last season, there was no relegation and no promotion to and from the Erste division. That meant Den Haag and Waalwijk were spared relegation,despite only winning four league games apiece. Another hard season looks likely for these sides.
Bet on the 2020/21 Eridivisie season with great odds!
| Date and hour | Match | Odds 1 | Odds D | Odds 2 |
| --- | --- | --- | --- | --- |
| 08/13 02:00 PM | Go Ahead Eagles - Heerenveen | 2.8 | 3.66 | 2.5 |
| 08/14 10:30 AM | Waalwijk - AZ Alkmaar | 7 | 4.85 | 1.5 |
| 08/14 12:45 PM | Heracles - PSV Eindhoven | 5.25 | 4.6 | 1.63 |
| 08/14 02:00 PM | Fortuna Sittard - Twente | 2.5 | 3.61 | 2.81 |
| 08/14 03:00 PM | Ajax - NEC Nijmegen | 1.13 | 11 | 26 |
| 08/15 06:15 AM | Cambuur - Groningen | 3 | 3.65 | 2.5 |
| 08/15 08:30 AM | Zwolle - Vitesse | 3.7 | 3.75 | 2.15 |
| 08/15 08:30 AM | Utrecht - Sparta Rotterdam | 1.68 | 4.2 | 5.25 |
| 08/15 10:45 AM | Willem II - Feyenoord | 3.7 | 3.92 | 1.98 |
Our Eredivisie Predictions of the moment