Who Will Reach the C

hampions League Quarter Finals?

by Steve Ashfield | by Steve Ashfield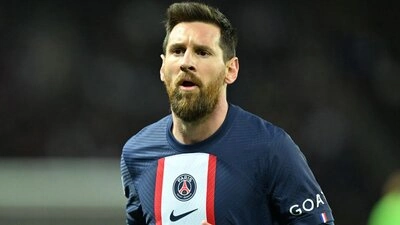 The long wait for the return of the 2022/23 Champions League is nearly over. This month sees the first legs of the ties in the last 16 take place. There are some great games lined up but who will make it into the quarter finals?
Who Will Be The Winners in the Champions League Last Sixteen?

After all the excitement of the 2022 World Cup, we return to the top club competition in the world. February 14 and 15 sees the first legs in the round of last 16. Can Real Madrid retain the Champions League trophy or will we see new winners this season? 
Clubs from seven countries have reached the last 16 of the 2022/23 Champions League. Of those clubs, 11 come from England, Germany and Italy. France and Spain both have only one team in the last 16  but PSG and Real Madrid are major contenders to win the Champions League. The surprise inclusion in the last 16 are Club Brugge from Belgium, can they cause more surprises in the knockout stages?  They face Portuguese league leaders Benfica and it looks like the end of the road for them.
Looking at the clubs that have qualified for the knockout stages, many aren't doing that well in their domestic leagues. At the time of writing this article on February 1, seven of them (Tottenham, Liverpool, Chelsea, Inter, Milan, Porto and Club Brugge) are at least 10 points behind their league leaders and four of them at least 15 points adrift. Of the 16 remaining clubs, only Napoli, PSG, Bayern Munich and Benfica are actually top of their domestic leagues,
Here's the draw for the last 16:
Mian  v Tottenham
PSG V Bayern Munich
Club Brugge v Benfica
Borussia Dortmund v Chelsea
Liverpool v Real Madrid
Eintracht Frankfurt v Napoli
Inter v Porto
RB Leipzig v Manchester City
Battle of the Giants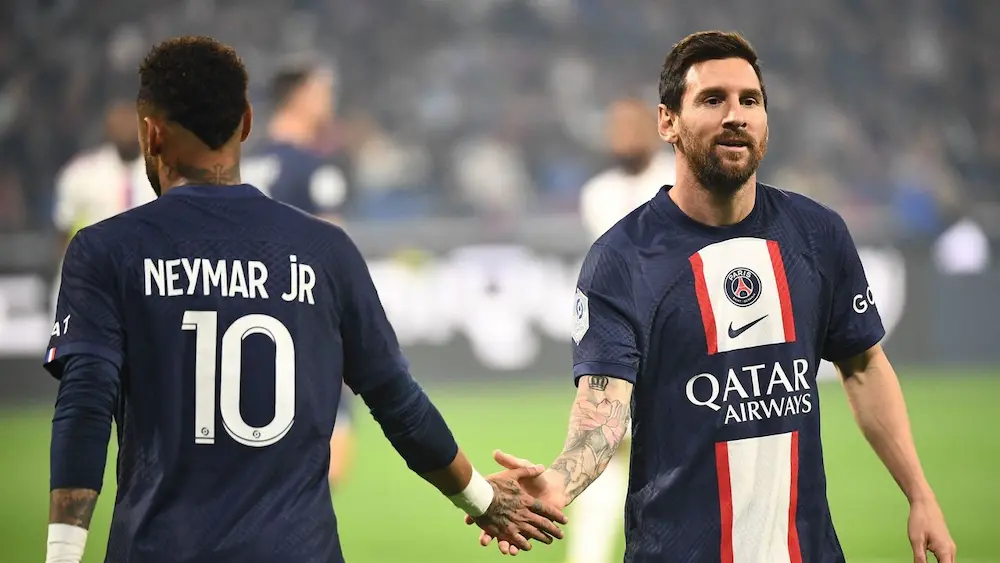 It's no surprise that the knock-out stages of the Champions League will see some mouthwatering ties. There are two of them in the last 16 with PSG taking on Bayern Munich and Liverpool facing defending champions Real Madrid. Who will make it into the quarter finals?
PSG still dream of winning their first ever Champions League.  They have suffered a blow for the first leg against Bayern with Mbappe being ruled out. They've still got Messi and Neymar Jr though, so they should be able to get a first leg lead. PSG have  only reached one Champions League final (2019/20) but last season were knocked out by eventual winners Real Madrid in the last 16. This season has seen them finish second behind Benfica in Group H but they are yet to taste defeat. 
Now might just be a good time to take on Bayern Munich. The German club have been drawing far too many games of late in the Bundesliga and are in tough battle to again win the title. They need to find the form that they had before the World Cup break when winning all six of their Champions League group games (the only side to do so).  This is a tough call but PSG might just be able to get the win here.
Real Madrid take on Liverpool and they are our tip to progress to the last eight. The Spaniards are in a battle with Barcelona (already out of the Champions League) but look a decent bet to win another Champions League. They take on a Liverpool side that are not playing well of late. They are ninth in the Premier League and ten points adrift of fourth place so may well not be in the Champions League next season.  The Reds aren't scoring enough goals in recent weeks, let in far too many at the other end and struggle on their travels. It's Real Madrid who can reach the last eight yet again.
Italian Clubs Bidding for Glory

There are three Italian clubs in the knockout stages of the 2022/23 Champions League. Napoli are the runaway league leaders in Serie A and won Group A finishing ahead of Liverpool. Napoli have never made it to the last eight of the Champions League but will fancy their chances of getting past Eintracht Frankfurt, especially with the first leg being in Germany. They scored 11 goals in three home group games, so will fancy making it into the last eight.
Milan are up against Antonio Conte's Tottenham in the last 16. They finish second in Group C and lost two of their six games. Not since 2012 have Milan reached the last eight and have been struggling in recent weeks, dropping down to fifth in Serie A. This looks like being a tight tie against Tottenham. The English club won Group D and will hope for a good away result as they have impressive home form. Tottenham might just qualify unless Milan can rediscover their form.
Inter face Porto as they try to get into the last eight of the Champions League since 2011. They finished second in Group C this season, behind Bayern Munich but knocking out Barcelona. Inter have good home form this season, including a 1-0 win over Barcelona. They'll have been glad to avoid one of the giants of European football but Porto will be tricky opponents.
The Portuguese side won Group B ahead of Club Brugge, Bayer Leverkusen and Atletico Madrid. Porto lost 4-0 at home to Brugge last September so Inter can take encouragement from that and could edge their way into the last eight.
Back to Germany for Haaland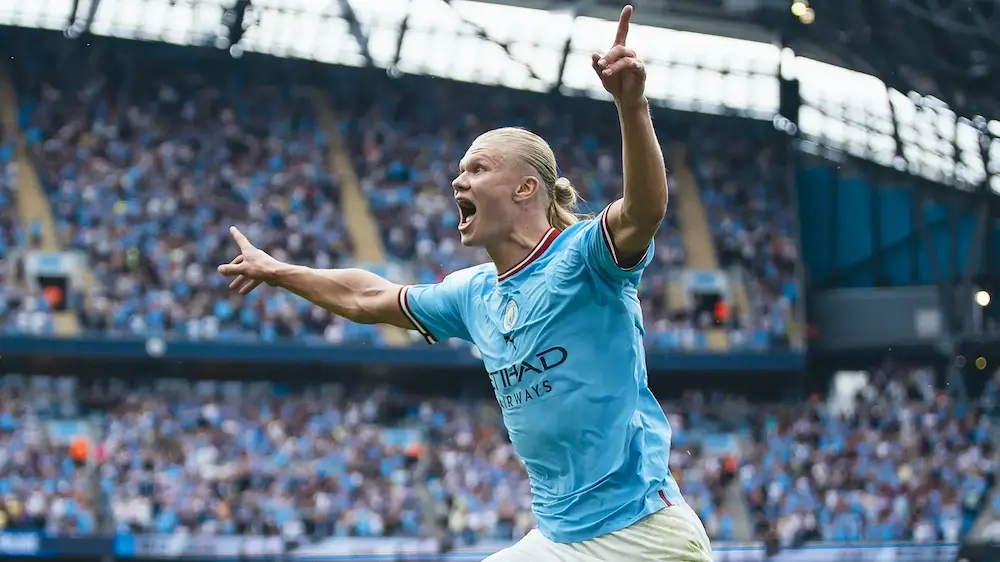 Erling Haaland returns to Germany for the second time in this season's Champions League. He's already faced former club Borussia Dortmund in the group stages. Now he'll head to Leipzig for Manchester City's last 16 tie. City are second in the Premier League and still waiting for their first Champions League title. They won Group G by five points with 10 goals at home. City played Leipzig in this competition last season and put six past them at home. Leipzig came second in Group F but conceded nine goals. Away form isn't great either so City should have few problems qualifying.
Chelsea are spending millions on players but are still only tenth in the Premier League. They have a good European record but can't use all their signings in this season's knockout stages. They take on Borussia Dortmund and could have had a lot tougher draw. Chelsea have good form at home in Europe and if that continues, they can reach the last eight.