Can Leigh Wood Retai

n his World Featherweight Title?

by Steve Ashfield | by Steve Ashfield
England's Leigh Wood makes the first defence of his WBA World featherweight title on February 18. He has a tough battle on his hands as he takes on Mauricio Lara who is no stranger to success in an English boxing ring.
Tough Battle Ahead for Wood
It was July 2021 that Leigh Wood received a surprise title shot against Can Xu. He won the WBA featherweight title with a last round stoppage. Since then, he's made just one successful title defence. That was last March when again winning in the 12th and final round. He beat Michael Conlan, despite being on the canvas in the first round but recovered to floor the challenger in the 11th round. However, he went into the last round behind on points but then dramatically knocked Conlan out with the Irish boxer falling through the ropes..
He was due to defend his title against Mauricio Lara last November. Wood pulled out injured and his opponent accused him of faking injury to avoid the fight. Well, the two finally meet on February 18 in Wood's home city of Nottingham.  
Wood has won 26 of his 28 professional fights. His last loss was to James Dickens in a European title bout that took place in February 2021. That didn't deter Wood and in the next five months he returned to the ring to win the British and then World featherweight titles.  
This is going to be a tough defence for Wood and it could well be a heavy punching affair. There have been knockdowns in four of his last five matches and it'll be a shock if one doesn't happen on Saturday. Wood is saying he's ready to go to war with Lara but that doesn't sound the best way to deal with the challenger. 
It's more likely that he'll spend more time holding and clinching than being involved in a toe-to-toe battle with Lara. Wood will need to withstand a great deal of early pressure from the Mexican. He struggled early on against Conlan but slowly got himself back into the fight. That may be the kind of fight we see in Nottingham this Saturday.
Lara Out to Win the Title

Finally Mauricio Lara is given the chance to win a world title. He probably didn't expect one after losing his professional debut eight years ago. Since then though he's only lost one fight and that was in 2018. Lara took on Eliot Chavez and was knocked out in just 50 seconds. Again, he wasn't expecting a title shot after that disaster.
Lara hasn't lost a fight since then and now he has the WBA World featherweight title in his sights. The Mexican takes on Wood two years and five days after his first bout in England. On that occasion he took on Josh Warrington (more about him soon) soon after the former featherweight world champion had vacated his title. He was dreaming of big money fights in the US but those plans were to change. Lara put him on the canvas twice and he won the fight in the ninth round.
He was back seven months later for a rematch with Warrington. An accidental clash of heads opened up a cut over the left eye of Lara. He was unable to carry on and the fight was declared a technical draw. See, betting on a draw in boxing always has to be considered. Lara has had two fights since then, both ending with his opponents being stopped in the third round.
Lara isn't happy at all with Wood and feels his opponent ducked him last November. He's not in the mood to let this title challenge go wrong and with his punching power (18 of his 25 wins have come inside the distance), he might just dethrone the world champion on Saturday.
Warrington Wants the Winner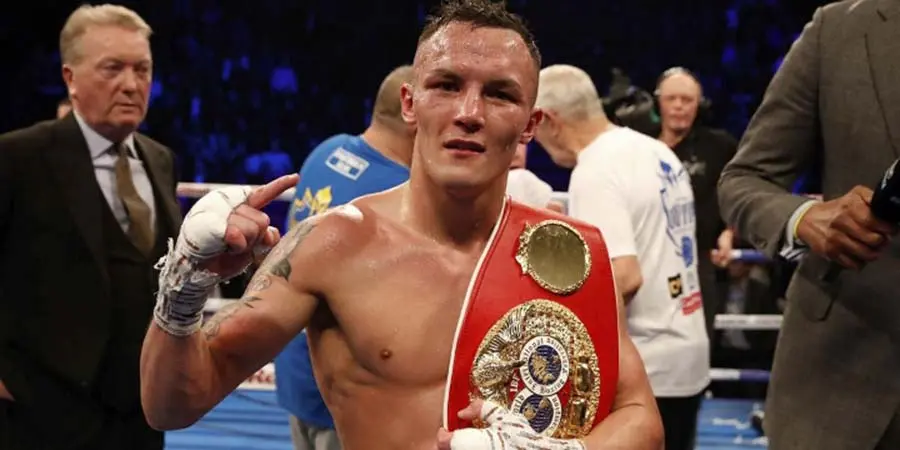 Whoever wins this fight may well face Josh Warrington later in the year. Warrington is a two-time former world featherweight champion but at present doesn't hold a title belt. The English boxer lost his IBF World featherweight title last December to Luis Alberto Lopez, only the second defeat of his career.
Warrington had won that title nine months beforehand but he won't be getting a return match with Lopez. The new champion suffered a cut due to an accidental clash of heads and well, that sounds familiar doesn't it. Lopez hasn't hidden the fact he believes Warrington is a dirty fighter and won't consider giving him a rematch.
That leaves the winner of this fight between Leigh Wood and Mauricio Lara as a potential opponent. Warrington v Wood would be a great all-British world title fight. As for Lara, well Warrington certainly has unfinished business with the Mexican. He's on record as saying that he wants Lara to win the title and he might just get his wish after Lara beats Wood to become WBA World featherweight champion.