Win £1,000,000 in th

e bet365 Tournament Predictor Promotion

by Steve Ashfield | by Valeria Di Meglio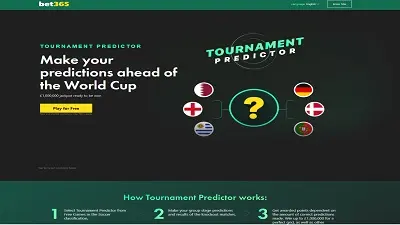 The 2022 World Cup is going to be a feast of football. It's also an event that could see you win £1,000,000. Enter the bet365 Tournament Predictor and have the chance of winning cash prizes.
Win £1,000,000 in the bet365 Tournament Predictor Promotion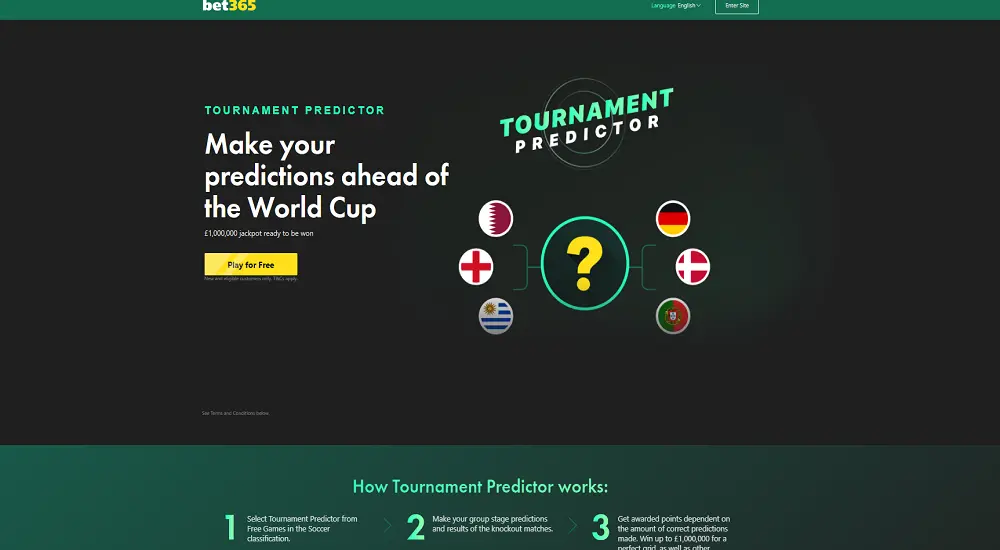 Make your predictions and win up to £1,000,000 with bet365! Predict final group standings along with correct results of each knockout match to score points and climb the leaderboard, and if you get every prediction correct you will land our perfect predictor jackpot prize of up to £1,000,000. New and eligible customers only. Free to play. T&Cs apply
The prospect of nearly a whole month of World Cup football is exciting enough already. However, if you go to bet365, then even more excitement is on its way. They have introduced their bet365 Tournament Predictor and it could see you winning an amazing £1,000,000. There are other cash prizes to be won, so how does it all work?
Firstly, you need to be an eligible bet365 customer to take part in their Tournament Predictor. If you haven't already registered an account with bet365, then this really is the perfect time to do just that. It's an easy registration process and before you know it, you'll be a bet365 site member.
Now you can try your luck on the bet365 Tournament Predictor. It's a promotion that literally could change your life if your footballing knowledge wins you £1,000,000.
As bet365 say, "every pundit and journalist has had their say, but now it's your chance to predict the outcome of the World Cup. The build-up to the tournament is exciting enough, and we hope the prospect of potentially winning a million pounds only enhances that excitement! Good luck to all bet365 customers!"
Make your Predictions
If you can correctly predict the group standings and then all the results of the knockout stages, then you have the chance of winning £1,000,000 and it will be totally deserved. If more than one player gets all their predictions correct, then the £1,000,000 prize will be shared by the winning players.
There are eight groups for which you need to predict the final standings. Not an easy task but with the proper amount of research, it is achievable. Look at the form of all the countries taking part, check the team news and that will boost your chances of you being successful.
Beginning on Sunday November 20, the 2022 World Cup runs until December 18 when the final takes place. Who do you think are going to be crowned world champions on that day?
It could be England perhaps, or Brazil might win again. Maybe it'll be France who retain the title they won in 2018? Or it could be Germany, Argentina or Spain who again become world champions.
More Prizes to be Won
That's not all though. There is also the opportunity to win £100,000 if you can finish top of their leaderboard. The top 10,000 on the leaderboard will receive a cash prize.
Second prize wins you £25,000 cash and a third place finish will see you receiving £15,000 with £10,000 for a fourth place finish. £5,000 will be won by the player finishing fifth and those finishing 6th to 20th will each win £1,000.
Therefore, it's time to get your thinking caps on and start reading the form books. The more research you carry out (especially reading all the great World Cup betting tips advice we have on Sportytrader), the better your chances will be of winning a great cash prize. Perhaps even becoming a millionaire!
All World Cup promotions have terms and conditions, so it is important to read them. Only one entry per person is permitted. You have until the first match of the World Cup on Sunday November 20 to enter the bet365 Tournament Predictor. When the tournament begins, no more entries will be accepted.
In the lead up to that opening World Cup fixture, you can enter the bet365 Tournament Predictor but what if you change your mind about one or more of the predictions you have made? Well, you can edit your choices before the deadline is reached but not once it passes.
This really is a great promotion from bet365. Just imagine the excitement if your predictions keep on being correct. Even if some let you down, there are still those other cash prizes to be won just in time for Christmas. Make your bet365 Tournament Predictor entry right now, it could be the best thing you do all year.