How to bet on Austra

lia Basketball team for the 2023 Basketball World Cup?

by Yunchu Li | by Yunchu Li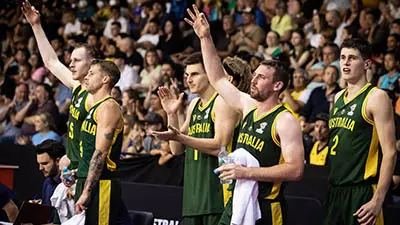 As the eagerly awaited FIBA Basketball World Cup 2023 draws to within touching distance, all eyes are on the Australian team, commonly known as the Boomers. Their mission is to capitalize on their impressive basketball heritage and deliver a performance that lives up to their reputation. With a talented roster and a history of strong performances, Australia is poised to make a resounding impact in this year's tournament. Join SportyTrader as we dissect the Boomers' chances at the upcoming tournament.
Australia Basketball Team: what prediction for the 2023 Basketball World Cup?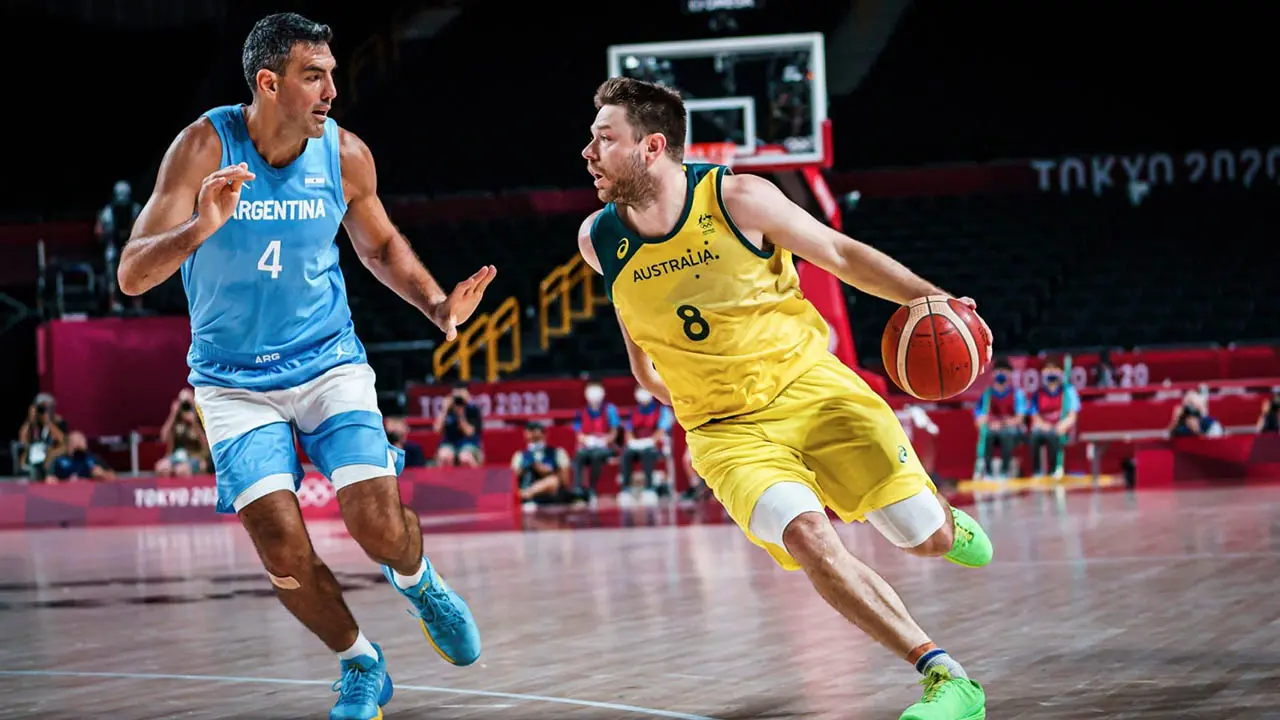 Australia's basketball prowess has solidified its status as a global contender, positioning the nation as a powerhouse on the international stage, and Group E of the FIBA Basketball World Cup presents an exciting spectacle ladened with top-tier basketball talent. 
Having secured the bronze medal at the previous Olympic Games, Australia enters the World Cup arena with an insatiable hunger for success. Presently ranked behind only Spain and the United States in the FIBA Ranking, Australia is well aware of the opportunity to ascend the ranks further. The team's fourth-place finish in the last World Cup serves as a motivating factor for players like Patty Mills and their fellow teammates, spurring them on to reach new heights of achievement.
Group E has set the stage for intense matchups, as Australia will face off against Germany, Finland, and Japan. Their games will unfold in Okinawa, where the Boomers aim to capitalize on their consistent World Cup participation, which spans all but one of the last 13 tournaments.
Bet on 2023 Basketball World Cup now!
Boomers NBA stars poised to make their mark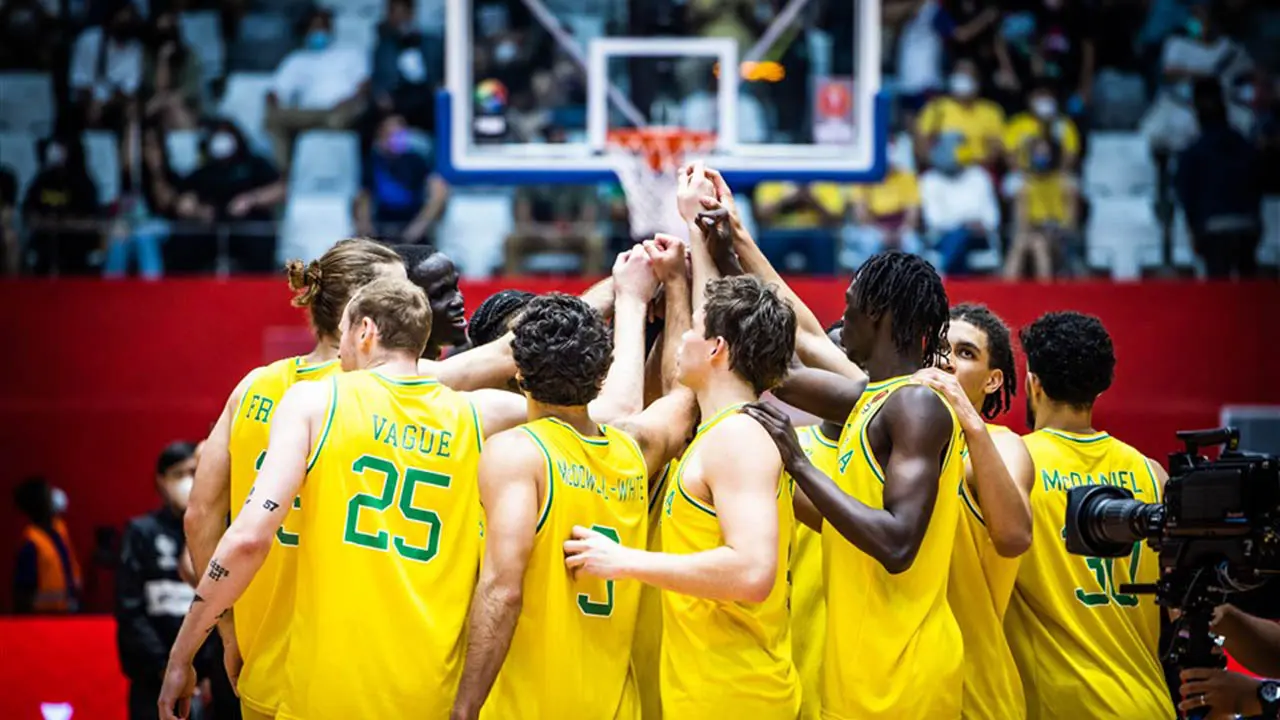 Australia's journey to the 2023 World Cup was marked by a dominant performance during the qualifiers. Displaying remarkable prowess, they secured an unblemished record in both rounds of qualifiers. Guiding the Boomers' quest for success is coach Brian Goorjian, a respected figure in the Australian basketball scene. With six domestic championship wins and six Coach of the Year awards, Goorjian's influence is pivotal in steering the national team towards victory. This marks his second tenure as head coach of the Australian team, reinforcing his dedication to the cause.
Boasting an exceptional record in Asia tournaments, Australia's standout achievements include a victory in the FIBA Asia Cup. This accomplishment was achieved without a single loss, underscoring the team's prowess and adaptability in various international competitions. The Boomers' roster is brimming with NBA talent, including notable players such as Patty Mills, Joe Ingles, and Josh Giddey. This collection of talent creates a formidable lineup that strikes a balance between experience and youthful energy, giving the Boomers an edge in facing any challenge that comes their way.
In the lead-up to the World Cup, Australia's preparations included friendly games, allowing players like Josh Giddey to showcase their potential. Giddey's standout performances have underscored his ability to contribute significantly to the team's success, lending depth to the Boomers' lineup.
Australia's aspirations extend beyond a successful group stage. With their impressive roster, the Boomers will aim to advance deep into the tournament. While challenges undoubtedly lie ahead, the Boomers' historical achievements and their relentless pursuit of excellence suggest that they are well poised to make their mark on the 2023 FIBA Basketball World Cup. 
Bet on 2023 Basketball World Cup now!
Basketball World Cup 2023 - Australia Fixtures
Friday, 25 August 2023 - vs Finland – Okinawa Arena, Okinawa City
Sunday, 27 August 2023 - vs Germany – Okinawa Arena, Okinawa City
Tuesday, 29 August 2023 - vs Japan – Okinawa Arena, Okinawa City
You can find in-depth predictions for all the matches at the 2023 FIBA World Cup on SportyTrader's dedicated betting tips page. You can also keep up to date with all the live scores and results at SportyTrader's livescore page.
Bet on 2023 Basketball World Cup now!
What Bets to Make on Australia in the 2023 Basketball World Cup?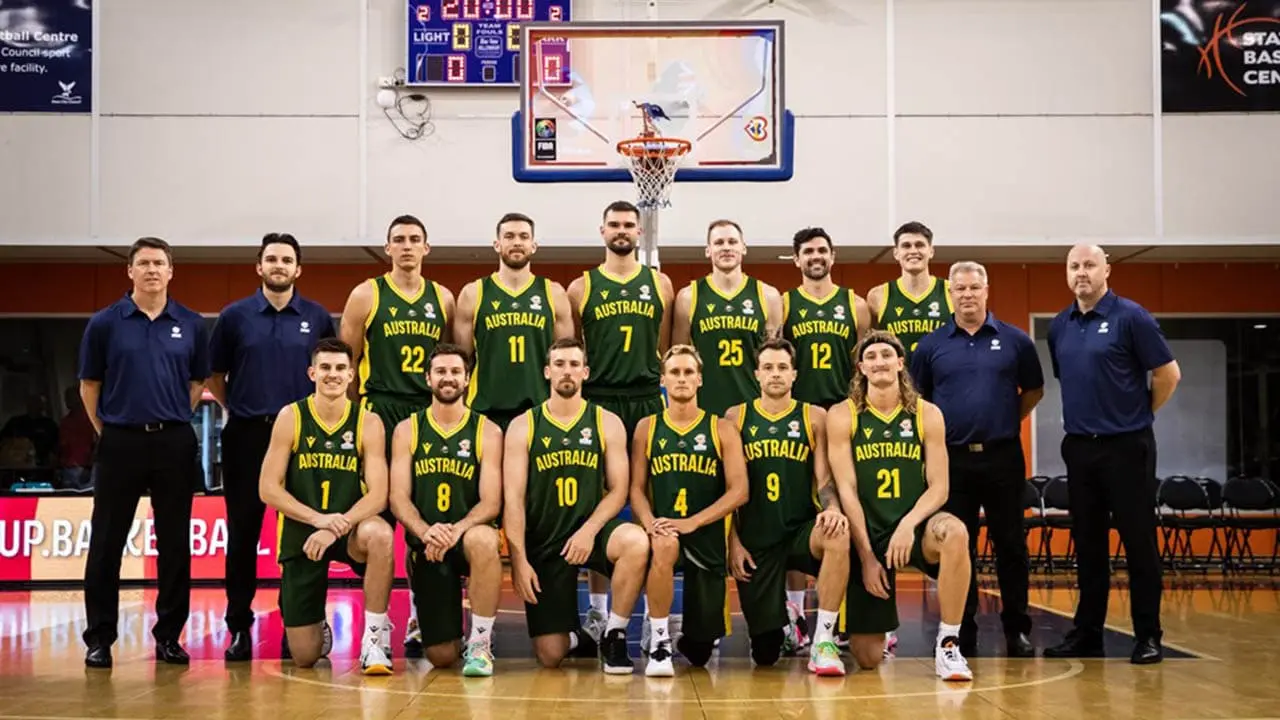 The group stage in Okinawa presents a significant challenge for the Boomers. With their familiar rival Japan and the ever-present home-court advantage, along with unpredictable contenders Germany and Finland, the Boomers must navigate a competitive landscape to establish their dominance.
The Boomers, riding on their recent success, are the clear frontrunners in the group and are widely expected to clinch victory in the opening stage of the competition. They are currently priced in the region of 1.5 to secure the top spot in Group E, according to Bet365. The Boomers are also the current fourth favourite to go on to win the competition behind the US, Canada and France. If you fancy an early bet on the Boomers winning the 2023 FIBA World Cup, you can look forward to odds of around 12.0 at present with Betway. 
Germany has demonstrated remarkable prowess throughout the qualifiers and warm-up matches, positioning them favourably as they enter the FIBA Basketball World Cup with one of their most promising lineups to date. Leading the charge is Dennis Schroder, the dynamic point guard from the Toronto Raptors. His commanding presence on the court, coupled with his versatile two-way play, has been a driving force behind Die Mannschaft's recent triumphs. The potential for Germany to contend for the top position is a real possibility, particularly hinging on their showdown against Australia, and they can be found at odds in the region of 3.0 with 10Bet to edge Group E. 
Following their absence from the 2019 FIBA Basketball World Cup, a notable setback after their inaugural appearance in 2014, Finland will enter the 2023 tournament driven by a clear determination to make their mark. Finland faces a formidable challenge in Group E, contending against powerhouses Australia and Germany, and the odds of Finland emerging at the summit of the group are remote at best. They are currently priced up at 12.0 and better to top Group E. Completing the roster of Group E at the 2023 FIBA Basketball World Cup are the co-hosts, Japan. Despite enjoying the advantage of competing on their home turf, Japan has found itself placed in what is widely recognized as the group of death for the 2023 FIBA World Cup. The prevailing sentiment is that Japan faces an uphill battle in their quest to secure victories within the group, as their odds of 25.0 and better, with most leading bookmakers suggest. 
Use SportyTrader's live odds to keep up to date with the latest betting market movement for the 2023 FIBA World Cup. 
Bet on 2023 Basketball World Cup now!
Fixture 1: Australia vs Finland - Friday, 25 August 2023
Australia will kick off their FIBA Basketball World Cup campaign against Finland in what promises to be an intriguing clash. Finland, despite being considered the underdogs of Group E, should not be underestimated. Led by their star player Lauri Markkanen, who has had success in the NBA and possesses a lethal scoring ability, Finland could pose a threat to Australia's aspirations. However, Australia's depth and experience, coupled with their recent successes, give them the upper hand. With a well-rounded roster including several NBA talents, Australia holds the advantage in terms of talent and team chemistry. Expect a hard-fought battle, but Australia should emerge victorious in their opening match.
Prediction: Australia wins by 10 points.
Fixture 2: Australia vs Germany - Sunday, 27 August 2023
This matchup against Germany is likely to be one of the most competitive encounters in Group E. Germany has showcased their impressive form in both qualifiers and exhibition matches, entering the tournament with a promising roster loaded with NBA and European talents. Led by Dennis Schroder, Germany's quick pace and two-way play will challenge Australia's defensive prowess. While it's anticipated to be a closely contested game, Australia's experience and depth should give them an edge. Expect a thrilling battle, with Australia narrowly edging out Germany.
Prediction: Australia wins by 5 points.
Fixture 3: Australia vs Japan - Tuesday, 29 August 2023
The clash against the co-hosts, Japan, might seem like a favourable matchup for Australia on paper. While Japan has the advantage of home-court support, they are placed in a tough group and face a formidable challenge in Group E. Japan will rely on Yuta Watanabe and Yudai Baba for scoring, but the absence of their top talent, Rui Hachimura, could be a significant setback. Australia, with their NBA-caliber roster and a strong blend of youth and experience, should dominate in terms of talent. Expect Australia to control the pace, exploit Japan's defensive gaps, and secure a convincing victory.
Prediction: Australia wins by 15 points.
Did you Know? 
The Australian national basketball team has a strong history in international competitions, particularly at the Olympic Games. Despite never winning gold, the Boomers have consistently been a formidable contender, having won three Olympic medals – two silvers (1988 and 2021) and a bronze (2020). 
In a historic achievement for Australian basketball, the Boomers secured a major victory over the United States at the 2019 FIBA Basketball World Cup. During the tournament's exhibition games, Australia defeated Team USA for the first time ever in an international match, with a final score of 98-94. 
Australia's dominance in the FIBA Asia Cup is noteworthy. They have won the tournament three times, in 1981, 2017, and 2022. This consistent success in the Asian region underscores their ability to compete in this region of the world and arguably gives them a slight advantage heading into the tournament commencing on Friday, 25 August 2023.