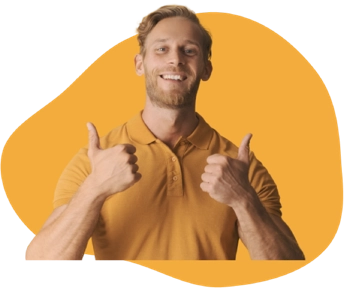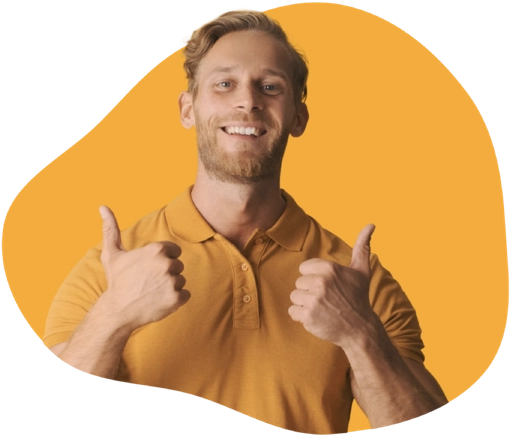 Offers you
Bonus up to :£20
New customers only | Commercial content | 18+ age limit | T&Cs apply
Limited offer!
Ladbrokes Bonus in D

ecember 2023

Best bonus : £20

Type of bonus : Free Bet

Withdraw : Free bets must be used in whole
Ladbrokes Sign-up Offer in the UK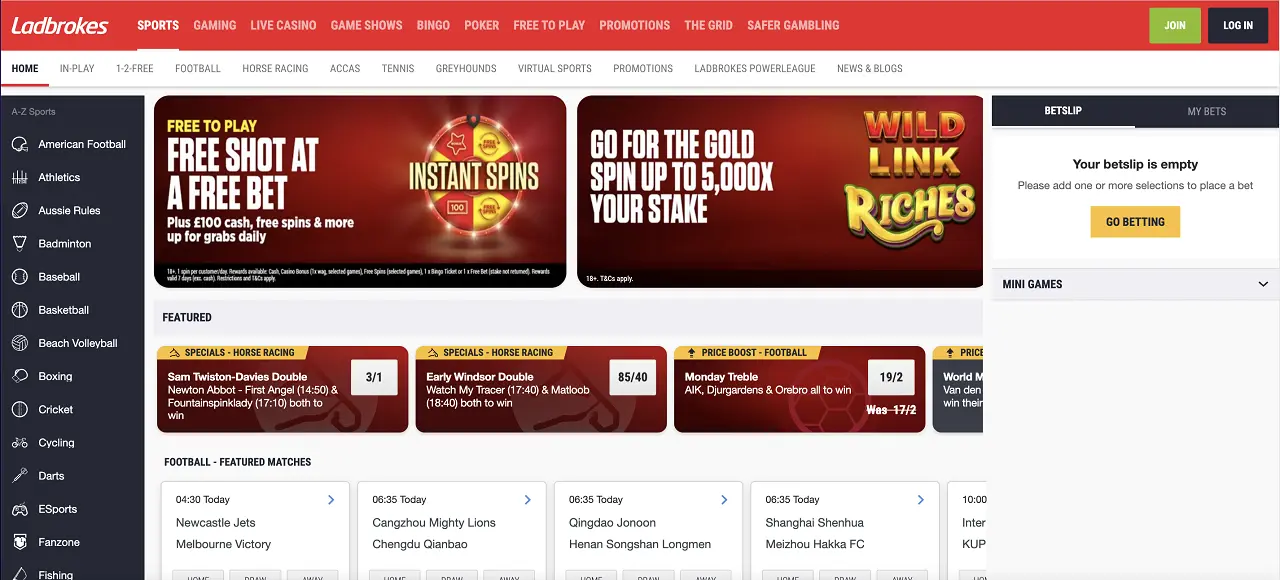 Sign up for your new account with Ladbrokes now, and you can qualify for the free bet bonus - a Bet £5 Get £20 offer that will start your account off on the right foot. 
One of the biggest bookmakers in the UK, Ladbrokes has been in business for well over a century. That's got to count for something, and in practice, Ladbrokes consistently proves a wise choice for new UK+Ire customers. With a generous welcome bonus on offer to sweeten the deal, there are more than enough good reasons to choose Ladbrokes for your new betting account.
Ideal for beginners as well as more experienced sports gamblers, Ladbrokes offers the perfect combination of diverse betting markets, good offers and promos, and strong customer service. Read out Ladbrokes review for a comprehensive sweep of the Ladbrokes offering in the UK.
Signing up for a new account at Ladbrokes is enough for you to qualify for the Bet £5 Get £20 offer. Once you've created your new account, you simply deposit and bet from £5 at odds of greater than 1/2, and you'll be automatically credited with £20 in free bets - paid in 4x£5 instalments you can use to bet on a wide range of sports through your Ladbrokes account.
There is no Ladbrokes promo code required to claim the offer - just create your new account, deposit and place a bet within the 7 days time frame, and you'll be in line to receive your free bet bonuses.
How To Get The Ladbrokes Welcome Offer?
Getting the Ladbrokes welcome offer is simple. Firstly, you need to register for a new Ladbrokes account. Complete the details as requested during the sign up process, and verify your details to activate your account. Note that there is no promo code required here - just create your account and choose your first deposit, from a minimum of £5, to get up and running.
The bonus will be credited to your account once you've bet £5 on events with odds of 1/2 or greater, in the form of four separate £5 betting credits. Register now for your account with Ladbrokes and claim your free bets offer.
How To Register With Ladbrokes?
Registering with Ladbrokes takes only a few minutes. Have your ID documents handy to begin the process, and you can be up and running with your first bets in no time.
1. Click the green 'Join' Button
Head over to sign up for your Ladbrokes account. Click the big green Join button in the top right of the screen, which will begin the simple registration process.
2. Complete your registration information
Ladbrokes will ask for some personal details to get things underway, including your name, address, and date of birth, as well as email and password. Make sure the information you enter during this stage is entirely accurate - you will be asked to verify this with documentary evidence during the next step.
3. Upload verification documents
Once you've created your account, you'll need to upload documents as requested to prove your sign up information is valid. This is an essential part of the process under the terms of Ladbrokes' licence, so be sure to accurately input your information in order to be able to successfully verify your account. You can upload scans or photos of key documents like your passport or driving licence when requested.
4. Make your first deposit
When you've created and verified your account, it's time to make your first deposit. This should be a minimum of £5. Choose your deposit method and upload your funds.
5. Place your first bet
Bet a minimum of £5, either on a single bet or cumulatively, at odds of greater than 1/2. This has to be done within the first 7 days of setting up your account in order to qualify for the sign up offer. Once you've placed these bets as required, your account will be credited with the free bets bonus. 
6. Use your free bets wisely
Your free bets will then land in your account automatically, credited to a separate bonus balance. Use these across 4 different betting markets to be in with a chance of winning real money from these free, no-risk bets.
Ladbrokes Bonus Sign-Up Terms and Conditions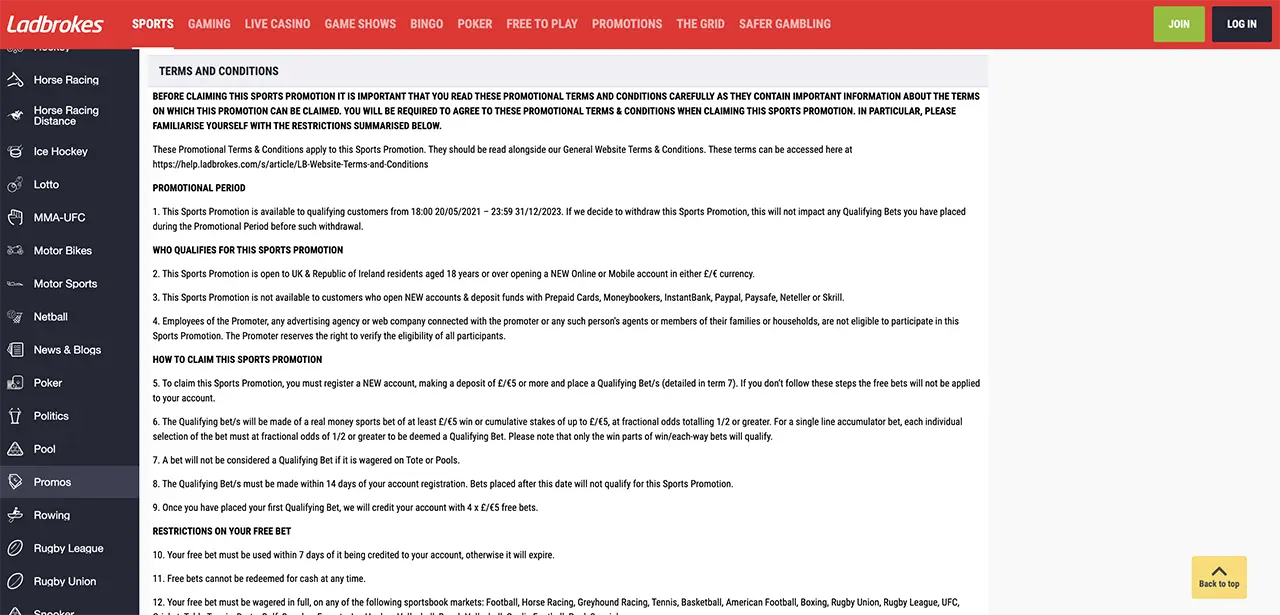 The terms and conditions of any bonus offer are always hugely important. With the Ladbrokes sign-up offer, you need to bet £5 on events with odds of 1/2 or greater to qualify. The free bets must be used in whole, and can only be used on permitted sports - albeit, most of the major ones.
Make sure you consult the terms and conditions of the bonus offer so you know exactly what you need to do and how you can use the offer when you sign up for an account with Ladbrokes.
Our Tips on How To Use Your Ladbrokes Bonus
With £20 free bets at your disposal, there are two ways you can approach maximising the value of the bonus. Firstly, consider betting long, using each of the four £5 free bets to back betting lines at long odds. If one or more of these bets come in, you could convert your free bet into a much larger amount of real money. There is no maximum win on the free bets other than the general maximums applicable to betting with real money, so this can come good as a strategy if you get lucky.
An alternative would be to bet on more 'sure fire' lines, at odds that ride on the minimum of 1/2. The probability of these coming good is greater, though you'd only win around £2.50 for each of these free bets that come good. However, if all 4 of these come up, you convert your £20 in bonus bets into £10 in real cash, which you can then use to bet further, or to withdraw if you so choose.
Getting the Ladbrokes Welcome Offer Step-by-Step : detailed explanations
Claiming your Ladbrokes bonus in the form of your free bets is relatively straightforward. Setting up your account is more than half the battle, and once you're up and running, you only need to bet the right amount on the right type of events to qualify.
Click here

to head on over to Ladbrokes to begin the account creation process
Click the Join button, which you'll find in the top right hand corner of the page
Complete your personal details, including name, date of birth, address, email and password
Verify your account details by upload documents as requested by Ladbrokes
Deposit at least £5 into your account, choosing your preferred method for depositing
Bet at least £5 on events with odds greater than 1.5, or ½
Wait for your free bets to be credited to your account
The most complicated stage here is verifying your identity, and uploading the documents required to activate your account. Make sure you have these handy when you're signing up, and the whole process should take just a few minutes from start to finish.
What to do
Set up your account and verify your personal information, as a first time player. Deposit a minimum of £5 and bet on events at the right odds - 1.5 or greater (1/2). Use your free bets wisely, either on events with long odds to maximise your possible winnings, or on matches that are less competitive at the minimum odds to give you a better chance of winning. Do your homework on your bets first, so you can bet with confidence on your chosen matches or events.
What not to do
Don't set up a second or third account and try to get more free bonuses - your accounts will be closed, and you'll be banned from betting with Ladbrokes in future. Don't bet randomly just to use your free bets up. Don't wait more than 7 days from claiming your free bets to use them. Don't ignore the terms and conditions of the bonus and bet on events with shorter odds than the minimum - this will result in you not getting your free bet bonus, and wasting the opportunity that only comes with a brand new account to get £20 in free bets from Ladbrokes.
Ladbrokes other bonu

ses

As an alternative to the sports betting bonus, Ladbrokes also offers bonuses for those choosing to sign up for their casino or poker sites.
The Ladbrokes Casino Bonus
Casino players at Ladbrokes can get a bet £10, get £30 casino bonus. Note that the £30 in free credit here is for casino games at Ladbrokes only, and comes with its own terms and conditions attached, including wagering restrictions and other requirements. The bonus must be wagered through 40x before you can withdraw any winnings from it, and you'll need to complete this within the first 30 days. Certain deposit types are also excluded from this casino offer, so you'll need to consult the full terms and conditions before choosing to use this offer.
The Ladbrokes Poker Bonus
Poker players at Ladbrokes also have their own bonus, a deposit £10 get £50 bonus, which can be used to fund your poker play. The bonus is paid out as £50 in poker tickets, and is subject to its own terms and conditions specific to poker. Consult the offer terms and conditions before accepting so you know what you're getting. 
Frequently asked que

stions about Ladbrokes

The Ladbrokes welcome offer is pretty generous when compared to other betting sites. The £20 free bet bonus kicks in at just a £5 deposit/bet, where most online bookies will require £10 or more to trigger the bonus. You'll also typically find welcome offers that are matched at 100% of the size of the first deposit, which the Ladbrokes welcome beats hands-down. The terms attached to the welcome offer at Ladbrokes are also less strict than comparative terms elsewhere, with odds of only 1/2 required to meet the criteria for qualifying for the bonus offer. Compared to other bookies, the free bets at Ladbrokes is a nice start for your new account.

The Ladbrokes free bet bonus is applied to your account automatically once you've met the criteria for qualifying for the bonus. Deposit and bet £5 on an event with odds above the minimum allowed by the bonus offer, and you'll get £20 in free bets credited to your account. There is no need for a promo code, or to actively claim the bonus in any other way - simply register for your account, deposit and bet and you'll qualify for the welcome bonus. The free bets can be used for betting on any permitted betting markets, giving you the chance to win real money at no additional risk.

It comes in the form of free bets, applied to your account when you've crossed the qualifying threshold. The offer is a Bet £5, Get £20 deal, with the £20 given out as free bets. These are applied to a separate balance in your betting account, which can then be set off against your future bets. The offer is open to all new players signing up for their first account with Ladbrokes, depositing and then betting on an event with odds of over 1/2 or greater. The free bets must be used within 7 days of being sent to your account.

There is no bonus code required to trigger the Ladbrokes welcome bonus, so you don't need to search for a promo code to get involved. Instead, all you need to do is meet the bonus terms and conditions in order to automatically qualify for the offer. This requires you to deposit and bet a cumulative total of £5 at odds of 1/2 or greater within the first 7 days. The free bets are paid out as 4x£5 free bets, which you can then use to bet on a wide range of sporting markets at Ladbrokes online or on mobile.

New customers at Ladbrokes benefit from generous free bets worth £20. This is paid out as 4 equal bets of £5, which can then be used to bet on sporting match-ups of your choice through the Ladbrokes app or website. Anything you win from the free bets will be credited to your regular balance, and can be withdrawn in the usual way - so in some respects, the free bets are as good as free money. To qualify, you'll need to bet £5 on events with odds of over 1/2 within the first 7 days of creating your account.

It is available to all new customers signing up for a Ladbrokes account. As long as it's your first account with Ladbrokes, i.e. you are a new customer, you can take advantage of the Bet £5 Get £20 offer when you deposit and bet from just £5. The bet must be on events with odds of greater than 1/2, and you'll need to bet within 7 days of opening the account in order to qualify for the bonus. The welcome offer is credited to players once they meet this threshold, so there's no need to actively claim the bonus or do anything else to trigger it within your account.

Bonus cash at Ladbrokes is easy to use. When you're choosing your bets, you can check the box on the betting slip that will apply your bonus credit as the stake for the bet, effectively reducing your risk on the bet to zero. The bonus will not be returned to you if your bet wins, but anything you win from your free bet, you get to keep. The welcome offer comes in the form of 4x£5 free bet bonuses, which you can then choose to apply across any bets you like to maximise your reward from the welcome bonus bets.

Yes. Ladbrokes bonus cash expires after 7 days, and anything you don't use within this time will be lost. It is credited as 4x£5 bets, so you have 4 separate free bets to use within this time in order to take full advantage of the offer. Similarly, you'll need to meet the criteria for qualifying for the bonus within the first 7 days of creating your account. For most players intent on registering, depositing and betting right away, this should be doable - just keep track of the days to make sure you don't run over the expiry date, and you'll be able to make full use of the bonus awarded to you.

It is credited to your account when you sign-up and bet £5, as an incentive for new customers to sign up and bet with Ladbrokes. The bonus is paid in the form of free bets, which are credited to a separate balance within your Ladbrokes account. This amount can be used to fund your bets with no personal financial risk. It expires after 7 days of being allocated to your account, so it pays to get your bets in early. Simply tick the box on your betting slip to use your bonus balance when it's time to place your bets, and you'll use your free credit to stake against your chosen betting lines.

Yes. New players at Ladbrokes can benefit from the deposit bonus, a generous £20 in free bets when you sign up for a new account and bet £5. There are, as always, terms and conditions you'll need to meet to be eligible for the bonus amount. Firstly, you need to deposit and bet from a minimum of £5, and that needs to be on events with odds greater than 1/2 - pretty fair when compared to other bookmaker offers. The £20 free bets will be sent to you as 4 separate £5 betting credits, which you can then use within the first 7 days to fund your betting activity.

There is no requirement for a Ladbrokes bonus code in order to qualify for the free bet bonus, so don't worry about finding bonus codes or promo codes to get your hands on the bonus. Fortunately, Ladbrokes offer their welcome bonus to new customers generally, provided they meet the criteria for signing up, depositing and betting through their new account. To qualify for the bonus, you need to register for a new account, bet £5 on events beyond the minimum odds, and do so within 7 days of activating your new account. This will automatically earn you the free bets worth £20, which will be applied automatically to your account.

Existing customers can benefit from a range of promotions and other benefits. These are offered under the Promos tab, which you'll find on the left hand navigation menu through the Ladbrokes website. These typically don't require bonus codes or promo codes, and can be activated through your Ladbrokes account - either by choosing the bonus, or by meeting the qualifying terms for the bonus. Ladbrokes are particularly generous to existing customers, so you'll often find other bonuses and promotions available you can take advantage of when betting with Ladbrokes.

Last review for the Ladbrokes bonus checked the 7 December 2023 by SportyTrader with an overall score of 9.5 out of 10