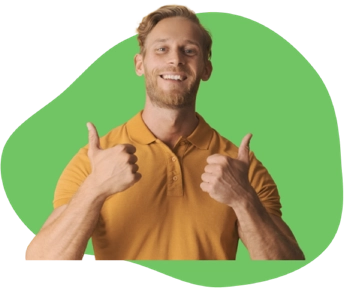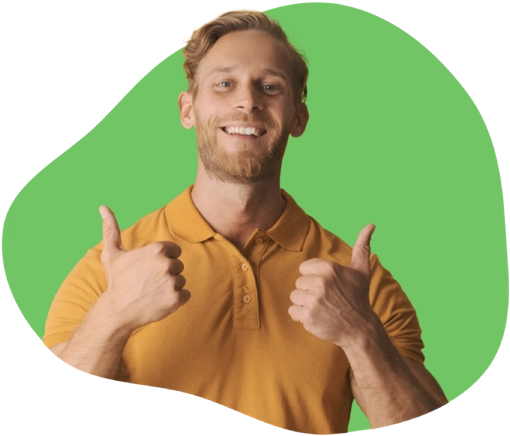 Offers you
Bonus up to :£20
New customers only | Commercial content | 18+ age limit | T&Cs apply
Limited offer!
Ladbrokes Review in

December 2023

Advantages

One of the UK's leading bookmakers

Great welcome offer - Bet £5 Get £20

Wide selection of markets

Great promos

Disadvantages

Odds not always the most competitive

Support not available 24/7

SEE THE OFFER

Register for your account now with Ladbrokes, and take advantage of the Bet £5 Get £20 offer - available for new players only, registering and depositing into their account.

Ladbrokes is one of the UK's foremost betting companies, serving the high street since 1886. Their online betting offer is one of the biggest in the country, quoting markets across a wide range of major and niche sports. With a strong welcome bonus and regular promotions thrown into the mix, Ladbrokes is a great, trustworthy site for placing your bets.

As bookmakers go, they don't come much better than Ladbrokes. With an excellent range of betting markets and features available on desktop and through the mobile apps, Ladbrokes sets the benchmark for other online bookmakers to meet. Read this comprehensive review on Ladbrokes and take advantage of the most profitable offer for sportsbook, poker and online casino!
Ladbrokes Global Rat

ing

9.5/10
Ladbrokes UK Bonus
Sign up for a betting account with Ladbrokes as a new player and you can get £20 when you deposit and bet from £5. Register for your account using the Ladbrokes UK promo code to be eligible for the free welcome bonus for new customers that you can use not only on sports betting but also on slots and casino games at their live casino. 
Once you've set up your account with your personal details and made that first deposit, bet a qualifying £5, and you'll get £20 worth of free bets added to your account. Not bad as a welcome to one of the country's most respected online bookmakers.
Ladbrokes Overview
Site
Gambling licence
Site in English
Mobile app
£ Minimum deposit
£5 Minimum bet
Bets
Live streaming
Football pool
Accumulator
Stats
Cash-out
Customer service
Live-chat
Phone :
Contact :
Payment Methods at Ladbrokes
| | | | | | |
| --- | --- | --- | --- | --- | --- |
| Method | Payment available | Minimum | Maximum | Cost | Delay |
| | | | | T&Cs apply | |
| | | | | T&Cs apply | |
| | | | | | |
| | | | | T&Cs apply | |
| | | | | T&Cs apply | |
| | | | | T&Cs apply | |
| | | | | T&Cs apply | |
| | | | | T&Cs apply | |
| | | | | | |
| --- | --- | --- | --- | --- | --- |
| Method | Payment available | Minimum | Maximum | Cost | Delay |
| | | | | | |
| | | | | | |
| | | | | T&Cs apply | |
| | | | | T&Cs apply | |
| | | | | T&Cs apply | |
| | | | | T&Cs apply | |
| | | | | T&Cs apply | |
| | | | | T&Cs apply | |
Ladbrokes offers customers the chance to deposit and withdraw via a number of different payment methods. Arguably the easiest way to manage your deposits and withdrawals is through a Ladbrokes Grid Card, which also syncs with Ladbrokes shops across the country. You can use this like a prepaid top-up card, sending money to and from your betting card and taking advantage of the fastest possible withdrawals - instant after processing time.
There's also support for a number of other common payment methods, including PayPal, Neteller and Skrill, as well as instant bank transfer for withdrawals directly to your bank account. Maximum withdrawal limits vary depending on the method of withdrawal you've chosen to use. Minimum withdrawals start from £0.01 in the case of the Ladbrokes Grid Card, or £5 for any other method of withdrawal. In short, Ladbrokes has a number of payment options available including:
Google Pay
paysafecard
Bank Transfer
PayPal
Visa
Mastercard
Apple Pay
Maestro
Register now!
Ladbrokes Desktop Site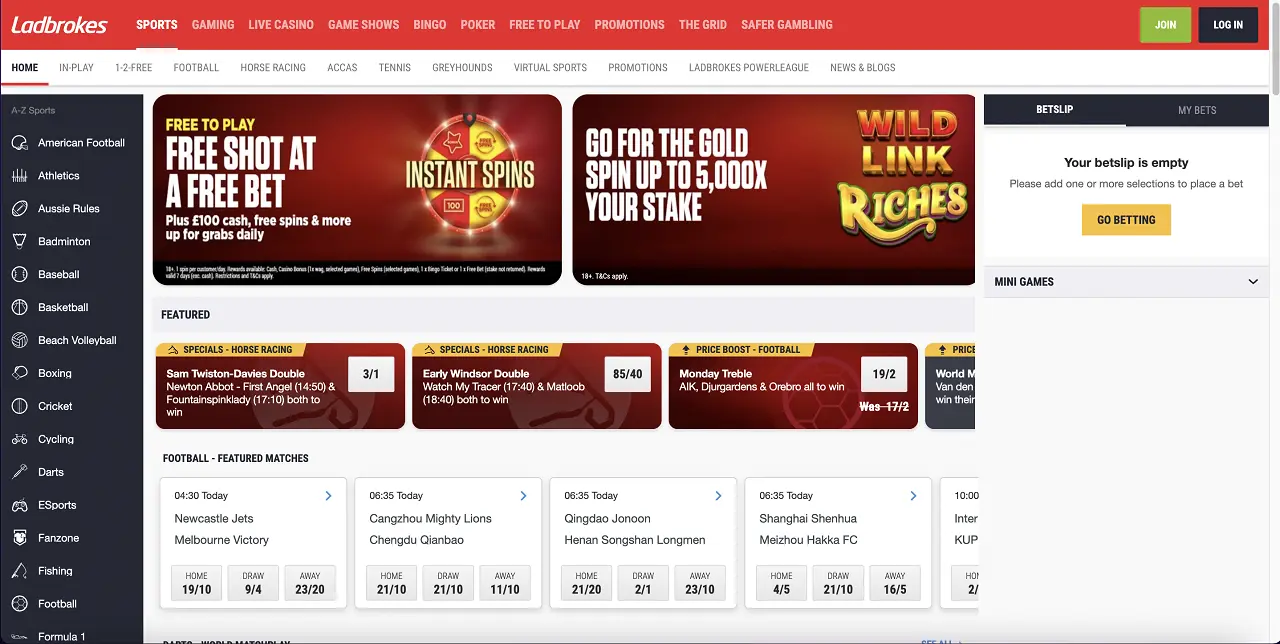 The Ladbrokes desktop site is clean, intuitive and easy on the eye. Once you've signed up for an account, you can instantly start choosing your betting selections from the central panel. As you choose your picks, you'll see the results appearing on your betting slip to the right of the screen. This is where you choose how much you want to stake and the type of bet you want to place, before confirming your bet. Bets and returns are calculated automatically on the betting slip, so you can make your decision with full information before committing to the bet.
Design-wise, the promotions pop off the page, catching the eye as you scroll through an otherwise clean layout. Browse for different sports through the left hand menu, easily spotted at a glance thanks to the corresponding sport symbols. The promotions are set out along the top of the page, with upcoming betting markets set out below. Click in to individual matches or events, and you'll see a full rundown of all the different markets and bets available.
There's a nice, easy way about the Ladbrokes website. You can tell this has been improved and refined over time to make it as straightforward as possible to place bets and manage your betting account. As a result, the Ladbrokes desktop experience is a benchmark for others in the industry, providing a comfortable interface for doing whatever you need to do within your new account.
Ladbrokes Online Rules
Ladbrokes publish a full list of online rules, accessible from the rules link in the footer menu. This sets out the various stipulations and regulations for how bets are determined, and for when bets will be accepted or otherwise. It pays to familiarise yourself with these rules so you don't end up feeling like you've been cheated later down the line, by some quirk of fortune that takes you outside scope.

Clicking into the rules page presents you with general rules as a starting point, including those governing late bets, dead heats, disputes, fraud and postponed matches. The central menu here provides a list of different sports - clicking on any of these will take you into the sport-specific rules, which will vary depending on the particular features of the sport in question.
Ladbrokes Apps
Ladbrokes also offers a suite of apps for users across different devices, including for Apple iOS and Android devices. These are available for free from the respective app stores, and can be downloaded and installed on your device within a matter of seconds. It's also possible to get access to the apps by visiting the Ladbrokes website in your phone browser - simply follow the prompts to download and install the app, for a more native experience on mobile or tablet.
Ladbrokes mobile app offers a similarly smooth experience to the desktop interface, giving you easy navigation and simple access to the full range of markets and betting features. It's even possible to cash-out on your phone, as well as depositing, withdrawing and reaching out to support if needs be, with the apps providing an almost seamless mobile replica of their desktop equivalent. 
The betting account credentials you use on desktop and app are the same, so you can switch effortlessly from one to another. Compared to other betting apps, the Ladbrokes apps feel clean and simple to use, which is a major advantage for those looking to bet on the go.
Ladbrokes Sports: The Offer
Ladbrokes offers betting on a broad sweep of sports, from the most widely gambled to some of the most niche. No matter what you're looking to bet on, chances are high you'll find markets quoted at Ladbrokes to meet your needs. 
Within each sport, Ladbrokes quotes a large range of individual markets and bets, covering everything from outrights to specifics in its range of betting outcomes. Click into an event to discover the full variety of bets on offer, from football, racing, golf, tennis and cricket, through to rugby, esports, table tennis and beyond.
Which Sports Are Offered on Ladbrokes?
Football Basketball Baseball Ice Hockey Tennis Handball American Football Table tennis Volleyball Badminton Beach Volley Rugby League
Aside from the huge range of sports on offer, you can also bet on TV, politics, Aussie Rules, boxing, darts, Esports, fishing, Gaelic Games, greyhounds, hockey, MMA/UFC, netball, pool, rowing, Rugby Union, snooker, speedway, surfing, as well as take part in Ladbrokes Lotto and the Half Time Quiz. Lots of options to bet on!
Types of Bets at Ladbrokes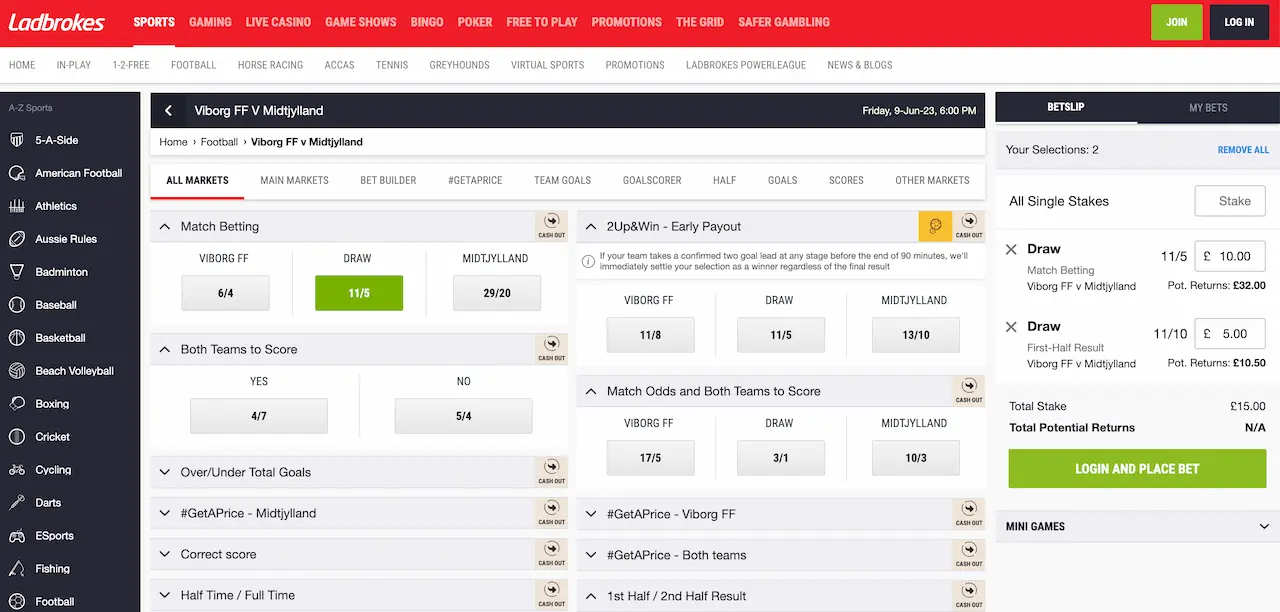 Ladbrokes offers a comprehensive sweep of bets and bet types, more than enough to meet the needs of gamblers at any level. Choose the bet type that best suits your preferences, or mix and match on your betslip, depending on your strategy.
The most basic of the bet types available at Ladbrokes is the single, a straight bet that the outcome you've picked will come good. If your result comes in, you win on that single line, a return calculated as stake x odds to deliver your payout. Consider the example of Liverpool to beat Everton - as a single bet, you'll get paid when Liverpool beat Everton over 90 minutes.
Combi bets are also available at Ladbrokes, giving you the chance to combine different bets into a single line for enhanced odds. Think of this as a multiplying effect - rather than backing these outcomes individually, a combi bet allows you to back them all at once. You need all your bets to come good to win - if one fails, your entire bet fails. This is often best used in conjunction with cash-out, and events that are staggered over the day - that way, you'll get an offer if your first result comes in before your last bets settle, giving you more options for settling in the black.
You can also choose a system bet, where you combine multiple different bets then stake against a given number of those bets to come good. Here you don't need all bets to win to succeed in your bet - only the number chosen in your system bet. This involves placing multiple individual bets simultaneously, so will cost you more per line, but the payoff of not requiring all results to come good can sometimes be worth it, depending on your betting strategy. Time to join the bookmaker now!
Ladbrokes Football Betting
Ladbrokes is excellent for football betting, offering a comprehensive selection of markets across major football events - and some more obscure ones too. You can bet ahead of the match, or during the action, including on things like next goal scored, total number of corners and next card. These in-play markets are where some of the most exciting betting is to be found, allowing you to respond to the action in real-time as the game unfolds. Football is given prominence throughout the Ladbrokes website as the most popular sport for Ladbrokes punters to bet on, so you'll have no trouble finding upcoming matches or games in-play when it's time to place your bets.
The full range of football bets is available from your betting slip, and markets can be easily accessed by clicking on the fixture name from the central panel. Between the two, it's intuitive to piece together combination bets or accumulators, or to pick system bets if you so choose, in order to structure your bets to suit your preferences. 
When you bet in-play, you can view the stats unfolding in real-time, with data feeds reflecting the outcome on the pitch so you can make betting decisions accordingly. Some matches may also be available for live stream through your Ladbrokes account, for even more synergy between your sports and betting account. 
Ladbrokes Live Betting
Betting in-play is a big deal at Ladbrokes, and they allow a range of options for punters to place their bets during the action. Odds are updated constantly throughout each match or sporting event, and it's even possible to bet right up to the dying minutes on the final score, next goal scored and a range of other possibilities.
Simply click on a fixture in-play and you'll be shown the live betting options. Note that you need to be quick here - odds are constantly updated to reflect the time remaining in a game, or any of the other variables that can influence an outcome. The quicker you move here, the more likely you are to lock in the odds presented for your bet. 
What's Good About Ladbrokes?
Ladbrokes is one of the largest and most trustworthy bookies in the UK, if not in Europe. As part of a large gambling conglomerate, and with a 137-plus year track record of their own, there's not much Ladbrokes doesn't know about operating as a trustworthy, successful bookmaker. If you're looking for somewhere that quotes competitive odds, provides a good service, and has the financial clout to back up their bets, you really should look no further than Ladbrokes.
The welcome offer is generous, standing at £20 in free bets when you place a qualifying bet. And with a huge selection of sports quoted, all with generous odds from outrights to more specific betting markets, it's hard to find better than what Ladbrokes has to offer. 
Ladbrokes Promotions
Ladbrokes runs regular promotions, bonuses and competitions, in addition to the free bet Ladbrokes UK bonus review you get with when you sign up for an account. These are frequently updated, with a full list available from the Promotions tab on the left hand navigation menu at any one time.
Let's Get Boosty
Boost the odds of a bet of your choosing every day. Use the odds boost once per day on a selected event where available.
#GetAPrice
Choose your own bet and get a price quoted by Ladbrokes for that outcome, giving you total control and flexibility over what you bet on - even when it's not quoted by Ladbrokes by default.
Winner, Winner, Daily Spinner
A free entry daily spinning competition, with big cash prizes to be won for lucky players. Spin the wheel once per day for your chance to win big at no extra cost.
2Up & Win
Get early payouts for a winner if your team goes 2 goals up when this promo is in play. A good chance to bag some early wins when your pick starts strongly.
Extra Place Races
Get paid for an extra place on selected worldwide races with this horse racing promo - ideal for giving you a better chance of landing a win.

There are loads more promos on offer at Ladbrokes at any given time - all part of the perks of signing up for an account with the UK's leading high street bookmaker. 
Ladbrokes Cash Out
Cash-out is available on selected bets at Ladbrokes, with offers updated in real-time to reflect the amount Ladbrokes is prepared to pay to settle your bet now. This will obviously be lower than the winnings you'd have if your entire bet comes good. But by settling now instead of later, you eliminate the risk of your bet failing at the last minute and get the chance to lock in a profit, so it's something to seriously consider.
Cash-out options are presented on your betting slip, where you can see live offers for settling any open bets. This is often best used in conjunction with large accumulators, where one or two good results will push up the cash-out settlement amount you are being offered so you can take an easy, guaranteed win. 
You'll find that cash-outs are generally fair at Ladbrokes, and competitive with any of the top bookmakers. While these are very specific, and quoted in real-time according to the variables affecting your bet, you can rest assured that Ladbrokes pitch their cash-out offers in line with other major bookies, so you're not getting a raw deal here. Plus there's always the option to decline the cash-out and hold out for a bigger win if you so choose.
Ladbrokes Customer Service
One area where Ladbrokes really excels is customer support - as you'd expect from a bookie of this size and stature. Live chat, phone, email and even Twitter support is available round the clock. If you're stuck, you can also try popping in to your local high street Ladbrokes branch, where the staff will be able to advise and assist with any enquiries or queries.
Support is knowledgeable, approachable and capable when it comes to fixing problems and helping you with your account. While you'll not likely need to contact support too often, knowing that the option is there and that the support on offer is effective is half the battle in reassuring you that Ladbrokes is a safe, trustworthy and easy place to bet online.
Security: Ladbrokes, a reliable website
One of the most important aspects of choosing a sports betting site is trust. Especially when money's involved, you want to make sure your betting partner is a site you can have the utmost confidence in knowing isn't going to leave you in the lurch. Fortunately, Ladbrokes is about as trustworthy as it's possible to be for a bookmaker, backed by over 137 continuous years of betting business in the UK.
Ladbrokes is fully licensed and regulated by the UK Gambling Commission, one of the world's most respected regulators of gambling businesses. They are subject to the scrutiny of the Commission at every turn, and are also open to regular independent audits to ensure probity and transparency. Ladbrokes is also part of one of the world's largest gambling groups, so has the financial security to back up even the largest of bets. 
The Ladbrokes website and its suite of apps are secured by cutting edge SSL encryption technology, as well as other mechanisms to safeguard your personal details and financial information from third-party threats. If anything does go wrong, you can take confidence from the chain of high street betting shops across the country - help is only ever a trip to the high street away, in the most extreme cases.
If you can't trust the reliability of one of the biggest betting companies in the UK, you'll find it hard to trust anyone. Backed by reports from hundreds of thousands of punters online, Ladbrokes is as safe as you can be when betting from your desktop or mobile device.
Registering with Ladbrokes
When you've decided to get started with your Ladbrokes betting account, the sign-up process is straightforward and should take a matter of minutes to get up and running.
Click

here

to register your Ladbrokes account.
Click the Join button at the top right of the screen to begin account setup;
Choose your country and input your email address and password;
Complete your personal details such as your full name, address, mobile number and date of birth;
Set your deposit limit now, or choose to defer this until a later date;
Upload verification documents as prompted, confirming the accuracy of the information you've submitted to sign up for your account;
Choose your deposit method and the amount you'd like to deposit;
Once the funds are credited to your account, place a qualifying bet of £5 or more to trigger the free bet welcome bonus.
Ladbrokes: How To Open An Account with Ladbrokes?
Registering for your new Ladbrokes account is a simple enough procedure. While there is some verification required in order to activate your account, it should only take a few seconds to get yourself up and running. Make sure you have your ID documents to hand, including proof of identity and proof of address, to speed up the registration process. 
1. Click the Join button
You'll find the big green Join button at the top right of the screen when you land on the Ladbrokes homepage. Give this a click and you'll open up the registration portal, where you can begin to complete your details.
2.Choose your login credentials
Enter your email address, chosen password and select the country you're playing from to begin the sign-up process. This should only take a matter of seconds, clicking through the dialogue box until you reach the end of the line. 
3. Enter full name, date of birth, address and mobile number
Enter your full name and your date of birth, both as they appear on your official ID. Remember you'll be required to verify this by providing identification documents at a later stage, so make sure the information you input here matches exactly with your official documents. Make sure to use your real postal address and mobile number when completing this process.
4. Set a deposit limit
Once you've successfully completed the sign-up journey, you'll be asked if you want to set a deposit limit. Choose whether to do this now, or leave it till later. Set a limit that you feel comfortable with - this will be a hard cap on the amount you are able to deposit until you change the limit, so do think carefully before settling on the right amount of deposits for you.
5. Complete account verification
You'll next be asked to complete the account verification procedure, where you'll need to upload your ID documents as required. You will also be asked to verify your address as submitted during the sign-up process. You can leave this process and come back to it at any time if you need a little longer to prepare your documents. This is a required step under KYC (know your customer) protocols that all licensed betting sites in the UK need to adhere to when registering new accounts.
6. Make a qualifying deposit
Once you've completed the sign-up process, it's time to make your first deposit. Remember to deposit an amount of at least £10 when signing up for your new account, so you can place a qualifying bet of £5 to trigger the bonus offer. 
Good luck with your betting at Ladbrokes. By opening an account here, you've chosen one of the best bookmakers in the UK, if not the world, as your betting partner. All you need now is for the gambling gods to smile down on you to deliver some big wins. 
Frequently asked que

stions about Ladbrokes

Ladbrokes are one of the biggest high street bookmakers in the UK. Part of the Entain gambling group, they're in good company, alongside many other household name bookmakers. Ladbrokes has been in business since 1886, posting a track record of over 137 years of success in bookmaking. As trusted places to place your bets are concerned, they don't come much more trustworthy than Ladbrokes. Ladbrokes is also regulated by the UK Gambling Commission, which ensures they adhere to the highest standards of integrity and fairness for customers. As one of the UK's largest gambling companies, Ladbrokes can definitely be trusted to handle your betting account.

Once the verification process on withdrawals is complete, Ladbrokes offers varying payment times depending on the method of the withdrawal. Note that this will generally be the same method you have used for depositing to your account in the first place. Withdrawals to Ladbrokes Grid Card are instant after payment, while Visa Fast Funds take just 4 hours from successful verification. E-wallets typically take up to 8 hours for payments to be made, while debit cards and bank transfers can take anywhere from 1-4 banking days. It's important to read up on the payout times for different payment methods when choosing how best to deposit and withdraw from your account. 

Withdrawals at Ladbrokes are subject to a processing time before they can be paid out. This is a standard part of the betting industry, and you'll find all bookmakers exhibiting the same practices when handling your withdrawal requests. It is simply not possible for bookies like Ladbrokes to pay out winnings instantly without appropriate checks and balances - any amounts won need to be reviewed, and accounts need to be verified for fraud and anti-money laundering reasons. This is in order to keep within the terms of licensing, as well as to protect Ladbrokes from paying out on fraudulent or suspicious withdrawals.

Ladbrokes fast withdrawals can be with you in as little as 4 hours. There may also be a processing time, depending on whether you need to go through any additional verification stages, such as confirming your ID. This would be additional to the 4 hours, but won't always be required once you've been through your verification process. It is also possible to withdraw via Ladbrokes branches instantly, thanks to the Ladbrokes Grid card, giving you more flexibility for getting your hands on your money as soon as possible. Withdrawals from Ladbrokes generally are at industry standard turnaround times, with a maximum wait of 4 business days for withdrawals by online bank transfer.

Ladbrokes can only refuse to pay out where there is good reason for them to do so - i.e., where there has been a breach of one of their betting terms and conditions, or where there has been suspicious activity on the betting account. Note that Ladbrokes is amongst the most trustworthy bookmakers on the market, having been in business for well over a century. Their high street presence too is another marker of trust. If you've bet within the rules, your account is appropriately set up and your identity verified, you have nothing to fear - Ladbrokes will pay out on legitimate bets fairly won.

REGISTER!

Review on Ladbrokes checked the 8 December 2023 by SportyTrader with an overall score of 9.5 out of 10.